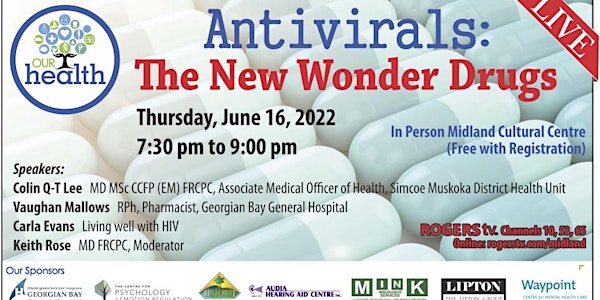 Our Health - Antivirals: The New Wonder Drugs
Our Health live on June 16, 2022 in Rotary Hall at the MCC. Or watch live from home (on Rogers TV or online!)
When and where
Location
Midland Cultural Centre - Rotary Hall 333 King St. Midland, ON L4R 3M7 Canada
About this event
If the pandemic has taught us anything, it is that viruses are can not only be lethal but are also cunning and opportunistic. Scientists around the world are working to stay one step ahead of emerging and evolving viruses through the development of vaccines and antiviral medication. In some cases, treatment regimes of antiviral medications are curing diseases that were once death sentences.
Antiviral medications help the body fight off harmful viruses, by easing symptoms and shortening the length of a viral infection. Antivirals also lower the risk of getting or spreading viruses that cause illness, hospitalizations, and death.
Join us on June 16, 2022, from 7:30 – 9 p.m. for an engaging conversation about how antiviral medications have become the new wonder drugs in the fight against diseases such as HIV, Hepatitis and COVID-19.
This program will be aired LIVE on all Simcoe County Rogers TV stations and available online for streaming. In-person attendance is free with registration.
All previous Our Health video and brochures are archived and available at midlandculturalcentre.com/ourhealth including our most recent show on May 12, "A Good Life includes a Good Death".
Doors to the building will open at 7pm. Masking is required and capacity reduced.
This program has been made possible by the following sponsors:
Audia Hearing Aid Centre, The Centre for Psychology + Emotion Regulation, Georgian Bay General Hospital, Hillcrest Village Care Centre, The Lipton Group, Mink Insurance Services, Waypoint Centre for Mental Health Care