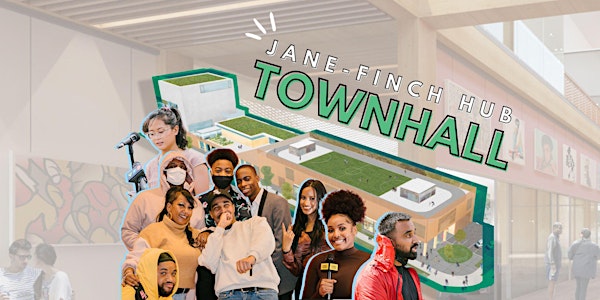 Our Jane Finch Hub | December Town Hall & Community Event
Join the Hub Organizing Committee for our first IN-PERSON Town Hall, where we will be sharing updates about the JFCHCA's development!
When and where
Location
Driftwood Community Recreation Centre 4401 Jane Street Toronto, ON M3N 2K3 Canada
About this event
On Thursday, December 15, 2022, from 6:00-8:00 PM, the Jane-Finch Community Hub and Centre for the Arts Organizing Committee (Hub Organizing Committee/HOC) is hosting our first in-person Town Hall event! There will be live performances, raffle prizes, dinner and more!
The HOC looks forward to celebrating the wins and updates with the community! This event will be livestreamed via Zoom & Facebook.
In-person attendance is limited. RSVP today to confirm your spot & dinner. Dietary restrictions, accessibility requests and virtual/in-person attendance will be asked when registering.
Please note that the event will be recorded for documentation purposes. Closed captioning will be available throughout the event for Zoom. 
— Evening Agenda —
6:00 PM: Guests are welcome to have dinner
6:30 PM: Town Hall Begins (both in-person & virtually)
7:30 PM: Q&A Period
8:00 PM: Town Hall Ends
Please note that the schedule between 6:30-8:00 PM is subject to change.
★ Members and Supporters ★
The Hub Organizing Committee (HOC) is made up of residents, grassroots groups, community organizations, and networks from the Jane-Finch community, as well as external supporters and advisors.
The mandate of the HOC is to secure the transfer of land from Metrolinx and the Province of Ontario to the Jane-Finch community; steward the pre-development of the project; and establish an equitable community decision-making process for the design, programming, construction, operations, and sustainability of the community hub based on work completed to date by many community leaders.
Hub Organizing Committee members and supporters include:
Jane-Finch residents
Belka Enrichment Centre
Black Creek Food Justice Network
Community Action Planning Group
Flaunt It Movement & Collection
Jane Finch Action Against Poverty
Jane Finch Action Network
Jane/Finch Centre
Jane Finch Community Ministry
Jane Finch Concerned Citizens Organization
Jane Finch Economic Opportunities Action Group
Jane Finch Education Action Group
Jane Finch Housing Coalition
Jane Finch Health Care Action Table
Nationwide Black Leaders' Organizations of Canada
Success Beyond Limits
Toronto Community Benefits Network
Youth Unlimited
★ What is the Jane-Finch Hub? ★
The vision for the Jane-Finch Community Hub and Centre for the Arts (CHCA) is a multi-purpose, community-driven, and community-operated facility that responds to existing local needs and supports creative, social, recreational, and entrepreneurial programs for residents of Jane-Finch and beyond.
The CHCA is a product of the rich history of civic engagement and advocacy by the Jane-Finch community, dating back to 2015.
The Community Hub will be located along Finch (at 2050 Finch Avenue West) in front of the Finch LRT Maintenance and Storage Facility.