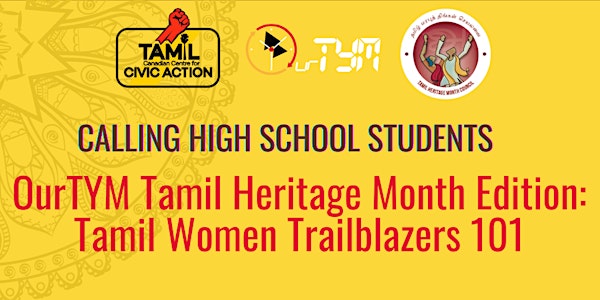 OurTYM Tamil Heritage Month Series: Tamil Women Trailblazers 101
A leadership learning series for Tamil high school youth to learn about Tamil Heritage month and different Tamil women trailblazers.
About this event
OurTYM is launching its Tamil Heritage Month series where we will have guest speakers lead seminars for high-school youth on the following topics:
Tamil women in Sports
Tamil women in Politics
Tamil women in STEM
Tamil women in Eelam Rights & Resistance
This year's OurTYM Leadership Series theme is Tamil Women Trailblazers 101. Volunteer hours will be provided to those youth that attend. Speakers will be providing an informational and interactive seminar to registered attendees.
It is an invaluable opportunity to learn more about Tamil women's historical contributions to advancing the Tamil diaspora and to celebrate our Tamil heritage identity.