Join us for more queer stories on your screens this semester!
About this event

Out On Campus brings you another vibrant program of movies, documentaries, and short films to enjoy - all from the comfort and safety of your own home!
These screenings and our Discord server are open to all SFU/FIC students who identify as LGBTQ+ or consider themselves allies.
Any questions or concerns? Drop us a line at ooc@sfss.ca
Screenings:
May 31st, 17:00-19:30 PT: Out in Shorts Film Discussion Group
Kick off the semester in film with a screening and discussion on four short films telling a range of queer stories!
I Like Girls
Synopsis: I Like Girls is a Canadian short animated film, directed by Diane Obomsawin and released in 2016. Based on Obomsawin's 2014 graphic novel On Loving Women, the film features anthropomorphic animal characters acting out stories of lesbian same-sex attraction.
Trigger warnings: No triggers.
First Stories: Two Spirited
Synopsis: This short tells the empowering story of Rodney "Geeyo" Poucette's struggle against prejudice in the Indigenous community as a Two-Spirited person. After registering as a dancer in the Kamloopa Powwow under the Jingle Dress category (normally reserved for women), Geeyo is deeply humiliated by a misguided Elder.
Trigger warnings: Colonization, discussion of substance abuse.
It's Not You, It's Not Me
Synopsis: A raw exploration of a mixed relationship between an asexual man (Lee Shorten from Man in the High Castle & AMC's The Terror) and sexual woman (Jaymee Mak from Supergirl), and their struggle to reconcile their needs with their love for each other.
Trigger warnings: Sexual acts (potential to be read as coercive).
tender
Synopsis: As San Francisco's gig economy grows, so does the city's need for housing. The Tenderloin district, a historically black and queer neighborhood, becomes prime real estate for the city's tech workers. Cookie, Janetta, and Ronjah bring you into their world as they fight San Francisco's housing crisis.
Trigger warnings: Discussions of substance abuse, gentrification, homelessness, incarceration.
June 14th, 17:00-19:30 PT: Song Lang
Synopsis: An unlikely bond forms between an underground debt collector and a cai luong "Vietnamese opera" performer against the backdrop of Saigon in the 90s.
Trigger warnings: Physical violence, death.
June 28th, 17:00-19:30 PT: And Then We Danced
Synopsis: A male dancer and his partner have been training for years for a spot in the National Georgian Ensemble. The arrival of another dancer throws him off balance, sparking both an intense rivalry and romantic desire that may cause him to risk his future.
July 12th, 17:00-19:30 PT: Ride or Die
Synopsis: Rei helps the woman she's been in love with for years escape her abusive husband. While on the run, their feelings for each other catch fire.
July 26th, 17:00-19:30 PT: Pulse
Synopsis: A gay disabled teenage boy changes into the body of a beautiful woman, so that he can be loved.
Currently being vetted for triggers
August 9th, 17:00-19:30: bwoy
Synopsis: After the death of his son, Brad (Anthony Rapp) becomes entangled in a chaotic and passionate online love affair with Yenny (Jimmy Brooks), a young Jamaican man. With both Brad and his wife Marcia (De'Adre Aziza) seeking solace in destructive ways, their lives and relationships are pushed to the brink, culminating in tragic confrontations that no one can avoid.
Triggers: Sexual content, racial fetishization, violence, homophobia
August 23rd, 17:00-19:30: House of Hummingbird
Synopsis: In 1994 Seoul when the Seongsu Bridge collapses, 14-year-old Eunhee wanders the city and searches for love.
Accessibility Information:
All of our screenings are free and available to SFU/FIC LGBTQ+ students and allies who are registered on our Discord server.
Attendees are encouraged to keep their microphones and cameras off during screenings to improve stream performance and reduce sensory load.
Our Discord server displays the local time, useful for attendees joining the stream from around the world.
All screenings have closed captions available.
Discord is compatible with screen readers.
Discord has text-to-speech functionality useful for visually-impaired people. To avoid disruption, you should familiarize yourself with this functionality before the screening.
Discord has programmable hotkeys/shortcuts useful for people with people who experience low dexterity in their hands or live with chronic pain. To avoid disruption, you should familiarize yourself with this functionality before the screening.
If you need help using Discord, please email us at least a week before the screening at ooc2@sfss.ca to arrange a time to familiarize yourself with the platform.
Trigger warnings have been shared above where available. Please email us at ooc2@sfss.ca if you need us to vet any of our offerings for any specific triggers.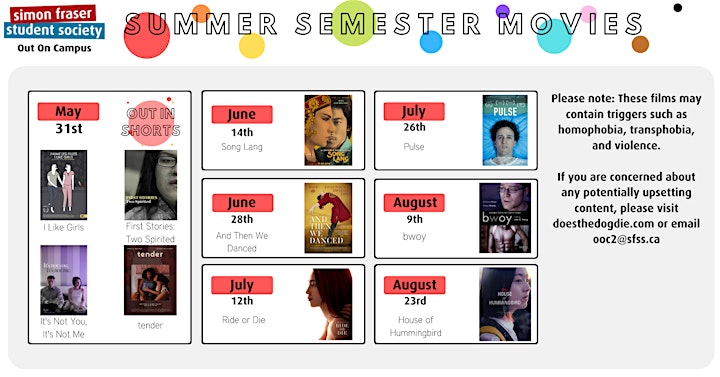 Organizer of Out On Campus Movie Mondays
What we do
Provide a space on campus for LGBTQ+ education, advocacy, and resources
Maintain a lounge area for students to socialize and access support
Provide a library of queer-related books that can be signed out by students and staff
Program events for students and staff such as socials, discussion groups, and workshops
Offer volunteering opportunities to students in areas such as maintaining the lounge space, doing outreach on campus, assisting with educational workshops, and event planning
Offer peer support for students, connecting them with appropriate campus and community resources
Offer free safer sex supplies
Nurture a growing online community on our Discord server