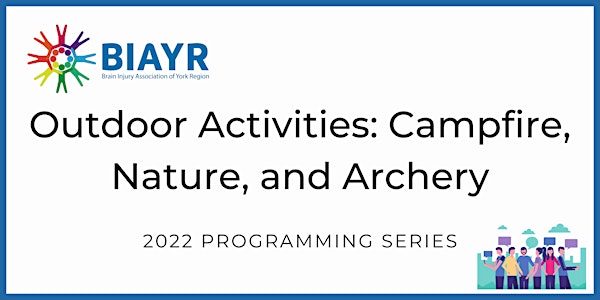 Outdoor Activities: Campfire, Nature, and Archery - 2022 BIAYR Programming
Location
Phyllis Rawlinson Park
11715 Leslie St
Richmond Hill, ON L4E 3R7
Canada
Outdoor activities including campfire, nature, and archery
About this event
Let's enjoy the sun, so come out and join us for some good fun!
All of these outdoor activities are taking place from 1:00 to 3:00 pm at:
Phyllis Rawlinson Park
11715 Leslie St, Richmond Hill, ON L4E 3R7
--
May 24 and June 21: Camp Fire and Nature Activity
Join us for a campfire and nature activity, as we admire all that Mother Nature has to offer!
--
June 7 and July 5: Archery - PLEASE NOTE THAT JULY 5TH HAS BEEN CANCCELLED DUE TO WEATHER
How good is your aim? Come on out and give it a try! You don't even have to have any aim at all. You will learn how to shoot a bow and arrow in this fun and interactive class.
--
**Please note that these indoor and outdoor programs are safe for adults with brain injuries, however, we do not provide staffing for the attendees. A member of our volunteer Board will be in attendance, however, they will not be able to provide support services or care**
Should you have any questions or concerns about our in-person programs, please contact BIAYR at 905-922-0732 or info@biayr.org