Sales Have Ended
Registrations are closed
Thank you for your interest but we are sold out. Look for us in August of 2022 as we are an annual event. Or for more information you can contact the Family Resource Navigator at the Nanaimo Child Development Centre or representatives of Adapt Island Kimberlee Howland - NCDC FRN Mel Rioux - Adapt Island 250-618-5640 adaptisland@gmail.com kimberlee@nanaimocdc.com www.adaptisland.ca www.nanaimocdc.com
Sales Have Ended
Registrations are closed
Thank you for your interest but we are sold out. Look for us in August of 2022 as we are an annual event. Or for more information you can contact the Family Resource Navigator at the Nanaimo Child Development Centre or representatives of Adapt Island Kimberlee Howland - NCDC FRN Mel Rioux - Adapt Island 250-618-5640 adaptisland@gmail.com kimberlee@nanaimocdc.com www.adaptisland.ca www.nanaimocdc.com
This event is to highlight and enhance awareness of outdoor inclusion opportunities for children and adults with disabilities.
About this event
The Nanaimo Child Development Centre and Adapt Island are excited to be able to host our 2nd Annual Outdoor Play Day on August 9th from 9 am to 4 pm.
This event is to highlight outdoor inclusion for children and adults with disabilities and give an opportunity to try some of the adaptive equipment available for outdoor inclusive activities. You can book a time for first-hand experiences in Kayaking, Trail Riders or hand cycling. You can also visit a number of local and island exhibitors to learn about their inclusive programs, take part in our inclusive Zumba class. We will also have on-site awareness tent, and wilderness crafts for all.
Due to COVID regulations still in effect - we do have a capacity requirement and limited spaces and times available for equipment trials and therefore we do require families to please pre-register for a time to attend this event.
Once you register and select the pieces you'd like to try out, a committee member will be in touch to confirm a time with you on a first come first basis - prior to the event. So please register as early as possible. (Please complete one registration per member of family participating in the "Have A Go" activity)
Check out our video from our 1st event in 2019 (last year canceled due to COVID) on youtube - just search Outdoor Play Day 2019 - NCDC
https://youtu.be/_9Lt7JHfCfU
For further information or to answer any questions you might have please email: adaptisland@gmail.com
More information is also available on the Nanaimo Child Development Centre Website - www.nanaimocdc.com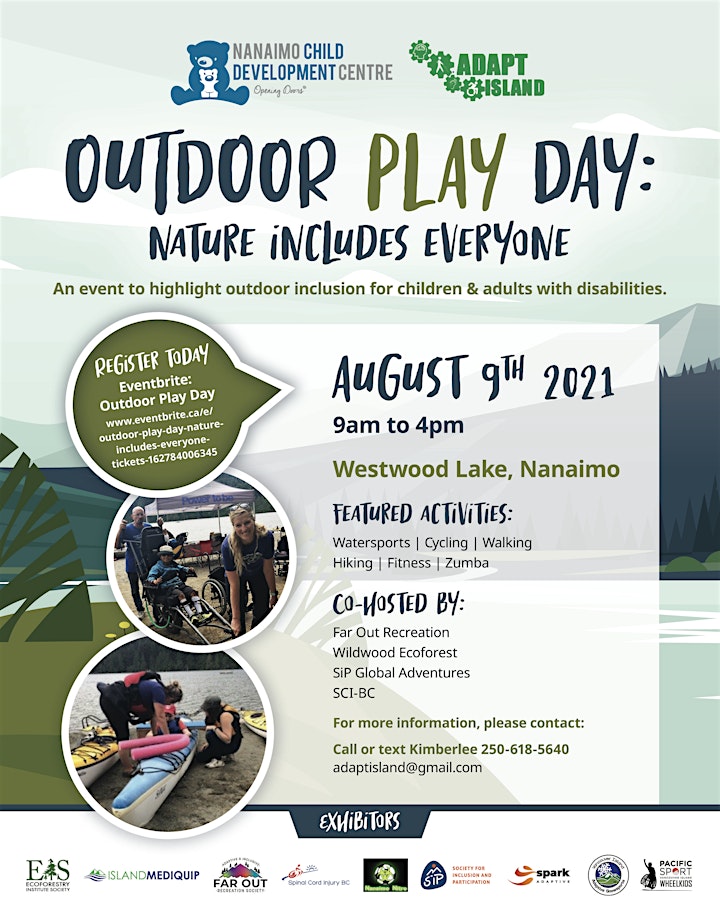 TrailRiders hike & Adaptive Sea kayaks - all available times filled - Sold Out
Still availabe times for Initiation to aMTB or off-road handcycling:
- 2 participants per 30 minute slots
Still 3 spots for intro to whitewater kayaking (on the lake thought) (3 participants)
- must be 13 and older with upper body strength & mobility
12:30pm: 20-min Zumba class all welcome to join in
9 - 4 pm :
Exhibitors on-site to visit and learn more about adaptive sports
Nature Craft Table
Wild Play Activities
Come down to just check out what we are doing and what is available in the way of adaptive equipment and sports to support inclusion in the outdoors and sports. Hope to see you there.
Organizer of Outdoor Play Day: Nature Includes Everyone
Nanaimo Child Development Centre
The Nanaimo Child Development Centre (NCDC) is:
A community-based, not-for-profit organization that has been an integral part of the community since 1967.
Our mandate is to provide individualized services for children with developmental needs, from birth to age 19, and their families that promote optimum child development.
Our aim is to assist children during their growth and development with their communication skills, motor skills and learning abilities, while recognizing and addressing the diverse needs of each child to ensure he/she reaches their full potential.
The NCDC provides support, assessment and therapeutic services to nearly 1800 children and their families in Ladysmith, Nanaimo, Lantzville, Gabriola Island and Protection Island areas each year. The NCDC offers specialized assessments to children who live in the areas listed above as well as Duncan, Ucluelet, Tofino, Parksville and Qualicum Beach, who are thought to have Complex Developmental & Behavioural Conditions.
The programs/services at the NCDC include: Occupational Therapy, Physiotherapy, Speech Language Therapy, Infant Development Program, Supported Child Development Program, Child & Youth Development Program, Family Development Program, C.A.R.E. Program, Early Childhood Education (Preschool) and the Complex Developmental and Behavioural Conditions (CDBC) program.
NCDC - Vision
Our vision is an inclusive community where children and youth with developmental needs, and their families, are able to achieve their potential without experiencing barriers. Families are supported to ensure their children are happy, successful, accepted by their peers and contribute to their community with the gifts they bring.