Outdoor Theatre, Archery, Nature Crafts and Walks - 2021 BIAYR Programming
Outdoor activities including theatre in the park, archery and nature crafts, and nature walks
About this event
Come outside and join us for outdoor activities!
October 19: Nature Walk and Camp Fire
Join us for a camp fire and walk along the Lake Wilcox Boardwalk. We will meet at the fire pit behind the Oak Ridges Community Centre and then walk along the boardwalk while we admire all that nature has to offer!
1:00pm-4:00pm
Oak Ridges Community Centre
12895 Bayview Ave, Richmond Hill, ON L4E 3G2
--
November 2: Theater in the Park & Campfire
An outdoor workshop on facial and body expressions: create a character, develop emotions, and how they move and interact!
1:00pm-4:00pm
Phyllis Rawlinson Park
11715 Leslie St, Richmond Hill, ON L4E 3R7
**Please note that these outdoor programs are safe for adults with brain injuries, however, we do not provide staffing for the attendees. A member of our volunteer Board will be in attendance, however, they will not be able to provide support services or care**
Should you have any questions or concerns about our in-person programs, please contact BIAYR at 905-922-0732 or info@biayr.org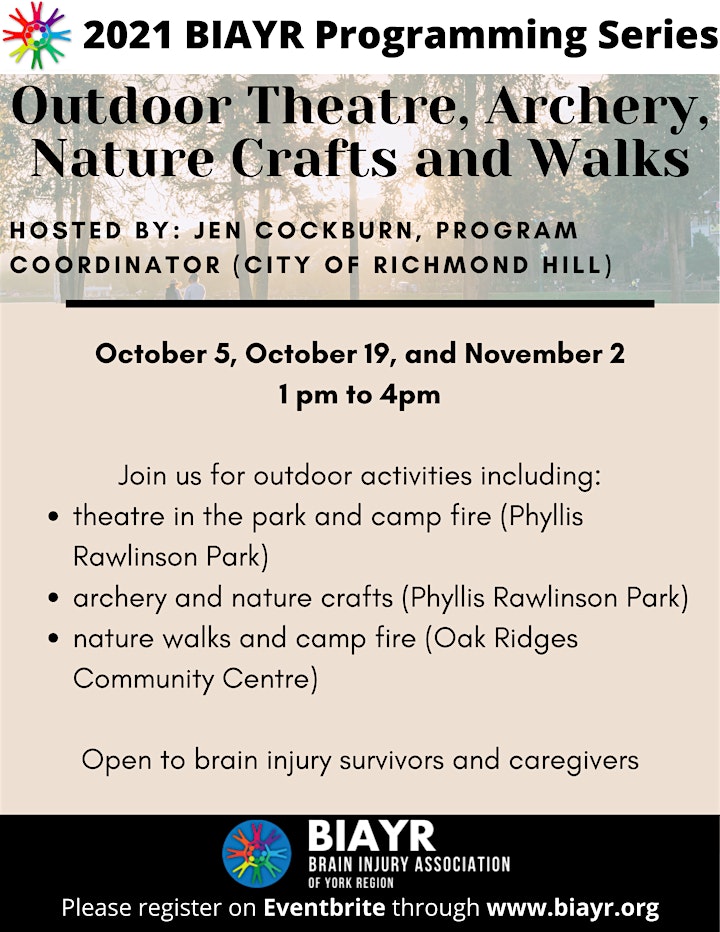 Organizer of Outdoor Theatre, Archery, Nature Crafts and Walks - 2021 BIAYR Programming