Sales Have Ended
Ticket sales have ended
Thank you for registering for this outdoor workshop! We will see you soon! (Remember to please bring your mask and art supplies.)
Sales Have Ended
Ticket sales have ended
Thank you for registering for this outdoor workshop! We will see you soon! (Remember to please bring your mask and art supplies.)
Outdoor Workshop: Walking in the City
About this Event
Outdoor Workshop: Walking in the City
Sunday, October 25th, 4-6pm
📍Meet up at McKee Park, 3026 Sandwich St, Windsor, ON
Pre-registration required.
Join artist the Vanguard Youth Arts Collective for a walk in the city! The Collective will lead us through the West End of Windsor, Ontario, to explore, wander, and contemplate our surroundings. We will also visit the new West End Project public art installations.
We will observe, reflect, and question the buildings, pathways, and other elements that make up the city's changing built environment. This walk will give us an opportunity to re-imagine the places in which we live, work and play in everyday life. We will discuss our experiences, share ideas, and document this walk by sketching or photographing what we see.
Some drawing materials will be provided. You are strongly encouraged to bring your own sketchbooks, and or cameras/phone to take photos. At the end of the workshop, makers are invited to share their creations by email to shinch@agw.ca for a future community art display in 2021.
Please carefully read the health and safety guidelines below.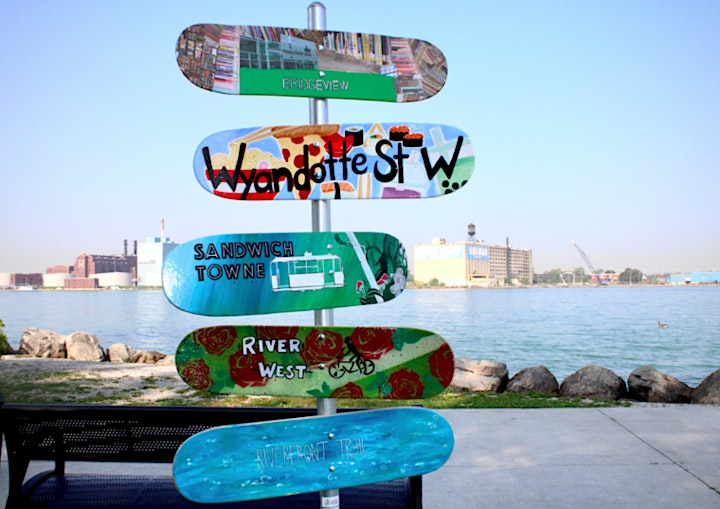 ABOUT THE COLLECTIVE
The Vanguard Youth Arts Collective are a group of creatively driven youth who act as a voice for an emerging generation of the arts within the Windsor Essex region. We nurture creative development by fostering connections within the community.
VISION: To enrich the artistic culture in our community through youth engagement.
GOALS:
1. Act as a vital resource for young artists.
2. Raise awareness for the importance of artistic endeavours.
3. Promote collaboration between all disciplines of artistic practice.
4. Generate opportunities for young creatives in Windsor Essex.
Click HERE for more information about the collective.
HEALTH AND SAFETY GUIDELINES
The safety and health of our participants and staff remain our top priority. We have implemented a number of measures to ensure the health and safety of participants enrolled in our workshops, classes and activities.
Screening: Participants will be screened at the beginning of each class and will be able to proceed with the class if they have answered 'NO' to all questions asked:
Questions:
1. Have you had close contact with or cared for someone diagnosed with COVID-19 within the last 14 days?
2. Have you been in close contact with anyone who has traveled within the last 14 days outside of Canada?
3. Have you experienced any cold or flu-like symptoms in the last 14 days (including fever, cough, sore throat, respiratory illness, difficulty breathing)?
4. Have you attended any mass gatherings in the last 14 days where proper health and safety protocols were not used?
5. You will also be asked to provide your contact information, including your telephone number, email and mailing address, for contact tracing record purposes. Information will be kept confidential.
During the program, instructors will ensure that all participants practice social distancing. Participants are requested to provide their own seating and to ensure that the proper Social Distancing measure of 2m apart is applied at all times. All participants in outdoor courses must be prepared to spend 1-2 hours outdoors including being responsible for:
All participants are requested to bring their own hand sanitizer for use during the activity.
Bringing a portable seating is desired/required
Finding a washroom if needed
Bringing water and sun protection
Arriving on time at the designated meeting area so the class can start on time
In order to comply with Windsor Essex County Health Unit Special Order, Sec 22, dd June 26, 2020, all attendees, instructors and staff are required to wear face masks or coverings while on the AGW premises or any other location selected for an AGW course / workshop presentation.
By participating in an AGW workshop, course or activity presented in a public space, you voluntarily assume all the risks related to exposure.
Inclement Weather: In the case of inclement weather, courses will be cancelled 2 hours prior to the start time. Notifications will be sent by email and telephone. One make-up class will be offered as compensation for any missed programming due to inclement weather.