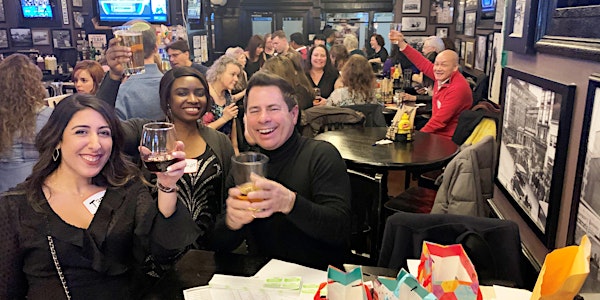 Over 40 Singles Party, Singles Dating Event, Much Better Than Speed Dating
Location
The Pint Public House
455 abbot Street
Vancouver, BC V6B 2L2
Canada
The Best Way to Meet Single People Over 40: Icebreaker Games and Gift Cards
About this event
Come out for a fun-filled, no pressure, Vancouver Singles event at the The Pint Pub in Vancouver. This event is for singles 40 and over, give or take a few years. :)
Well known as one of the most happening bars in Vancouver, The Pint Pub in Gastown has a relaxed atmosphere, lots of space, delicious food and great prices which makes it the perfect venue to host large Vancouver Singles Party like ours.
We can fit up to 200 people at this event and we will have a pitcher of beer for every 10 people that sign up to get our Vancouver Singles Party started.
We use the bulk of our events fees for prizes; the larger the crowd, the more prizes (Pint Pub Gift Cards) we will be giving away! Please bring all your single friends with you!
We have reserved downstairs section of the pub and the festivities for three hours between 6:30 and 9:30 pm
Here's what we have lined up for you:
1 Jug of Beer for every 10 attendees
Match Game - Everyone gets a card, find your matching card, you both $10 Blarney Stone Gift Cards!
Single Mingle Bingo - Get a Bingo and be entered to win $50 in Blarney Stone Gift Cards! (based on 50 attendees)
The "No Game" Everyone receives a bracelet, if you say no you lose your bracelet. The one with the most bracelets wins a $100 in Blarney Stone Gift Cards (Based on 50 attendees)
A lot of Random Draw Prizes of $10 Pint Pub Gift Cards, (dependent of number of attendees)
Itinerary:
6:00 -7:30 PM
Check In & Match Game Begins
People arrive and check in and receive a Name Tag, Match Game Card and Random Prize Draw Ticket.
The Match game will run until 7:30 if you find your match, come and see me to receive a $10 Pint Pub Gift Card.
7:30 PM
Single Mingle Bingo Begins
We will hand out the Single Mingle Bingo Cards and the game will run until 8:30 PM. Place your name in the free square and find people that match the statements on your bingo card. You will receive a draw ticket for every line your complete. A full card equals 12 draw entries! Hand in your card and we will draw a winner at 9:30 or so for $50 in Pint Pub Gift Cards.
I will be bringing 20 pens with me that I will lay on the tables; if you can bring your own pen that would help out immensely.
8:30 PM
The No Game Begins
We will be handing out the "No Game" Bracelets. This game will run until 9:30. Everyone that plays must wear their bracelet on their wrist or hand so it is visible. If you say the word "no", you lose your bracelet.
You can say nope, nuh uh, negative or anything else... you just can't say the word no. The homonym "know" like "I don't know" doesn't count and neither do the words nowhere, nohow, noboby, etc. It has to be the word "No"
If you lose your bracelet, you are not out of the game. After a while, there will be a few people walking around with lots of bracelets on their wrist or hand.
If you make that person say "no" you get all their bracelets.
You cannot clam up, you must talk and you cannot hide your bracelets, they must be visible on your wrist or hand. The game ends at 10:00 and the one with the most bracelets wins $100 in Pint Pub Gift Cards.
9:30 PM
"No Game" winner is declared!
9:30 - 9:45 Bingo Card winner will be drawn and random draws for $10 Pint Pub Gift Cards plus any unclaimed Match Game Gift Cards
10:00 PM Wrap up
We will wrap things up at 10:00 pm and I am sure this is going to be a fun filled night of socializing, laughter and an all around good time!
Event Fees:
$20 Online
$25 pricing at the Door.