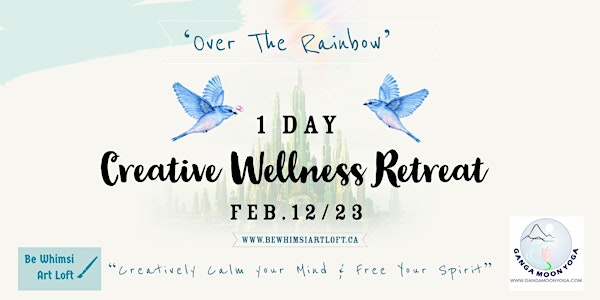 Over The Rainbow- A Creative Wellness Retreat
Join us in a picturesque lakeside creative space for a mindful day full of creative activities, friendship and self-expression.
When and where
Location
Elizabeth Street Pumphouse (Town of Grimsby) 447 Elizabeth Street Grimsby, ON L3M 3C2 Canada
Refund Policy
Contact the organizer to request a refund.
Eventbrite's fee is nonrefundable.
About this event
Adults (16+) Be Whimsical With Us and Tap Into Your Inner Child!
No previous art experience is required. Come with an open mind and be ready to create and reset. Arrive solo or with a friend.
Happy little bluebirds fly over the rainbow, why then, oh why can't you! Follow the little blue birds over the rainbow to join us in this picturesque lakeside heritage space (1812), The Grimsby Pumphouse, for an expressive arts therapeutic wellness day full of friendship, expression and ART!
Our workshops are inspired by Wizard of Oz's themes of friendship, self-discovery, and vibrant colours.
Join us for a whimsical creative-wellness day retreat designed to remove you from the tethers of everyday life. 'Creatively calm your mind and free your spirit!'. Create expressive and meaningful Art, enjoy mindful and meditative moments, indulge in a self-care workshop, enjoy the lake and pier and chat by the inside fireside.
Our experienced facilitators guide you through every step of the way! All the creative activities we include are developed using art therapy principles, and we facilitate the activities and the discussions afterwards. There is "no right or wrong" to what one creates in these sessions. The goal is to experience it!
Refreshments, coffee, and teas are provided throughout & a light, nutritious Lunch is provided.
Retreat Activities:
9:00 AM (1 hr) Soundbath for Relaxation and Creative Readiness with Andrea of Ganga Moon Yoga
Reveal the kingdom of peace within your soul through guided meditation, gentle movements, relaxed positions and Crystal sound healing vibrations. Awaken to the beauty of who you are. Silence the mind and be creative from your soul.
A relaxing and mindful moment of sound therapy will open your creativity, intuition, and ability to daydream and fantasize. If you have never experienced this activity, this is a beautiful, gentle session based on sound frequencies and the brain-body responses.
10:15 AM Express Yourself: Self-Love Self-Worth Workshop & Whimsical Art Journalling with Rhiannon and Cindy of Be Whimsi Art Loft
Our welcome activity encourages deeper consideration of aspects of self for a more profound introduction. Share as little or as much as you want during our Mind, Body and Soul Identity activity. We take you through a self-worth inventory and circle discussion that will influence you to take an introspective look and positively affect your life and self-worth.
In this workshop, we acknowledge setbacks, daily stressors, mini traumas, past rejections, interactions, personal relationships, and attachments(especially during our developmental years), which have contributed to the makeup of our self-worth. We consider how these influences have formed our personalities and the degree to which we love ourselves. We use this discussion to prompt pages in our art journals.
We provide an art bar of supplies and travel journals.
Through this, you will leave an understanding of how your thoughts hold significant power over your self-worth or self-esteem and how identifying these aspects of self is essential for growth.
12:30 Lunch (Subject to slight variations)
Vegetarian & Chicken Soup Options
Charcuterie: Crakers, Cheese, Meats, Olives, dried fruits, nuts etc.
Cucumber Salad
Fruit Salad
1:30 Gentle Painting, a mindful, guided Wizard of Oz-inspired canvas art session led by Rhiannon of Be Whimsi Art Loft
Learn how to expand your creative experiences with mindfulness-based Art, Gentle Painting, where we will paint an Oz-inspired canvas.
Gentle Painting features meditation, brush strokes, art tools, and finger painting techniques. We encourage creativity and interpretation and help you through any discomfort so you can leave feeling relaxed and with a piece of Art you can be proud of! We supply everything you need to create a beautiful painting. Our instructor guides you step by step and encourages creative exploration with colour changes or other deviations from the original concept picture.
The benefits: With others or when self-guided, painting allows one to focus on the moment and provides an opportunity to enjoy the present or even to enter a reparative flow state. This enables the everyday stresses to subside, and, in the end, there is something unique to look at or share with others. Additionally, sharing our Art with others provides a sense of belonging and builds confidence.
4:15 Gift: Suncatcher Crafting Kits
Our creative kits contain all the supplies you need to craft a whimsical brass and beads suncatcher. Create a cheerful and cleansing rainbow addition to your space to remind you of the promises you made to yourself, your new artistic skills, and the insights gained during your time with us.
4:30 Farewell
5-Minute Grounding Meditation, preparation for returning to your everyday life to maintain the feelings and insights you discovered during your day with us.
"You Had The Power All Along, My Dear"-Glinda the Good Witch
Our Venue: https://www.youtube.com/watch?v=jiw9TVvpETQ
What to bring:
We recommend you bring a yoga mat or blanket, comfortable clothing in layers, and appropriate footwear if you want to explore the pier and grounds. We have a few extra mats and blankets in case you need one! We also provide painting aprons for painting activities.
Due to the nature of the season, we recommend that you bring indoor shoes, slippers, or your favourite comfy socks!
We provide coffee and teas, but if you wish to bring your own, please do; please also bring a refillable water bottle. We provide a water refill station.
Let us know if you have dietary restrictions, and we will try our best to accommodate you.
If you require special accommodations, please make us aware of considering inclusive adjustments.
Our workshop and activity facilitators are covid anxiety, social anxiety, and trauma aware.
You are granting our facilitators and staff photo access by purchasing a ticket. If you do not wish to take your photo, we will record that decision at the welcome table and respect your photo consent choices.
Questions? Please get in touch with Rhiannon Barry, Program developer and Event Coordinator
artbyrhiannonbarry@gmail.com or 905-964-0405