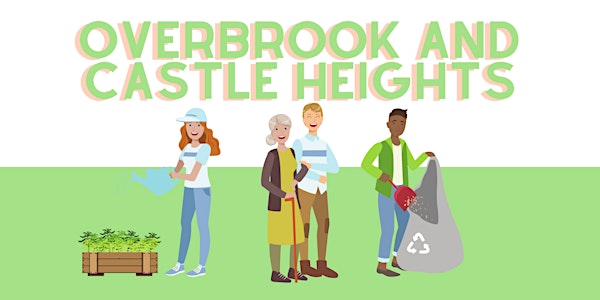 Overbrook and Castle Heights Community Sustainability Plan Workshop
OBEC is hosting a workshop for the Overbrook and Castle Heights community to come together and create a Community Sustainability Plan.
About this event
Do you live in the Overbrook or Castle Heights? Has there been a specific sustainability issue or goal on your mind? Do you have tons of ideas on how to improve your neighbourhood and community? Well then this workshop is right for you! It is an opportunity where you can help improve your neighbourhood by coming together and sharing your sustainability projects, and goals!
Community Sustainability Plans (CSP) are a very important tool to motivate communities and improve their overall sustainability. They are an agenda for action to help communities succeed in achieving their sustainability goals now and into the future. The CSPs are created by the community coming together and highlighting individual, community and government action they want to take place locally.
This workshop is facilitated by Ottawa Biosphere Eco-City, a grassroots Ottawa non-profit whose vision is is for an environmentally sustainable city that supports a high quality of life, now and for future generations. Please find more information about us, and past Community Sustainability Plans we have made around Ottawa here: http://obec-evbo.ca/ As well this workshop is being done in partnership with the Overbrook Community Association.
If you have any questions or concerns please contact our CSP facilitator at sabrina.obecintern@gmail.com
________________________________________________________________________________________________
*** EN FRANÇAIS
Vivez-vous dans la communauté de Overbrook ou Castle Heights? Avez-vous un problème ou but spécifique concernant la durabilité ? Avez-vous des idées a propos comment améliorer votre quartier et votre communauté? Si oui, cet atelier est pour vous ! C'est une opportunité où vous pouvez aider à améliorer votre quartier en vous réunissant et en partageant vos projets et objectifs de la durabilité !
Les plans de durabilité communautaire (PDC) sont un outil très important pour motiver les communautés a prendre de l'action pour atteindre leurs objectifs de durabilité aujourd'hui et à l'avenir. Les PDC sont créés par la communauté et indique évidence l'action individuelle, communautaire et gouvernementale qu'elle souhaite voir mise en place localement.
Cet atelier est animé par Éco-ville Biosphère d'Ottawa en partenariat avec l'association communautaire de Overbrook, un organisation à but non lucratif dont la vision est celle d'une ville écologiquement durable qui soutient une haute qualité de vie, maintenant et pour les générations futures. Veuillez trouver plus d'informations sur nous, et les PDC ici : http://obec-evbo.ca/.
Si vous avez des questions ou des préoccupations, veuillez contacter notre animatrice à sabrina.obecintern@gmail.com
________________________________________________________________________________________________