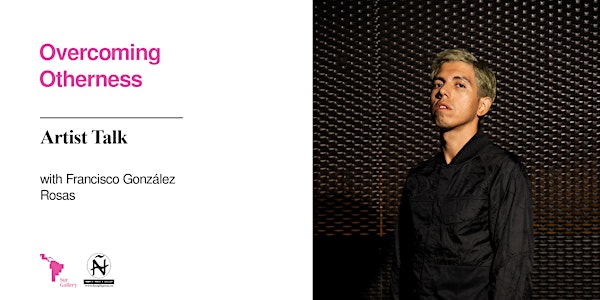 Overcoming Otherness: Artist Talk with Francisco González Rosas
Artist talk with Francisco González Rosas on Zoom for the Overcoming Otherness exhibition.
Date and time
Starts on Thu, Jun 15, 2023 4:00 PM PDT
About this event
On June 15th, join artist Francisco González Rosas in discussing their work in the Overcoming Otherness exhibition.
ABOUT THE EXHIBITION
This exhibition refers to forms of representation and interpretation and how Latinx bodies are rendered as other by a Eurocentric gaze. By challenging fetishized and exoticized codifications of race and ethnicity, the artists Nahúm Flores, Helena Martin Franco, Juan de Dios Mora, Diana Rosa, and Francisco González Rosas propose alternative ways of understanding mestizaje. They radicalize conventional paradigms of how certain identities are perceived and constructed to fulfill colonial structures that perpetuate systems of invisibility and omission. The artists in the exhibition portray cultural, social, and personal manifestations of identity and they mark the intricacies and nuances built after centuries of colonialism and decades of imperialism.
Identity preoccupations are often explored by artists from the diaspora, yet the richness of its multiplicity does not rely on nationalist histories or romanticized visions of culture. The artists in Overcoming Otherness critique the exclusionary production of identity politics. They offer sites of liberation and disrupt the notion of a harmonious mixing of cultures and ethnicities, often attached to ideas of mestizaje. The idealization of mestizaje renders Indigenous identity as static, archaic, and of the past. Feminist sociologist and activist Silvia Rivera Cusicanqui, counterposes with the Aymara concept of ch'ixi – a parallel coexistence of difference – to ideas of multiculturalism and hybridity which are seen as a perpetuation of coloniality. This parallel coexistence does not erase but complement the very nature of multiplicity. The exhibition insists on a different understanding of identity and as such it problematizes notions of mestizaje and instead presents a nuanced and layered concept of what and how Latinx bodies shape and define their own representation in Canada.
ABOUT THE SPEAKERS
FRANCISCO GONZÁLEZ-ROSAS is a performance and new media artist born in Chile, and currently is based in Tiohtià:ke/Montréal. Their creative research practice revolves around the constant mediation of reality in contemporary life, using performance as a generative device for inquiry rather than an end. González- Rosas holds an MFA in Intermedia from Concordia University (Montréal, Canada) and a BA in Acting from Finis Terrae University (Santiago, Chile). Solo exhibitions include Techniques of the Narcissist in 2019 at Elektra Gallery (Montreal) and the museum of the copy/pasted identities in 2022 at McLuhan Centre for Culture and Technology (Toronto).
ABOUT THE CURATOR
Tamara Toledo is a Toronto-based curator, scholar, and artist. She is co-founder of the Allende Arts Festival and of Latin American Canadian Art Projects. For the past fifteen years she has curated exhibitions and projects offering spaces and opportunities to Latinx and diasporic artists in Canada. Founder and curator of the Latin American Speakers Series, Toledo has invited internationally renowned contemporary artists, philosophers, critics, and curators to Toronto to articulate and discuss issues of identity and intercultural dynamics in contemporary art. Toledo has presented her work at various conferences in Montreal, New York, Vancouver, Chicago, Mexico City, and Toronto. Her writing has appeared in ARM Journal, C Magazine, Fuse, Canadian Art, and the Latin American & Latinx Visual Culture Journal of the University of California. Her curatorial and academic practice follows an intersectional approach and embraces decolonial methodologies and practices to explore issues of memory, power relations, uprooting and displacement, social dynamics, and the unthinkable possibilities of art practices. Toledo is presently the Director/Curator of Sur Gallery, the only space dedicated to contemporary Latin American art in Canada and is currently a PhD candidate in Art History and Visual Culture at York University.
ABOUT THE GALLERY
Sur Gallery is Toronto's first gallery space dedicated to the exhibition and critical engagement of contemporary Latin American Art and is a project of LACAP.
For information contact:
416-654-7787
info@surgallery.ca
www.surgallery.ca
www.surgalleryvirtual.ca
www.facebook.com/LACAPsurgallery
https://www.youtube.com/user/lacapcanada/videos
Gallery Hours:
Thursdays and Fridays 12 pm-6 pm
Saturdays 11AM-5PM
Location: 100-39 Queens Quay East, Toronto
Sur Gallery acknowledges the financial support of the Canada Council for the Arts; Ontario Arts Council; Toronto Arts Council; The City of Toronto through section 37.