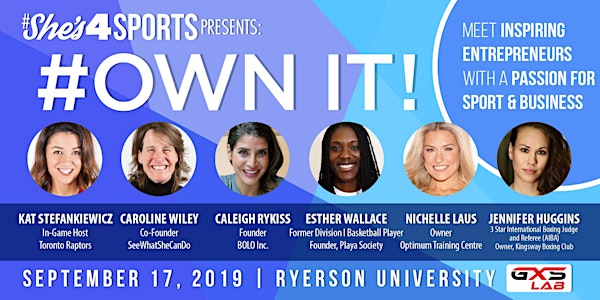 Own It! Meet Women Who Run Things In Business & Sport
When and where
Location
Ryerson University, Rogers Communication Centre - The Catalyst at FCAD 80 Gould Street Room 230 Toronto, ON M5B 2M7 Canada
Description
She's4Sports is back with another inspiring event. This time we've teamed up with the GXS Lab at Ryerson University to host the Own It event. Come for the conversation stay for the networking. You don't have to be a sports fan to attend our events. At She's4Sports events, we have fun and bring women together in a safe space to meet other women who are living their passions and want to share their journeys.
What does a former NCAA Division I basketball player, a former television producer, a 3-Star international boxing referee and judge and a founder of a sports online platform for women have in common? They're all diverse women in sport who run their own businesses. Between the intersection of sport and business these trailblazers have built their companies from the ground up, represent diversity in sport and empower women and men to live healthy lifestyles. Come out and hear from our inspiring panel as they walk you through their journey of becoming a bawse in life and business.
---

What: Own It panel event
When: Tuesday September 17, 2019
Where: Ryerson Communication Centre, The Catalyst at FCAD, 80 Gould Street, Room 230
Toronto, Ontario, Canada M5B 2K3
*Light finger foods, refreshments and our yummy branded She's4Sports cupcakes will be served.
Panellists include:

- Kat Stefankiewicz, Toronto Raptors, In-game and digital host, Adidas Ambassador and sports brand influencer
- Nichelle Laus, Mompreneur, Transformation Specialist and Founder, Optimum Training Centre
-Jennifer Huggins, 3-Star International Official – Referee/Judge, Boxing (AIBA) and CEO, Founder Kingsway Boxing Club
-Esther Wallace, Former Division I basketball player and CEO and Founder, The Playa Society
-Caleigh Rykiss, Personal trainer, writer, TV producer, fitness host and Founder, CEO, BOLO Inc.
-Caroline Wiley , Co-Founder, See What She Can Do
She's4Sports is a digital content and events-based network made up of over 3000 women and men. Through our content and events, we amplify the voices and contributions of women in sport.
GXS Lab - Women in Sport is a community for women and men to come together and engage in activities and discussions related to gender inequities in sport, sport media and sport business. And to introduce the positive benefits of being: gender sensitive and gender equal. With a mandate to mobilize change and move toward total elimination of these inequalities.
Check out She's4Sports' content, past interviews and events below via our social platforms and don't forget to follow and subscribe. We can't wait to see you on September 17.