Description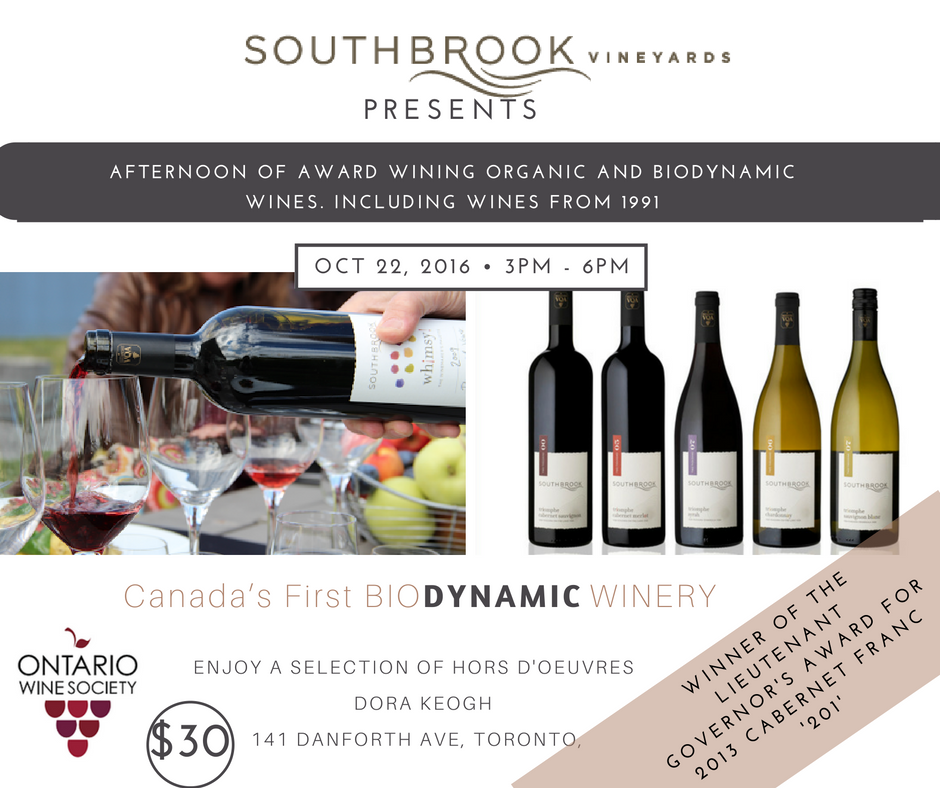 Enjoy an afternoon with Southbrook Vineyards. Trying a selection of wines from their portfolio and deliciously paired Hors D'oeuvres. Purchase tickets to the tasting.
Wine List
From the Library:
1991 Southbrook Chardonnay
1994 Southbrook Riesling
1996 Southbrook Riesling Icewine
2000 Southbrook Chardonnay
2001 Southbrook Cabernet Franc
1998 Southbrook Cabernet Merlot


Available For Sample and Purchase:
2012 Southbrook Estate Grown Small Lot 'Wild Ferment' Chardonnay
2011 Southbrook Poetica Chardonnay
2015 Southbrook Small Lot 'Natural' Orange
2013 Southbrook Estate Grown Small Lot '101' Cabernet Franc - Best of Show - Royal Agricultural Winter Fair 2016
2013 Southbrook Estate Grown Small Lot Witness Block Cabernet Sauvignon / Cabernet Franc
2007 Southbrook Poetica Cabernet Merlot
2014 Southbrook Vidal Icewine


Don't let the day end..
Continue into the evening by making reservation to Southbrook dinner hosted by the Redelmeier Family. Call Allen's at 416.463.3086 to reserve a spot.