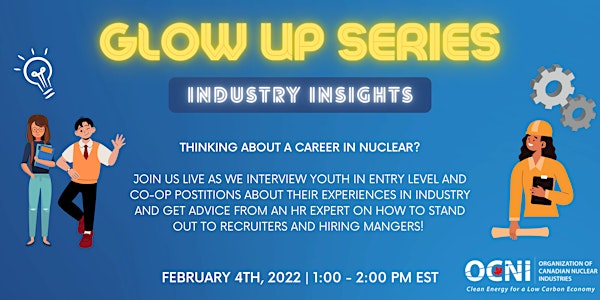 OYSC Glow Up Series - Episode 2: Industry Insights
Thinking about a career in nuclear? Join us to get the inside scoop on tips and tricks to get your foot in the door from the experts.
About this event
Are you thinking about a career in nuclear? Not sure where to start or how to stand out in the hiring process? Tune in for another episode of the OCNI Youth Shadow Council (OYSC) Glow Up Series, "Industry Insights," as we interview youth in early career positions in the Canadian nuclear sector. This event will share the lived experiences of youth starting in the industry and insights into how they navigated through applications. We will also be joined by an HR industry expert who will share tips and tricks to master the interview process!
Mark your calendars for Friday, February 4, 2022, from 1:00 pm to 2:00 pm EST, so you don't miss episode 2 of The Glow Up Series: Industry Insights. Registration is free!
To register and receive the live event link, please visit: https://ocni.member365.ca/public/event/details/c7636d6e7b40a5afdeb7de63e059733a6431f5d2/1