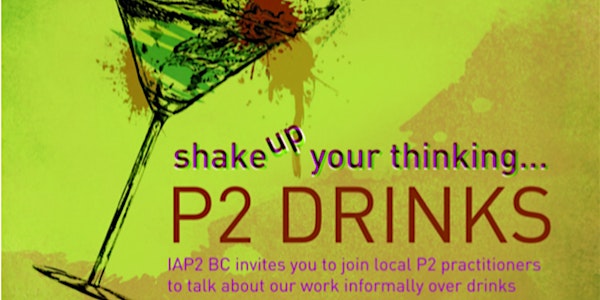 P2 Drinks September
When and where
Location
Devil's Elbow Ale and Smoke House 562 Beatty Street Vancouver, BC V6B 2L3 Canada
Description
Wednesday Seprember 21, 2016 from 6:00-8:00pm
Devils Elbow Pub, 562 Beatty Street, Vancouver
P2 Drinks throughout 2016 will be asking questions that challenge our basic assumptions about P2. In particular:

Why should we care about P2? 

Can we get more people to care? 

What does "meaningful engagement" mean?
We will discuss ideas that challenge us and make us take a step back re-examining our purpose, motivations and the role of P2 in BC. How it is conducted (at various degrees of success) in different sectors such as energy, mining, health, community development, etc in British Columbia will also be a focus.
We want to hear from P2 practitioners and those interested in the practice of P2 about your areas of concern that are critical to your practice or an emerging trend in British Columbia. The input gathered from the networking series and through online engagement is being integrated into a presentation to reflect the BC Voice at the IAP2 Canadian Conference in Montreal, September 28-30, 2016.