PABC Course: Physio Marketing/Social Media 101: How to Foster Patient Enga...
Description
SPECIAL OFFER: Member Clinic Owners can send up to 4 administrative staff at the member rate.
Course Overview
You don't want to suck at patient engagement and drive your business into the ground, right?
Then let's put an end to it.
You see, you've got it all wrong. The clinical diagnosis, treatment, and service you offer is only one small part of the patient experience.
The patient's journey begins the moment they're online.
Your website, your google reviews, your social media, your phone calls, your phone manner, your treatment plan - every single touch point needs to be optimized for patient engagement so they become highly committed, graduate from your treatment plans, and turn into raving fans that drive your business forward.
In Rick Lau's 2.5 hour workshop, you'll learn:
How to fix your patient engagement funnel BEFORE you waste a ton of money on marketing

How to map the patient engagement lifecycle so you can be in control of the outcome at every touch point

How to implement systems into your clinic to optimize and automate patient engagement for the long term

How to get a patient to graduate from your treatment plan and give you a improve your team's phone etiquette and performance to set your clinic ahead of the competition
PLUS SPECIAL BONUS:
Rick shares 5 key secrets to getting more new patients calling your clinic using social media and digital marketing.
This workshop will empower you with practical strategies to give you that marketing edge that you need in the modern marketplace.
Instructor Bio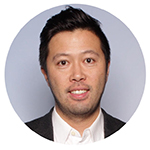 Rick Lau
​Rick Lau is a successful healthcare entrepreneur and marketing expert. Having built a network of over 100 clinics across Canada, Rick understands the challenges clinic owners face and how to overcome them through optimizing clinic systems and marketing processes. Rick is presently founder Clinic Supplies Canada (CSC), which saw a growth rate of 65% last year, a 3X SEO increase, 40K website sessions a month, generating 1000+ orders every month. CSC also runs the popular #ClinicAccelerator Blog with over 1000 clinic owner subscribers. Rick is also the founder of CallHero, a call performance and training software that helps clinics turn their staff into phone experts and convert more calls into booked appointments. Rick also works with the CPA Private Practice Division helping clinic owners with their businesses.
Register now as space is limited! PABC members benefit from significant savings on courses. Not a member yet? Explore membership.
PABC Course Cancellation Policy
PABC Course refunds for this lecture will be issued for cancellations received two weeks prior to the event, less a $10 Cancellation fee.
No refunds are issued for cancellations less than two weeks prior to the event.