PABC Course: The Eclectic Approach to Upper Quarter and Lower Quarter Assessment and Treatment - 2 days

Saturday, 2 November 2019 at 8:30 AM

-

Sunday, 3 November 2019 at 5:00 PM (PDT)
Event Details
You will receive emails from Eventbrite with information about this course. If you do not receive an email with instructions two weeks prior to the course, please check your junk/spam folder. If you still cannot find the email, email librarian@bcphysio.org.
Overview:
This course is an introduction that incorporates movement assessment via a Repeated Motions exam and a comprehensive Movement Screen. The course emphasis is on The Eclectic Approach - Modern Manual Therapy, Pain Science Education and patient self-treatment. Treatment includes use of the EDGE/EDGEility Tools for Instrument Assisted Soft Tissue Manipulation, Spinal Manipulation and Mobilization, and Neurodynamics to promote movement and decrease pain. Clinical Practice Patterns of movement dysfunction will be taught for assessment and treatment. The course is 30% lecture and 70% lab.This 2-Day course runs from 8:30am-5:00pm each day.
Course Objectives:
Upon successful completion of this course the participant will:
Demonstrate an understanding of The Eclectic Approach - Modern Manual Therapy with neurophysiologic mechanism

Will be able to evaluate and treat common movement pattern dysfunctions in both the upper and lower quadrants of the body

Use traditional soft tissue manipulation, functional release, compression wrapping and instrument assisted soft tissue manipulation, joint manipulation and other orthopaedic manual therapy treatments to increase the compliance of patient HEP

Understand the indications and contraindications to IASTM, spinal manipulation, neurodynamics

Be able to prescribe patient self treatment with mode and patient education

Be able to give the patient informed consent for treatment

Use a Movement Screen and a Repeated Motions Exam for Test and ReTest of the Patient's   Function and Symptoms



Continuing Education Hours:  16.0 Hours
**Please bring your own clipboard and water bottle
Course Pre-requisite:
Participants must complete a 2.5 hours online course prior to attending the Nov 2/3, 2019 weekend in-person course. This pre-requisite online lecture is mandatory and is no longer presented live. There is no additional cost to complete this pre-requisite online lecture. Each paid participant will be sent the link to the online lecture 2 weeks before the Nov 2/3, 2019 in-person course.
Open to: PT, Chiropactors, Osteopathic Doctors, Athletic Therapists
Format: In person
Instructor: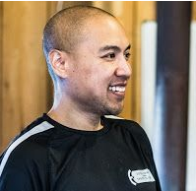 Dr. Erson Religioso III, DPT, MS, MTC, CertMDT, CFC, FMS, FMT, FAAOMPT, is a fellowship trained cash based PT practice owner, entrepreneur, blogger, and sought after lecturer in the topic of The Eclectic Approach - Modern Manual Therapy. He has a #CashPT Practice in the Buffalo, NY area, EDGE Rehab and Sports Science, where he specializes in TMD, headaches, spinal care, runners, gymnasts, and chronic pain. His focus is seeing the patient as little as possible, and empowering them with education, self assessment and treatment strategies.
Dr. Religioso is adjunct faculty of SUNY at Buffalo, where he teaches orthopaedic manual physical therapy in the DPT program. He also developed a line of manual therapy, mobility, fitness, strength, and rehab products along with pain science education materials at The EDGE Mobility System.
The Eclectic Approach - Modern Manual Therapy is Dr. Religioso's line of seminars for clinicians that are taught online and in live venues around the world. The Eclectic Approach started with Modern Manual Therapy, and has expanded to include Modern Strength Training, and Modern Patient Education.
Dr. E is now offering his services as both an online clinical mentor to clinicians at Modern Rehab Mastery, travelling OMPT Fellowship mentor, online patient consultations, and online business and social media consultation, #CashPT start up with LeBauer Consulting. He also is part of media company, UpDoc Media, with 2 podcasts, Therapy Insiders and Untold Physio Stories.
Erson is a family man, married to the best woman in the world, and currently has 5 beautiful children. He enjoys running with them, watching them in competitive gymnastics and watching Disney/Pixar movies. He is also a huge tech geek and loves all things Marvel, Star Wars, and Star Trek. If you see Dr. E out and about, or at a seminar, ask him to grab a beer or coffee and talk about shop or anything!
Licensing:
All participants are responsible for ensuring that they have a current license to practice from the College of Physical Therapists of British Columbia (CPTBC). If participants are from out of BC, they must acquire an Courtesy License from CPTBC: https://cptbc.org/physical-therapists/registration/temporary/
PABC Course Cancellation Policy:
PABC Course refunds are issued for cancellations received two weeks prior to the event,  less a $100 Cancellation fee. No refunds are issued for cancellations less than two weeks prior to the event.
Register now as space is limited!   PABC members benefit from significant savings on courses. Not a member yet? Explore membership.
When & Where

UBC Dept of Physiotherapy
2177 Wesbrook Mall
Friedman Building, Plinth Lab #3
Vancouver, BC V6T 1Z3
Canada

Saturday, 2 November 2019 at 8:30 AM

-

Sunday, 3 November 2019 at 5:00 PM (PDT)
Add to my calendar