Location
Toronto Region Board of Trade
77 Adelaide St. W., 4th Floor
Lennox Hall - First Canadian Place
Toronto, ON M5X 1C1
Canada
A new platform facilitating the connection of professionals, companies ​​​, ​and​ organizations to support international trade.
About this event
Interaction between LatAm and Canada is more relevant than ever, not only the current political scenario but the economic correlation between markets open an infinite array of opportunities. The Pacific Region entrepreneur's community is ready to go regional and 100 SMEs have decided that Canada is the right place for them. This event provides great networking and learning opportunities, featuring keynotes and panel presentations oriented to the internationalization of small and medium-sized enterprises, and advice for tackling challenges and leveraging new opportunities to grow your business.
ABOUT THIS EVENT:
This event will aim to:
• Contribute to providing opportunities to increase growth and viability for all participants,
• Facilitate international trade opportunities and accessibility to the Canadian Market and Canadian SMEs in the South Pacific Region,
• Facilitate the opportunity for Canadian SMEs to showcase their business interest in the South Pacific Region
• Highlight new opportunities for women entrepreneurs in the international market
• Provide real attention to the matter of empowering SMEs from the Pacific region and Canada
• Help SMEs establish contacts and give them the tools to move forward with the internationalization of their businesses.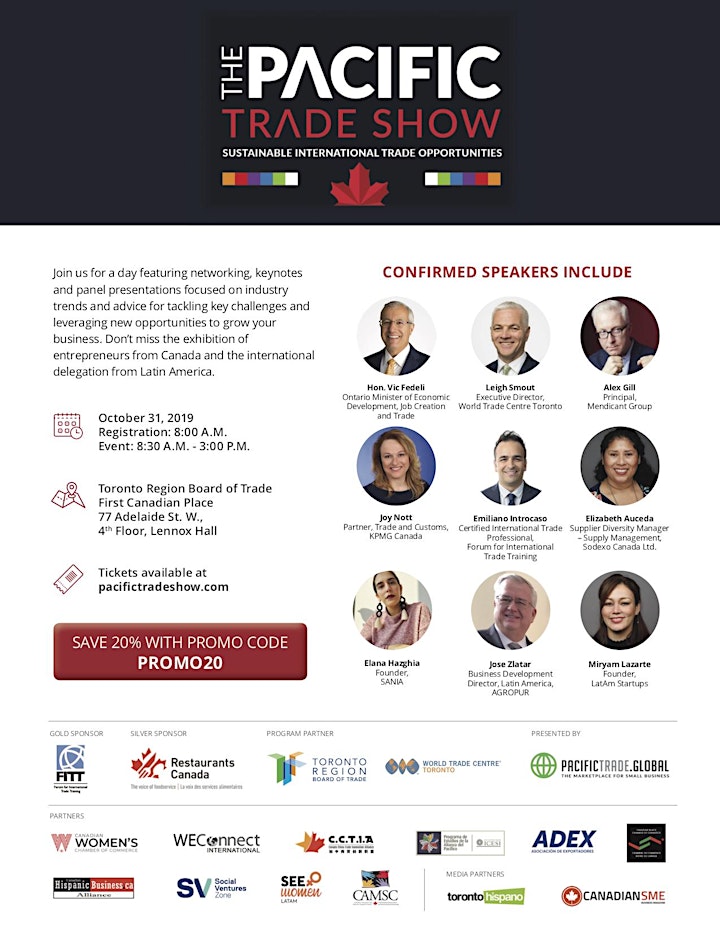 Who will be attending:
Entrepreneurs and their companies from Canada, Colombia, Ecuador, El Salvador, Guatemala, Mexico, Nicaragua, Panama and Peru.
Small and Medium-sized companies
International Delegates exploring new business opportunities
Industry associations
International trade specialists
Buyers
Exporters
Service providers
Women entrepreneurs from the Pacific Region have been selected to exhibit from the following sectors:
Food & Beverages
Fashion & Apparel
Services & Innovation
Tourism
Handcrafts
AGENDA
8:00 – 8:30 Registration
8:30 – 8:45 Welcome & opening remarks
8:45 – 9:15 Panel 1: Breakfast with Industry Leaders – Barriers and Opportunities for Increased Trade Interaction
Canada values the deep, long-standing relationships that it has with the countries of the Pacific region, and as such, has signed several trade deals that have opened the doors for trading between Canada and the Pacific – but what are the opportunities, and what barriers do they pose?
9:15 – 9:45 KEYNOTE: EXPANDING TO NEW MARKETS - THE IMPORTANCE OF ESTABLISHING A MARKET ENTRY STRATEGY BEFORE YOUR BUSINESS GOES GLOBAL
9:45 – 10:15 Panel 2: Pacific Trade in the Americas, in Real Terms
The Comprehensive and Progressive Agreement for Trans-Pacific Partnership (CPTPP), will see significant market access gains and will eliminate tariffs, saving Canadian companies $428m a year. The nations within the agreement hold a combined GDP of $13.5tr, showcasing the vast opportunities for bilateral trade.
10:15 – 10:35 COFFEE BREAK
10:35 – 11:05 Panel 3: South Pacific Region – Canada Relations
The South Pacific has a growing role in the global economy. Events in the region are of critical importance to a broad range of Canadian goals, including prosperity, development, inclusion, sustainability, peace, and security.
11:05 – 11:25 KEYNOTE: FINANCIAL INCLUSION - THE SECRET BEHIND THE DEVELOPMENT OF THE MIDDLE CLASS
11:25 – 11:55 Panel 4: Making Trade Happen
The Pacific is a growing market with diverse economies and vast resources. In 2017, Canada was one of the Pacific's major trading partners. Learn about the successes and failures from companies that have entered certain countries of the Pacific region.
11:55 – 13:00 Lunch & Networking
13:00 – 13:0:55 KEYNOTE: BUILDING BRIDGES BETWEEN ONTARIO AND LATIN AMERICA.
13:15 – 15:00 Pitch competition
EXHIBITION:
SMEs led by women, representing 7 countries from the South Pacific Region and Canada will be exhibiting their products and/or services during the day. The opportunity to connect and find innovative and eco-friendly products, supporting women-led companies.
This event is co-hosted by PRO&PRO Promo&Production Inc. and World Trade Centre Toronto
NOTE:
INTERNATIONAL DELEGATES must apply under that category at www.pacifictradeshow.com
International Invitation Letters will be issued ONLY to registered participants as INTERNATIONAL DELEGATE.
If you have any questions, please contact us at toronto@pacifictradeshow.com
Video footage and/or photos will be taken during this event, which may or may not include your recognizable image.
Please be advised, by participating in this event, you agree to allow Pacific Trade Show to use the images in print, digital or web-based formats for promotional and archival purposes.