Learn how to cook Thailand's most famous street food—Pad Thai—with Edmonton chef Steve Buzak.
About this event
Enjoy a taste of Thailand. Cook delicious Pad Thai.
Created in the 1930s by the prime minister of Thailand at the time, this noodle-based dish was aimed at uniting the country's citizens through a culinary delight. You can—in just one hour—learn the secrets of creating great Pad Thai in your own kitchen.
Join Edmonton-based chef Steve Buzak, of the Royal Glenora Club, as he leads us through the adventure of creating one of the world's most delectable dishes. Meat or seafood eater? Are you vegetarian or vegan? No worries. Steve will walk you through options for creating Pad Thai the way you'd like it. Cook along with Steve. Then sit down and enjoy!
Software Requirements:
This class will held be held on the Zoom platform. You're likely already using Zoom, but if not, you can download (It's free and very easy!) the app for any device here: Zoom Download Link
Once you've downloaded the app, you can join a test meeting here to familiarize yourself with Zoom: Zoom Test Meeting
If you don't download the app before the class, you will be prompted to download and install Zoom when you click the class link (to be provided 7-10 days before the class), so you'll need to be sure to give yourself time to do that before the class begins. We strongly advise that you download and familiarize yourself with Zoom before the day of the class, because the class will be starting promptly at 5:30 pm.
Details:
Class fee is $25.00, which will allow you to access the class on one device (laptop, tablet, or smartphone). If you and your spouse/partner/friend plan to cook together, you only need to purchase one ticket because you will be attending on the same device. Please note that no refunds will be issued if you are unable to attend for any reason. This is a fundraiser, and your money will go to a great cause (see below).
After you register, you will receive a confirmation email.
You will receive, 7-10 days prior to the event, the recipe, the list of ingredients you will need to purchase/have on hand (including protein options), a list of kitchen tools/equipment you will need to have on hand, instructions for preparing to cook along with Steve at the live event, and the Zoom meeting link and login information. (Note: If you have registered less than 7 days before the event, you will receive the above within 24 hours of your registration date and time.)
About Steve:
Steve Buzak is the Executive Chef/ Food & Beverage Director at Edmonton's prestigious Royal Glenora Club (RGC) where he has spearheaded a shift in the menu offerings towards one of his passions—eating local. His formal training has come from NAIT as well as the Dubrulle Culinary Arts Institute in Vancouver. He competed locally in the Gold Medal Plates competition in 2017, 2015 & 2014. In addition to his kitchen skills, Steve received training with the International Sommelier Guild.
For now, Steve regularly participates in collaborative food events such as "Feast On Your Field" for Capital Care and the Ronald Macdonald House "Taste of Home Gala." He sits on the board of directors for edmontonCHEFS.ca, is always keeping busy looking at what's working with the RGC's current meal offerings, and educates membership to eat "smarter" and buy local product.
Steve does get away from the kitchen occasionally. He competes regularly at international ice sculpting competitions such as the Harbin International Ice and Snow Sculpture Festival (in 2017, he placed 2nd out of 32 teams), Ice Magic at the Chateau Lake Louise, Ice on Whyte in Edmonton, and Winterlude in Ottawa.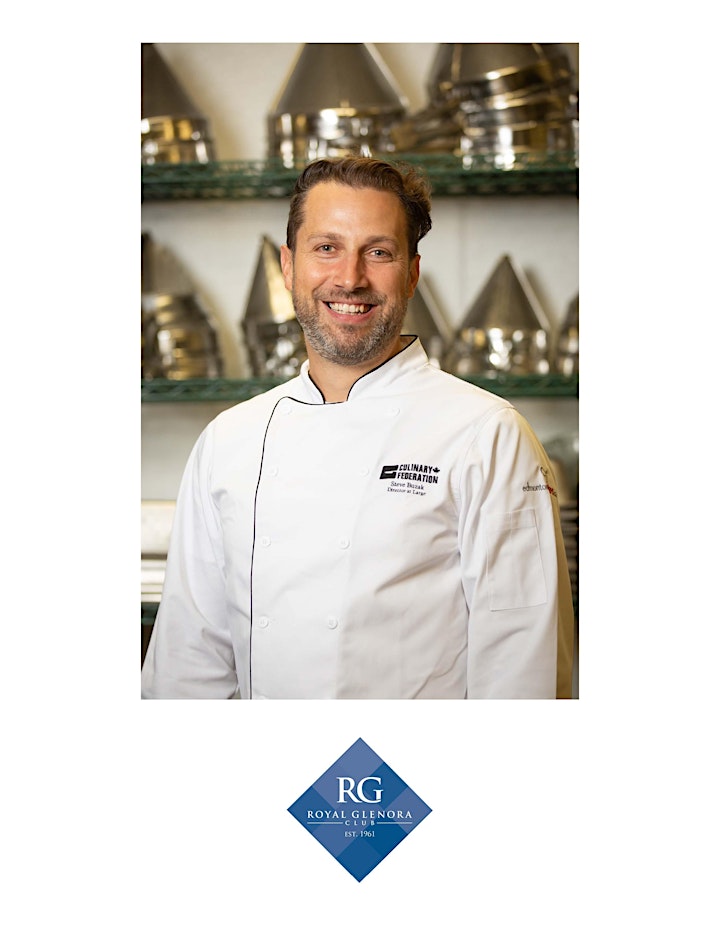 About Our Cause:
This virtual cooking class is a Rotary Club of YEG Passport fundraiser in support of Misión Claridad, a cataract surgery project that will take place in Ecuador in the fall of 2021.
Cataracts are the leading cause of blindness in the world. Medical experts estimate that 50% of the world's population develop cataracts by the age of 65. But there is a cure: surgery. In Canada, that surgery is free. In Ecuador, it's not, putting it out of the reach of far too many.
Misión Claridad (Mission Clarity) will provide free cataract surgery to Ecuadoreans who can't afford it and whose lives and livelihoods are profoundly impacted by their blindness or vision impairment due to cataracts. The mission will also raise awareness of what cataracts are, the risk factors that predispose individuals to cataracts, and how several of those risk factors can be minimized.
Vision loss affects one's quality of life and puts a social, emotional, and economic burden on the individual and those who provide support to that individual. Sight matters! Funds raised through this raffle will help purchase the supplies, equipment, and medications needed to give the gift of sight.
Learn more about Rotary and the work it does around the world: Rotary International