Description
The University of Toronto (U of T) and Scarborough Health Network (SHN) presents its second annual Paediatric Pearls Conference. This is a one-day conference that will focus on addressing the needs of the local community primary care office practice by providing a variety of topics in general Paediatrics and Neonatology relevant to their practice. Experts in the field will present information on relevant issues often faced by Paediatricians, emergency and family physicians. Our conference will have 12 speakers, including 2 keynote speakers, as well as the opportunity to interact and ask questions with the presenters. This year, we will also be holding research poster displays for attendees to view.
This Group Learning program has been certified by the College of Family Physicians of Canada and the Ontario Chapter for up to 5.00 Mainpro+ credits. These credits are equally accredited and valuable for emergency physicians and paediatricians.


---
REGISTRATION FEES
Physicians: $100
Allied Health Professionals: $70
Medical Students/Residents: $50
Fee includes: Tuition, participation in plenary and seminars, syllabus, continental breakfast, breaks, and buffet lunch.
---
LEARNING OBJECTIVES
Sessions at Paediatric Pearls will cover a broad spectrum of clinical topics in general and subspecialty paediatrics. Upon completion of this educational activity, conference attendees will be better able to:
- Develop an approach to common paediatric medical issues seen in family practice
- Apply best practice for a wide range of issues in paediatric clinical practice
- Identify innovative medical tools and applications to enhance paediatric and clinical care
---
AGENDA
08:00 - 08:50:
Registration & Breakfast
08:50 - 09:00:
Opening Remarks from Scarborough Health Network's President & CEO, Elizabeth Buller, and Chief of Staff, Dr. Dick Zoutman
09:00 - 09:20:
Dr. Latifa Yeung – Approach to the spitting baby: Update in GERD
09:20 - 09:40:
Dr. Karoon Danayan – Leaping lizards: The lamentable limp!
09:40 - 10:00:
Dr. Michael Chang – A community paediatric otolaryngology update
10:00 - 10:20:
Dr. Trisha Tulloch – Teen trafficking & commercial exploitation: Pearls for primary care providers
10:20 - 10:40:
Coffee Break
10:40 - 11:20:
Keynote Speaker: Dr. Savithiri Ratnapalan – Teens, tots and toxins
11:20 - 11:40:
Dr. Rebecca Levy – Hemangiomas and other vascular birthmarks
11:40 - 12:00:
Dr. Hubert Wong – What's new? What's old?: In childhood UTIs
12:00 - 12:20:
Dr. Ian Kitai – TB in the GTA: What do children and adolescents have to do with it?
12:20 - 13:20:
Lunch Break and Poster Session
13:20 - 14:00:
Keynote Speaker: Dr. Jeremy Friedman – Say yes to the less: Choosing wisely
14:00 - 14:20:
Dr. Krishna Anchala – Don't turn your back on back pain
14:20 - 14:40:
Dr. Luigi Castagna – Returning to physical activity after brain concussion- what's new?
14:40 - 15:00:
Dr. Niraj Mistry – Innovative apps for family physicians
15:00 - 15:20:
Door Prize Giveaways & Poster Awards
---
Get to know our keynote speakers: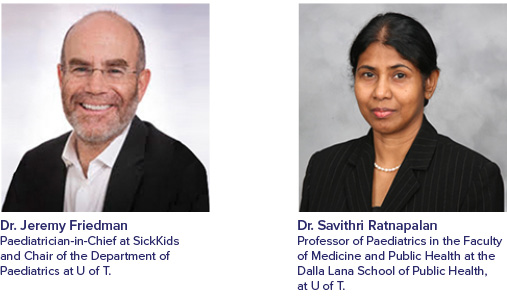 Featuring presentations by: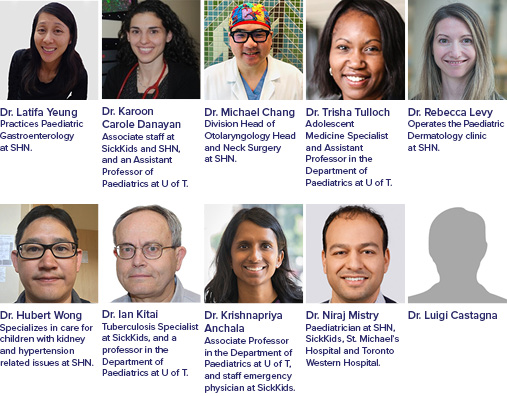 Visit SHN.ca/paediatric-pearls-conference to learn more about our 2019 conference speakers.
---
THE 2019 CONFERENCE WILL BE ACCEPTING RESEARCH POSTER PRESENTATIONS!
Theme: Paediatrics
Poster size: 84 cm x 119 cm (vertical orientation)
Submission Deadline: September 8, 2019
The top three poster presentations will be awarded.
If you are interested in presenting about Paediatrics at the conference, view our Conference Poster Guidelines for more information.
If you have any questions, please contact conference director, Dr. M. Akhter Hamid at paediatricpearls@SHN.ca or 647-990-3132.
---
VOLUNTEER OPPORTUNITIES
We are currently accepting volunteers for this year's conference!
If you are interested, contact conference director, Dr. M. Akhter Hamid at paediatricpearls@SHN.ca or 647-990-3132 and find out how you can get involved.
---
ORGANIZING COMMITTEE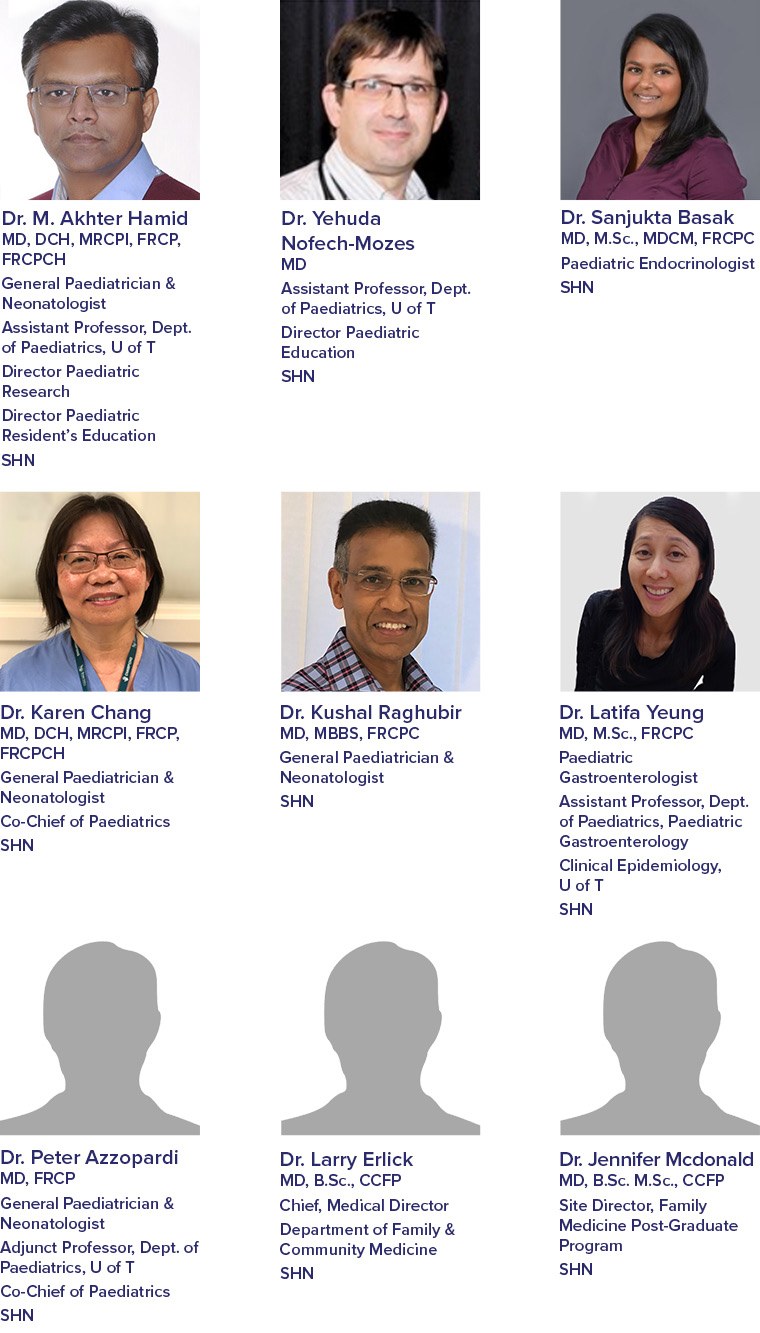 ---
CONTACT
Conference Director: Dr. M. Akhter Hamid
paediatricpearls@SHN.ca
647-990-3132
---
SPONSORED BY: