An educational opportunity dedicated to empowering healthcare providers with new and innovative pain management strategies & treatments.
About this event
The Alberta Pain Education Collaborative (APEC) Planning Committee invites you to an outreach educational opportunity focused on empowering physicians and allied health care providers in northern regions, with updated pain management strategies, treatments and tools.
Frequently Asked Questions:
1. Who should attend? Is there a fee?
All physicians and allied healthcare providers are welcome to attend!
We are offering an open registration to enable you to provide any amount for your ticket, if you wish to do so. The Pain Society of Alberta is a not-for-profit organization and not a registered charity as specified by the Canada Revenue Agency. As such, no tax receipt will be issued.
2. Do I need to formally register? When will an itinerary be supplied?
Yes! Please register to remain informed and engaged. Our brochure and event itinerary will be posted on the Pain Society of Alberta website along with summaries of all our events.
3. How do I gain access to the live stream? When does this start and end?
The link to the live stream will be provided to you along with additional logistics closer to the date and we will post updates on our website as well. We will endeavor to start promptly at 8:30am (Mountain Time) and end the day as close to 4:30pm as possible.
You will also receive helpful hints in advance to ensure your WiFi and computer set up is ready to avoid any disruptions.
4. Will we get an opportunity to ask questions to the presenters?
Questions for our presenters can be emailed throughout our event to question@painab.ca. Reminders will be sent through the live stream chat box as well!
5. Will I be able to view the presentations at a later date?
Yes! As a registrant, you will be able to access presentations from willing presenters from the Pain Society of Alberta YouTube channel. By subscribing, you will receive notifications every time a new presentation is posted.
6. As a healthcare provider, will I receive a certificate of attendance?
Certificates of attendance can be accessed from our website after the session concludes. Please print, populate and save as you wish. This session will not be accredited with the RCPSC or CFPC.
7. Can I provide my feedback about the event?
Absolutely! We look forward to your evaluation that will help us improve and create the blue print for our next session. A direct link to our evaluation will be supplied during and post event.
8. Who can I contact if I have questions?
If you require additional information, please contact Sylvia Vespa by emailing team@painab.ca.
Thank you for joining us!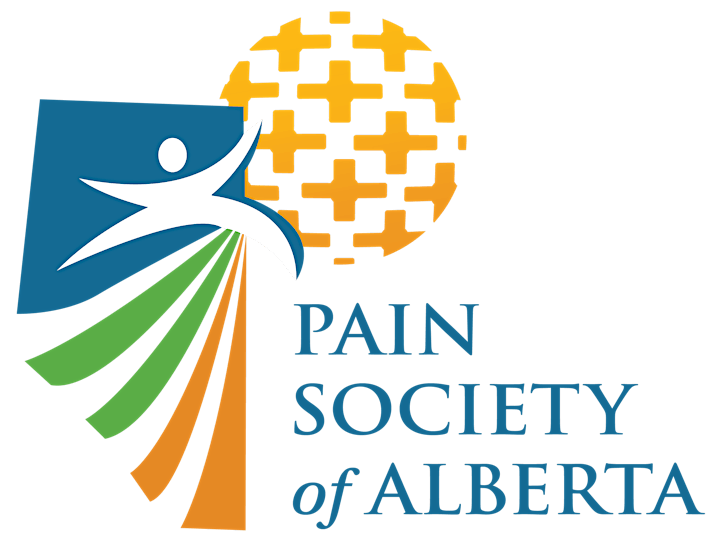 Date and time
Location
Refund policy