Painless Public Speaking: Body, Breath & Mind

Friday, 21 November 2014 from 11:30 AM to 1:00 PM (MST)
Event Details
Ever find yourself getting nervous before delivering a presentation? Do your palms get sweaty when you think about speaking in front of a crowd of people? Or…do you have a nervous spokesperson in your organization who just can't seem to get comfortable speaking in front of a camera or to an audience? 
Don't worry, you're not alone! There is a physiological reaction to stress that we as PR professionals must understand in order to overcome it – and to help our key spokespeople overcome it too.
Join Alyson and Mark Connolly as they explore the connection between body, breath, and mind, and the effect that all three have on speakers. In this session, Alyson and Mark will help us understand how to both prepare public speakers, and prepare to speak ourselves. They will teach us tips and techniques for controlling reactions to the stresses of public speaking, and will demonstrate how positive visualization can help to train our minds and put us on the right track.
Whether you're a PR professional required to speak in front of a few people, or dozens, whether you're the spokesperson for your organization, or the coach behind the spokesperson, this session is for you.
Speakers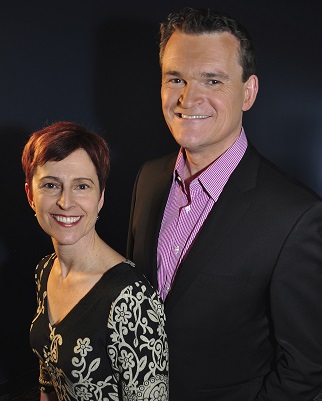 Alyson Connolly has 30 years of teaching experience. She started out as a professional actor after receiving her B.F.A. from the University of Alberta. She taught creative drama and musical theatre at the Foote Theatre School at the Citadel for 17 years. Her own company, Dramatic Learning, is part of the Alberta's Artists in Education program. Alyson recently completed her M.F.A. in Voice at the U-of-A, where her thesis was "Performance Anxiety in Public Presenters".
Mark Connolly is the host of Edmonton AM, CBC radio's local morning show, and has over 35 years of broadcasting experience. He is the former host of CBC television news in Edmonton, and was a sportscaster as well. Mark has commentated at eight Olympic Games, numerous world championships and Commonwealth games for CBC network sports. He's been around so long, he even covered the Oilers when they were winning Stanley Cups.
 
PLEASE NOTE: Early bird registration for this event will close on Monday, November 17th at 11:55pm. Regular registration will close Wednesday, November 19th at 3pm in order to properly accomodate catering. Sorry - no exceptions!
Also, please let us know asap if you have any special dietary requirements.
When & Where

The Westin Edmonton
10135 100 St NW Edmonton
Alberta T5J 0N7
Canada

Friday, 21 November 2014 from 11:30 AM to 1:00 PM (MST)
Add to my calendar