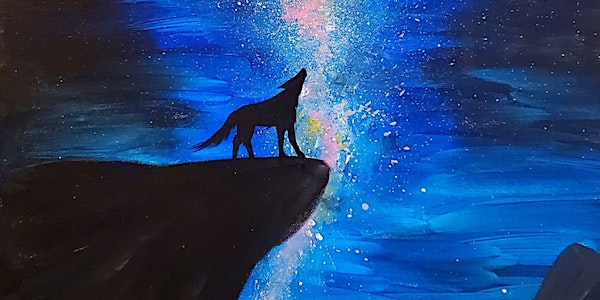 Paint " Ridge Howls" in Maple Ridge
Where does Ridge go to Howl...AND Paint? The Wolf Bar!
When and where
Location
The Wolf Bar 22336 Lougheed Highway Maple Ridge, BC V2X 8T1 Canada
About this event
PLEASE NOTE: Entrance to The Wolf Bar is in the rear lane of address.
Pro Artist Cheyenne will show you Step by Easy step how to create this Fun Canvas
Ticket Price includes:1 canvas per person, use of Aprons, Paint, and paint supplies -Step by Easy Step guidance by Professional Artist Cheyenne Williams of Paint Star Party
ANSWERS: Please reserve your spot by purchasing a ticket here, these events often sell out, by buying your ticket now, you secure your spot and do not risk forgetting and missing this event!
This Venue is strictly 19+
Will this paint wash off my clothes? This is an Acrylic paint and often permanent markers are used so the safe answer is NO. Our aprons protect most, but spills can happen so wear an item you are not concerned if something does happen. Neither the Artist NOR the venue is responsible for marked clothing.
Rogue Artist? What if I want to just paint my Own design? Not a problem at all, this is Art, let er rip! Just keep in mind the Artist will be guiding only on the design that ticket holders have come for :)
******************************************************************************************
Finally you get to Sit back relax, laugh and let the masterpiece begin...AND, this is an event that is COMPLETELY comfortable to do on your own! If friends or family cant join you just come on your own, not to worry, no one knows you are a party of 1!
ALSO please, remember this event is being provided by a public hospitality venue, so yes, you must place an order of a beverage(s) as their license policy requires! Cheers!
Must abide by current COVID protocol in British Columbia 2022
No Refunds on Paint Star Party events at this time. If you are unable to make event a credit will be issued.
Thank You for Supporting a Small Business with BIG Dreams!