Description
SPECIAL 3 HOUR WORKSHOP! JOIN US! For a great way to relax, paint and socialize.

In this workshop we will be painting YOUR OWN PET! (Option to add holiday elements to your pet!)

By Nov 15th (or earlier) we ask that you book this class and send us 2 or 3 photos of your wonderful pet (can be cat, dog, bunny, etc... it also doesn't have to be your own pet - perfect gift for someone!) via email to imagineartparty@gmail.com. As we will be painting the portrait (only face, not body) please have all photos be of the animal's face.

Marina (school's owner and professional portrait/pet portrait painter) will do a detailed pencil drawing on 20x16 canvas of the portrait of your pet. If you would like to add either a Santa hat or reindeer antlers and a red nose let us know and we will draw that in!
When you arrive on the date of the event, the pre-drawn canvas will be waiting for you to paint on! We will instruct you each step of the way and the results will be amazing!

Also please check out our previous "Paint Your Pet Event" here: https://www.facebook.com/media/set/?set=a.879583012189899.1073741892.234816193333254&type=1&l=016a9fb9ff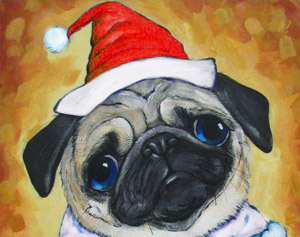 • 3 hours of exciting instructed art lesson taught by a fine art professional artist
• Everything is supplied (paints, brushes, canvas, pre-sketch of your pet on canvas!!!)
• Midpoint break with snacks & tea!
• Great atmosphere & music
• Special rate now is $50
• Convenient location on Yonge Street, free parking (12 Centre Street, Thornhill, ON)
• Adults and kids (over 8 years old) are welcome!

SEE YOU SOON!

*Notes: Please make sure to book, we do not accept walk-ins for this workshop. Please book and send us your pet photo at least a 1 week before the event so we have time to properly sketch all the animals onto canvases. Please arrive 5 minutes before class starts to get seated. Thank you :)

By registering for this event you agree to join to Imagine Art community e-mail list. (Let us know if you would not like to receive monthly emails).
We respect your inbox and you have full control over your subscription settings.
Save
Save
Save
Save
Save