Painting With Your Muse February 24, 2018 10am-4pm
Sales Have Ended
Ticket sales have ended
Sorry this workshop is now full.
Sales Have Ended
Ticket sales have ended
Sorry this workshop is now full.
Description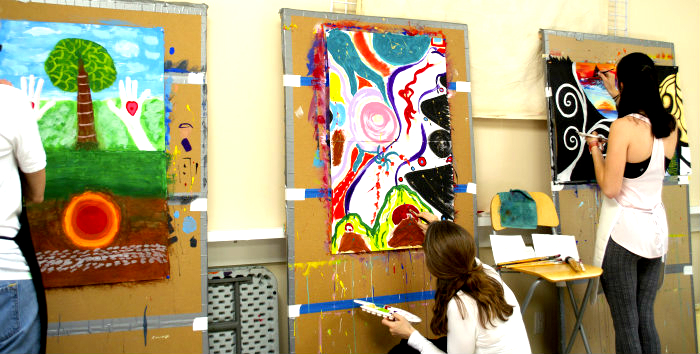 Painting with Your Muse:
An intuitive process painting workshop for
all

levels.
February 24, 2018

Registration now open
Led by
Petrea Hansen-Adamidis
Registered Art Therapist with more than 20 years of experience in the field of Art Therapy
No painting experience needed!
All art materials provided.
Held in Downtown Toronto,
VanDuzer Art Studio, 196 Beverly Street
Are you feeling creatively blocked?
Do you wanted to connect with your inner wisdom and create from a place of intuition?
In this Full day playshop you will connect with your inner muse to discover your artist within. Through guided imagery, painting and expressive arts, you will awaken your muse, shift "creative stuckedness" and rediscover your inner wisdom. Bring an open mind, a sense of play, and a wilingness to let yourself go with the paint. All other materials provided. Process or intuitive painting is a form of expressive painting in which the painter freely expresses themselves through their art in the moment. Many of us are taught to reject our art expression if it doesn't look a certain way or follow a certain technique.
Process painting breaks through the barriers to creativity, freeing up your self expression. The focus is on the process of expression, listening to your intuition to tell you what to paint next. You will begin to connect more deeply with your creative self. Loosening up and letting go of expectations through process painting will help you delve into your imagination, and spark your creativity.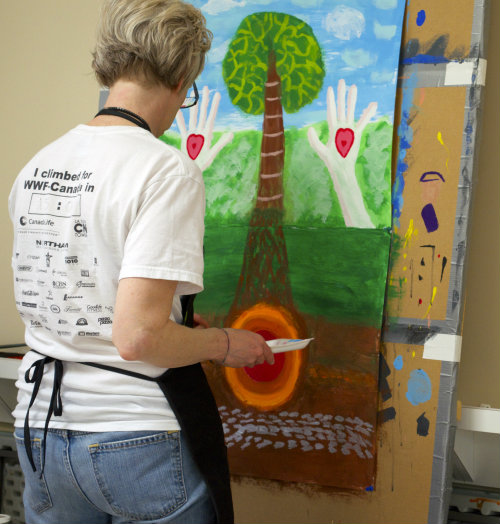 This Workshop is for you if:
You're tired of feeling creatively blocked
You want to explore your creative side
You don't see yourself as an artist yet have the urge to create
You want to find your artist within
The thought of painting kind of scares you and excites you at the same time
You see yourself as an artist but would like to take your creative self expression further
You feel like your creative expression has plateaued
The workshop will be held in Toronto, at VanDuzer Art Studio, a historic Toronto building (circa 1886) which has been renovated into a beautiful art studio!
Here is what past participants have to say about the workshop:
In her very gentle and non-judgmental manner, she encouraged us all to explore what we were feeling in the moment and to go with it. She gave us permission to just be creative,regardless of what our inner critic was telling us. I also appreciated the one-on-one time that we had with her throughout the day so that we could talk quietly about what was going through our minds as far as what we were creating and thinking. (The guided mediataions) were perfectly timed and very imaginative! Really enjoyed the journeys. I had a great day. I really liked the flow of the day - just enough time spent on conversation, connecting and creativity. Thanks so much for a wonderful experience! ~Jodi Lebrun, creativelifebydesign.com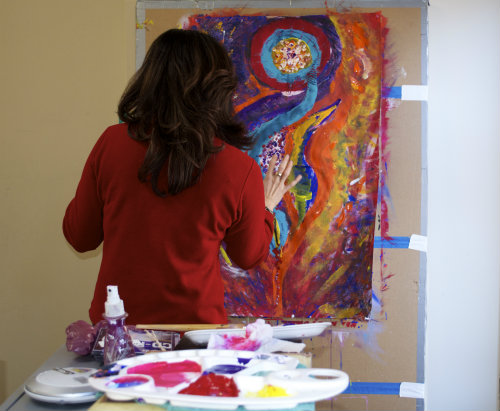 "Petrea asked questions but never suggested answers. That made me find the right answers for me from within. More over she created an accepting and open atmosphere and helped us get over our personal criticism. I found out where I was in my life, I saw how I developed and the way I still have to go through." - O.L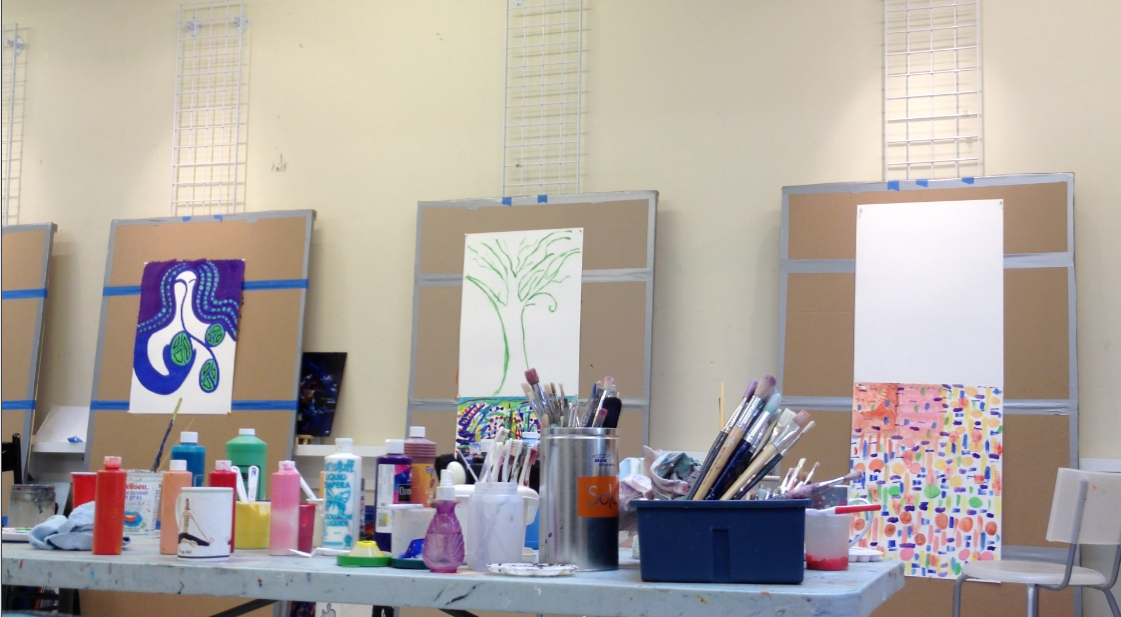 Petrea, I appreciated your gentle guidance and insights at different instances. It helped me to remain in my own process while still feeling supported.. . . I really enjoyed witnessing the unfolding as well as being the 'instrument' . . . I enjoyed the space and time I had which allowed me to remain within myself and attentive to what was unfolding. I felt that it was timely for me to partake in such a day. My inner muse was ready to give expression to something within me through pictures, symbols. And as the days go on, the painting continues to speak to me and expand my understanding. I also felt much joy during the day and continue to feel it. Truly, you do not need to have any artistic experience or be familiar with any techniques to 'birth' a story or a message in colors, shapes, pictures and forms. I'm grateful to you Petrea for offering this type of workshop where everything was so readily available. This allowed me to simply focus on connecting to my intuition, to explore, to play and at the same time to experience and receive insights. Thank you for your gentle and wise guidance, Petrea ~ Catherine
In this playshop you will learn how to tap into your creative muse in a BIG way.
In Painting with Your Muse Workshop you will unlearn the ways that block you from expressing yourself fully. We will start with some expressive arts exercises, I will guide you through some creative warm-ups to prepare you for the day, then move into a guided meditation to help awaken your inner muse. We then will spend the day immersed in the intuitive painting process which I will gently guide you through. There will be a break for lunch; you may wish to brown bag your lunch as there is a beautiful garden to eat in or you are welcome to eat inside the studio. After Lunch we will continue with our intuitive painting. Finally, we will end with a closing meditation at the end of the workshop.
Inside of you there is a playful, creative muse waiting to come out and play, inspiring you to live a more joyful and passionate life!
Come join your muse in a day of paint and self exploration!
Registration now open