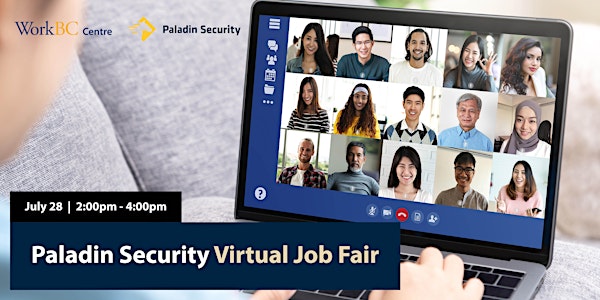 Paladin Security Virtual Job Fair
Want to work for Paladin Security? This is your chance!
About this event
Career Zone is excited to present this virtual job fair with Paladin Security!
They're hiring for Security Officers all over British Columbia - you could be working at places like hospitals, post-secondary campuses, industrial sites and office buildings. They're also looking for Mobile Drivers, where you'd be utilizing company vehicles to patrol an area, respond to alarms, and conduct patrols of various sites (a Class 5 BC Driver's License is required for this role). Otherwise, no experience is required!
Here's what the job fair will look like:
2:00pm: Overview of Paladin Security – the company, training, and open positions
2:05pm: Info about the Healthcare Security Officer positions
2:10pm: Info about the Mobile Security Officer positions
2:15pm: Info about the Industrial Security Officer positions
2:20pm: Q&A
2:20pm-4:00pm: Breakout rooms for 1:1 questions and/or interviews
If you'd like to have an on-the-spot interview, make sure you come prepared with your resume ready to share!
Register now. Once we receive your registration, you will be sent a GoToMeeting link.