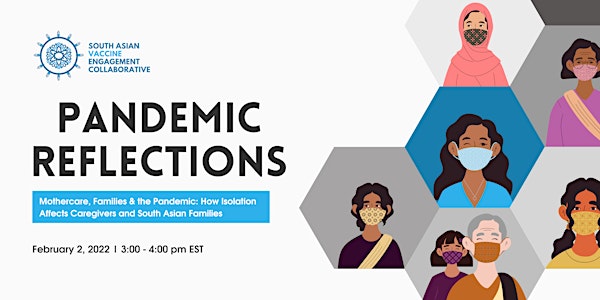 Pandemic Reflections: Mothercare, Families & the Pandemic
How Isolation Affects Caregivers and South Asian Families
About this event
Please join us for our new webinar series titled "Pandemic Reflections" which details the accomplishments and challenges of SAVEC's work in 2021. Our first session is on mothercare and how South Asian women - who are often primary caregivers - have adapted to lockdowns and isolation periods. Although this session cannot cover all experiences of women, it is an opportunity for community members to share their stories and struggles. The Council of Agencies Serving South Asians (CASSA) is committed to listening to the communities we serve and providing a supportive space for all.
CASSA is an umbrella organization of agencies, groups, and individuals that provide services to the South Asian community. We envision and strive for a Canada free of all forms of discrimination in which all communities are free from marginalization and are fully empowered to participate in defining Canada's political, economic, social and cultural future.
The South Asian Vaccine Engagement Collaborative (SAVEC), with CASSA, is excited to co-host this webinar. In this one-hour session, Wardah Malik of CASSA will be joined by Sultana R. Jahangir, Executive Director at the South Asian Women's Rights Organization, and Ansjyot Kapoor, Manager of Health - COVID-19 Recovery & Isolation at Punjabi Community Health Services. Both experts will weigh in how COVID-19 has impacted South Asian family structures with a particular emphasis on women.
The webinar will take place on February 2 2022, from 3:00PM to 4:00PM EST
Zoom link: https://us02web.zoom.us/j/83887704023?pwd=OFBwSUFXZVdDSnZtZTJNSlhuSXpFdz09