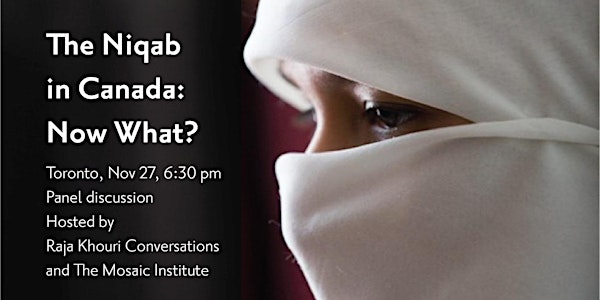 Panel Discussion and Public Conversation - The Niqab in Canada: Now What?
Location
Innis Town Hall
2 Sussex Avenue, Toronto
Canada
Description
It has been called oppressive, ultra-religious, a barrier, even a threat to public safety. Niqab-wearing women in public get stared at, harassed and, at times, physically assaulted by total strangers.
In the meantime, many Muslims vehemently oppose the niqab and claim it is not a religious requirement, rather a cultural, patriarchal vestige from times gone by.
Some politicians found in it the mother of all wedge issues.
No one is indifferent about the niqab.
Regardless, niqab-wearing women are in Canada – and they have rights. What does the future hold for them? Will they integrate? Will they be accepted?
Panellists:
Aima Warriach, student, graphic designer, writer
Faisal Bhabha, Associate Professor, Osgoode Hall Law School
Dr. Pamela Divinsky, Executive Director, Mosaic Institute
Huda Bukhari, Executive Director, Arab Community Centre of Toronto
Alia Hogben, Executive Director, Canadian Council of Muslim Women
Moderated by:
Raja Khouri
Presenting partners:
National Council of Canadian Muslims
Council of Canadian Muslim Women
The Canadian Muslim Vote
Arab Community Centre of Toronto
Canadian Association of Muslim Women in Law