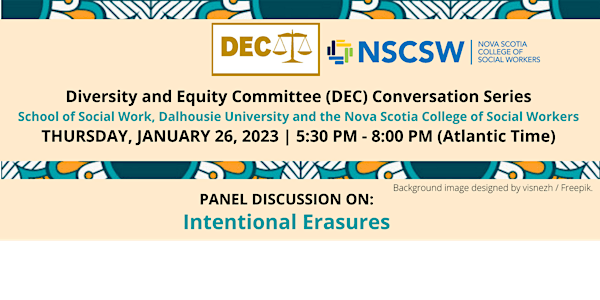 Panel Discussion on Intentional Erasures
Join us for a Panel Discussion and Conversations on Intentional Erasures
About this event
The Diversity and Equity Committee (DEC) Conversation Series, School of Social Work in collaboration with the Nova Scotia College of Social Workers (NSCSW) offers an interactive "Panel Discussion on Intentional Erasures ." The event is scheduled for 5:30pm to 8:00pm (Atlantic Time) on Thursday, January 26, 2023.
PANELLISTS:
Dr. Isaac Saney, Dalhousie University: "Misremembering" the Struggle for Freedom: From Slavery to Apartheid
Michelle Sutherland-Allan, Dalhousie University: Elimi-Nation: Indigenous Land and Child Extraction in the Colonial Present
Dr. Yahya El-Lahib,, University of Calgary: Resisting Expulsion and Epistemic Violence: Reflections on the Maintenance of Whiteness in Social Work Spaces
Dr. Cynthia Conley, Cape Breton University: Intentional Erasures of 2SLGBTQIA+ Individuals
Dr Nduka Otiono, Carleton University: Un-intentional Erasure?: The Politics of Minority (In)visibility in the Canadian Academy
MODERATOR:
Dr. Marion Brown, Dalhousie University
Participants will also engage in discussions with panellists
EVERYONE IS WELCOME
REGISTER ON EVENTBRITE TO JOIN THE MICROSOFT TEAMS EVENT
EVENTBRITE REGISTRATION LINK:
https://www.eventbrite.ca/e/panel-discussion-on-intentional-erasures-tickets-493003876867
Contact: Dr. Ifeyinwa Mbakogu, Chair of the Diversity and Equity Committee (DEC) sswdec@dal.ca
This event is brought to you by the Diversity and Equity Committee (DEC) of the School of Social Work, Dalhousie University.​
NOTE: The Diversity and Equity Committee (DEC) Events are not recorded to offer safe spaces for presenters and audiences to engage in critical discussions