The Afro-Caribbean Mentorship Program sponsored by The Royal Bank of Canada Presents: Panel discussion: The lived experiences of Black Women
About this event
The Afro-Caribbean Mentorship Program sponsored by The Royal Bank of Canada Presents:
Panel discussion: The lived experiences of Black Women in Canadian Societies
Afro-Caribbean Black (ACB) women continue to face unique challenges when facing moments of anti-Black racism. ACB women are racially discriminated against and increasingly pressured by mainstream society to modify their looks in an effort to feel a sense of acceptance. For instance, the beauty industry sets the white European standard of beauty while continuously villainizing Black women for not meeting its customs. Many ACB women feel the need to lighten their skin or apply excessive amounts of makeup to feel that they fit into the white standards of beauty.
The ACMP is organizing a panel discussion with ACB women to set the tone about how ACB women should critically think about beauty and loving self.
When: Friday, March 26th,
Time: 7 PM to 9:00 PM
Where: Zoom – TBA
This event keeps in mind that "women empowerment" at times omits ACB women's lived experiences. We purposely open this space to acknowledge, appreciate, honour and recognize ACB women empowerment!
This event is open to all Canadian community members who feel the need to learn but maybe share thoughts on how we can continue to empower ACB women. We encourage students from high school to all levels of post-secondary institutions to attend.
The topics that will be touched on are the following and not limited to:
Gender relations
Race and racism
Colorism
Critically engaging on the concept of Blackness and its relation with ACB women.
Event Itinerary
7:00 PM - 7:10 PM
Greeting and welcoming audience
Land acknowledgement
Who is the ACMP?
7:10 pm - 7:20 pm
Keynote Speaker 10mn
Q&A session 10mn
7:20 pm- 8:20 pm
Panel discussion (1Hour)
Questions and Answers period. (20mn)
8:40 - 9:00 pm
Giveaways
Mention survey
Speaker's corner
Next event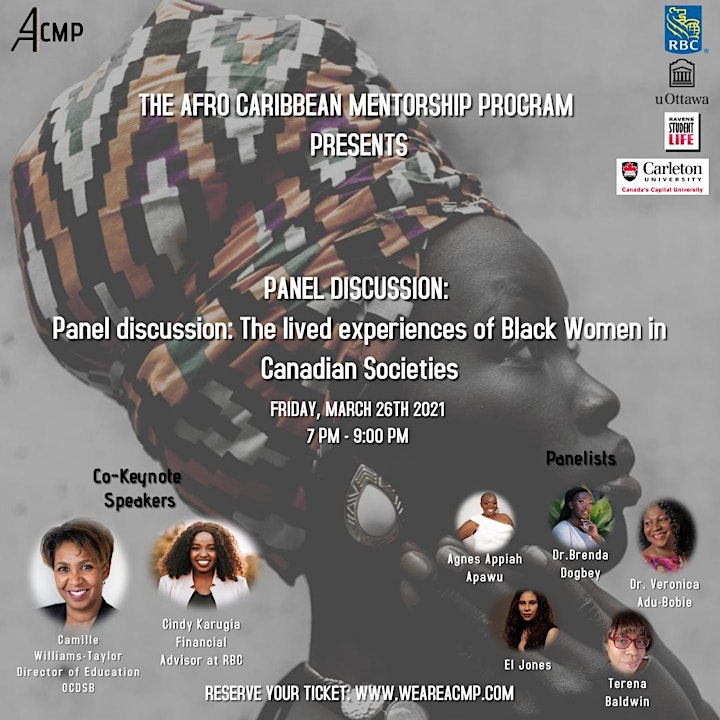 Organizer of Panel discussion:The lived experiences of Black Women in Canadian Societies
The Afro-Caribbean Mentorship Program (ACMP) is an initiative dedicated to supporting the success of Afro-Caribbean Black (ACB) and other racialized undergraduate and graduate students on campus. We recognize that the experiences of ACB and other racialized minorities are unique due to the potential micro-aggression that they may encounter throughout their academic and professional experiences. Advocating for an inclusive campus is ACMP's mission while supporting the success of racialized students.Through this mentorship program, participants will be able to: 1) Be able to understand financial literacy 2) Build confidence 3) Enhance social network 4) Be aware of their current behaviours that might make others feel uncomfortable, while being open to change 5) Understand how to access Carleton's academic resources as a way to better their student experience.