Event Information
Refund policy
Contact the organizer to request a refund.
Eventbrite's fee is nonrefundable.
The Trauma of Money presents a panel discussion on the need for trauma-informed approaches in the world of entrepreneurship and finance.
About this event
We have likely all had financial negotiations break down, get us riled up or maybe felt flattened after tense financial discussions in the workplace.
From boardrooms to bedrooms, many people get aggressive, some freeze, others avoid or collapse into silence or are completely agreeable and easily steamrollered.
We know through our work at Trauma of Money that trauma impacts how we interact with money, time and work.
What if we saw more trauma-informed approaches in the world of entrepreneurship and finance?
How can understanding collective trauma and money adjust the financial industry for the better?
What is the ongoing need for this kind of transformation in your work / for your clients / for your customers / for your team?
These are a few of the questions that we will be exploring during our panel talk.
Who we made this event for:
Entrepreneurs
People Managers
HR Professionals
Business Leaders
Financial Professionals
Non-Profit Directors
Social Impact Professionals
Venture Capitalists
The event will take place on a Zoom Video Webinar. We will also send out a recording to the attendees for those that can't make it.
Payment: We want this event to be accessible to all so choose from our sliding scale or pay what you can.
50% of the revenue will be given to Decolonize Together's Justice Healing Fund and the remaining 50% will go to the panelists.
Experience Leaders: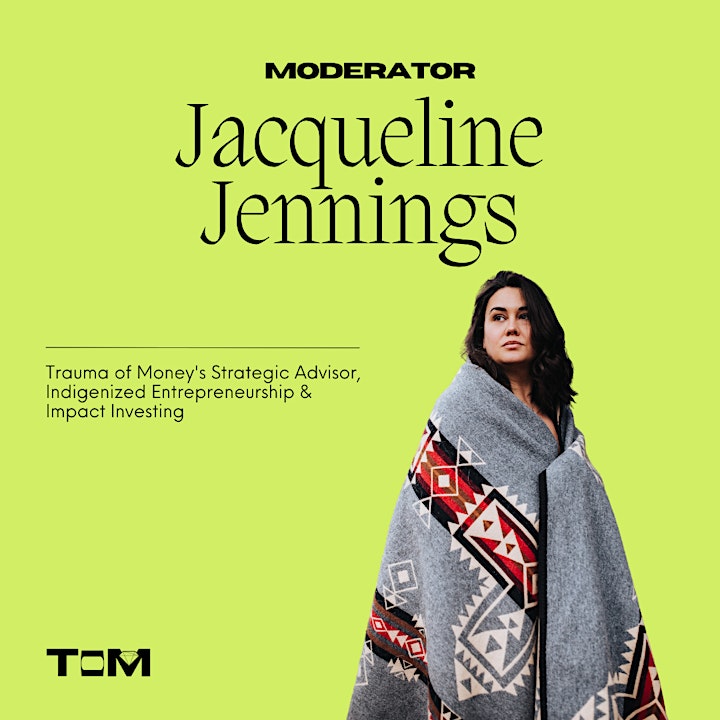 Moderators:
Jacqueline Jennings (she/her) is of mixed heritage, Cree, Anishinaabe, Métis and of European settler descent. She is an impact investment professional, a decolonial facilitator, and an entrepreneurship educator. With a foundation in the private sector and particularly entrepreneurially driven apparel brands such as Lululemon and Aritzia, Jacqueline has in the last decade coached hundreds of founders and developed multiple startup accelerator programs for entrepreneurs. Currently, as a Venture Partner at Raven Indigenous Capital and as the Director of the Fireweed Fellowship, she supports guiding the flow of venture capital to Indigenous entrepreneurs historically excluded from equity investing due to systemic oppression. Jacqueline is a visiting professor at Simon Fraser University Beedie School of Business and facilitator with both SFU Radius Innovation Hub providing solutions labs as well as with Decolonize Together team delivering decolonial and anti-racist trainings.
She is most interested in learning about how we can harness community care, heal individually to reduce harm collectively and take the lead from Indigenous matriarchy to repair, restore and enact reciprocity in a society overwhelmingly hurtling towards its own demise.
Based on the Sunshine Coast, mothering, building a home, riding her horse, learning about plant medicine, and growing veggies, Jacqueline is at home as a guest on the unceded land of the Sḵwx̱wú7mesh Úxwumixw (Squamish Nation) and is deeply grateful to the relatives who have cared for this land, that cared for them, since time began.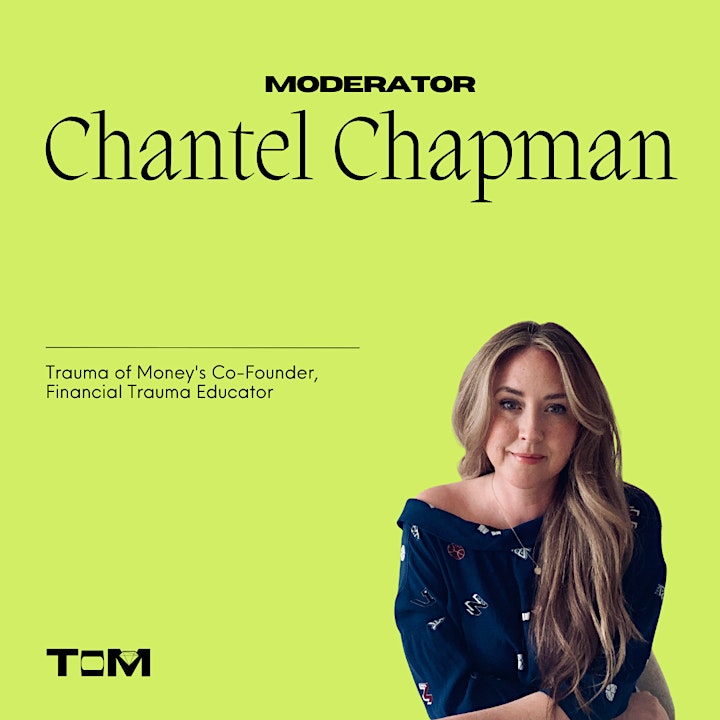 Chantel Chapman (she/her): As the founder of The Trauma of Money and founder of What The Finances, Chantel Chapman is considered a refreshing voice in the financial recovery and education space; renowned for her cutting-edge, relatable, and trauma-informed money guidance. Drawing influence from 14 years of experience as a mortgage broker, 10 years as a financial literacy consultant, and extensive research in addiction, behavioural science, trauma, and mindfulness, Chantel's distinct disciplines make learning about money the antithesis of anything you would experience through traditional schooling.
Chantel currently runs The Trauma of Money Method - an accredited course certifying professionals in facilitating healing around trauma and money. Chantel has taught and written personal and entrepreneurial finance curriculums for Universities, and Accelerator programs such as Humber College, Wilfrid Laurier University, Ryerson University, EntrepreNorth and Fireweed Fellowship. Chantel was the lead player on building Canada's first-ever, award-winning digital mortgage experience with free credit score and a consultant on several other innovative products for one of Canada's largest Fintech brands. Chantel is also the co-founder of School by K&P, an online school for creative entrepreneurs that also provides free education for communities that have been marginalized across North America.
Chantel is a settler of European descent who works and resides on the stolen traditional lands of the Kwantlen (kwaant·luhn), Musqueam ("mus-kwee-um"), and Tswassen (saa·wa·sn) peoples.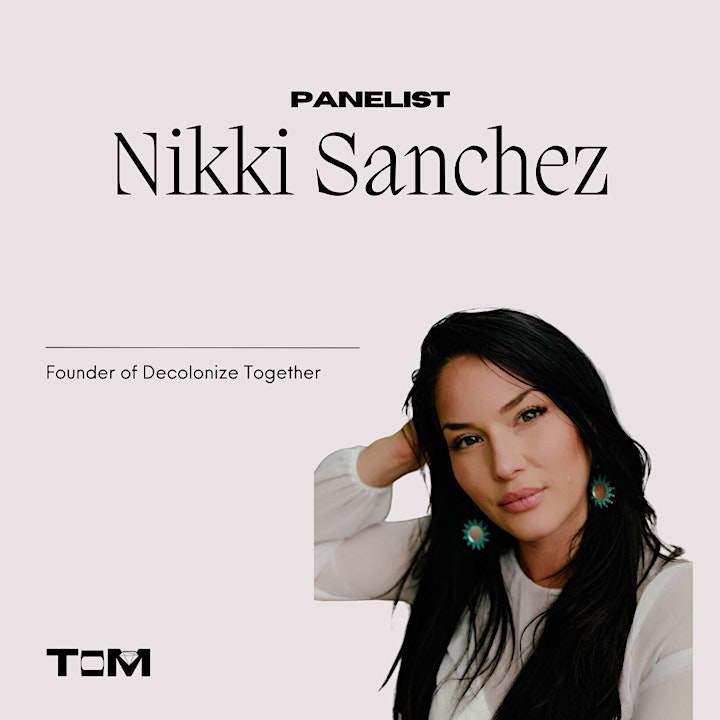 Nikki Sancez is a Pipil/Maya and Irish/Scottish academic, Indigenous media maker and environmental educator. Nikki holds a masters degree in Indigenous Governance and is presently completing a Ph.D. with a research focus on emerging visual media technology as it relates to Indigenous ontology. She is currently overseeing the first ever Indigenous Storyteller edition with Telus STORYHIVE; a project to provide funding and mentorship for 30 emerging Indigenous filmmakers in BC and Alberta. For the past two years, Nikki has been the David Suzuki Foundation's "Queen of Green" (queenofgreen.ca) where her work centered on environmental journalism, social media and digital media creation to provide sustainable solutions for a healthy planet, as well as content creation to bring more racial and gender inclusivity into the environmental movement. As an Indigenous media maker, Nikki's most recent project is the 8-part documentary VICELAND series "RISE" focused on global Indigenous resurgence. RISE was debuted at Sundance in February 2017 and has received global critical acclaim, recently winning "best documentary" at the Canadian screen awards. Nikki is a TEDx speaker, her recent presentation is entitled "Decolonization is for Everyone". She has been a wilderness guide, nature-based therapist and environmental educator in the Nuu-chah-nulth territory of Clayoquot Sound for over 10 years, where she was mentored by Nuu-chah-nulth elders Tsahsiits and Qaamina Sam. She is the creator and director of "Decolonize Together" a collective of Indigenous women who offer decolonial and inclusivity workshops and curriculum creation. Decolonize Together has been teaching and facilitating decolonization and anti-oppression training for universities, school boards, corporations, and NGOs for the past five years.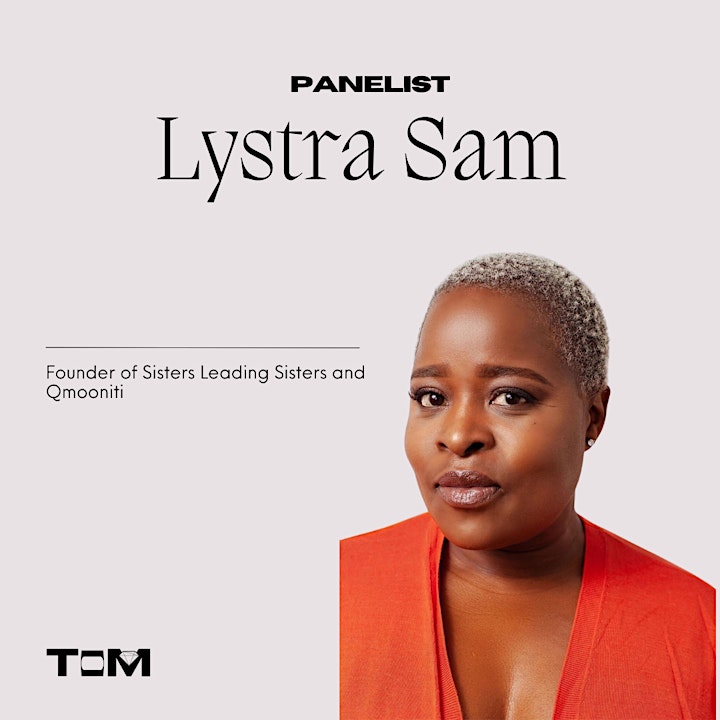 Lystra Germaine Sam (she/her): Lystra Germaine Sam is a serial entrepreneur, actor, writer, traveling volunteer, longtime Blacktivist, and disruptor of harmful systems. A Dreamweaver, a wanderer, a storyteller, a mentor, and a mentee with a passion for learning and community engagement that forges and informs her path and her goals and feeds her curious nature. Lystra is the founder and Culture Curator for Qmooniti which is a Travel and Lifestyle company she started in 2017 and the Co-Founder and Program Director for Sisters Leading Sisters which is a resource and community capacity organization for leaders and entrepreneurs in Black and Indigenous communities across Turtle Island. She had her 1st leaders retreat in October 2021 in Osoyoos. REST was the theme and next up is DREAM in late summer/early fall of 2022.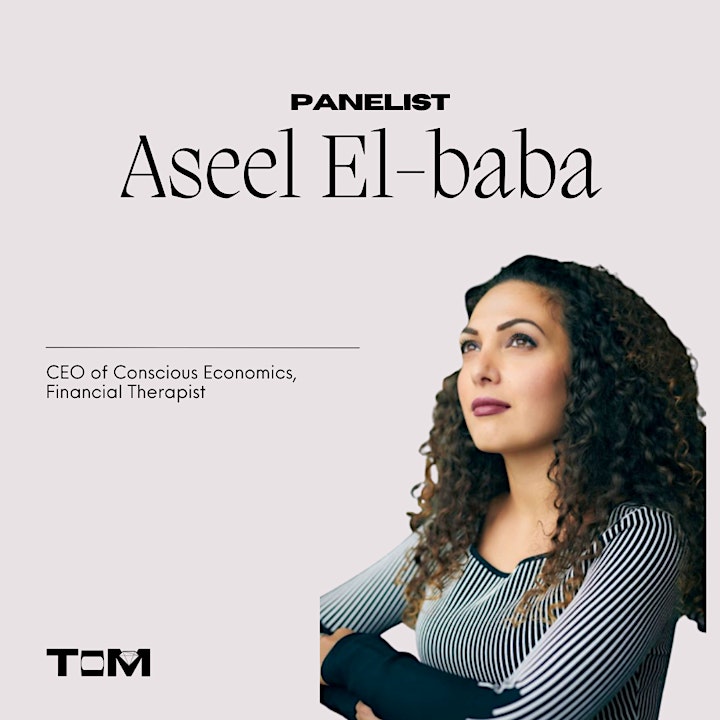 Aseel El-baba (she/her): Born and raised in Lebanon, I was always a person who asked existential questions. In a troubling and unstable environment, I struggled to make sense of the world and I constantly aimed to find meaning beyond my existence. My first business cards were designed at the innocent age of 10 years old. While I was hiding in my brothers room, scared from the chaos outside, I wrote my first job title "The Changer". I knew that I had a deep desire to create a positive impact in our world.
Fast forward to today, I spent that last 10 years working for 4 out of the big 5 Canadian banks. After my degree of Business and Economics from York University, I specialized in Financial Planning. By the time I left the bank, I was managing a portfolio of almost 300 clients and $100M. I enjoyed talking to people about their dreams and playing a role in helping them making crucial financial decisions. However, I wanted to equip myself with more tools to help people deal with the complex topic of money. I realized that money is a taboo and most people have no idea how to navigate this topic.
I went back to school to study psychotherapy at Gestalt institute, which is a 5 years training program (On track to become a Registered Psychotherapist in 2023). I am now a member of the Financial Therapy Association and the Canadian Association of Psychodynamic Therapy. Through my experience and continuous education, I aim to help clients heal their relationship to money so they can lead a fulfilling life.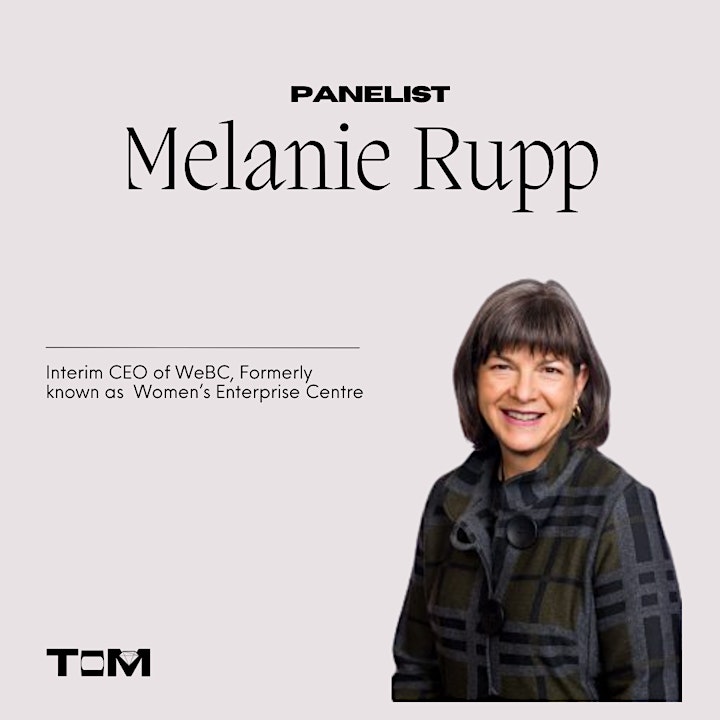 Melanie Rupp (she/her): Melanie Rupp, MBA, is the Director, Loans & Advisory Services for Women's Enterprise Centre (WEC), based in our Vancouver office. WEC is a non-profit organization devoted to helping BC women start, lead and grow their own businesses, providing business loans, skills training, mentoring, advice and resources from our three offices in Kelowna, Vancouver and Victoria.
Melanie has worked exclusively with women entrepreneurs as a Business Advisor for over 15 years. In her current role, Melanie supports women entrepreneurs to build successful companies utilizing her years of banking experience in senior management roles in the areas of Commercial Banking, Risk Management, Operations, Marketing and Human Resources.
Melanie leads a team of knowledgeable business advisors and loan administration staff, oversees the loan portfolio and cultivates strong relationships with our lending partners. Her team supports women entrepreneurs in BC with business loans and advisory services, and responds to thousands of requests for information every year.
Melanie has an Executive MBA degree from Simon Fraser University, and has completed formal post-secondary education in sales and marketing management, and information technology.
In the community, Melanie is an active volunteer who has contributed her talents to many organizations including the Forum for Women Entrepreneurs, Startup Canada, YWCA Metro Vancouver, the Minerva Foundation for BC Women, Vancouver Writers Festival and Canadian Pony Club.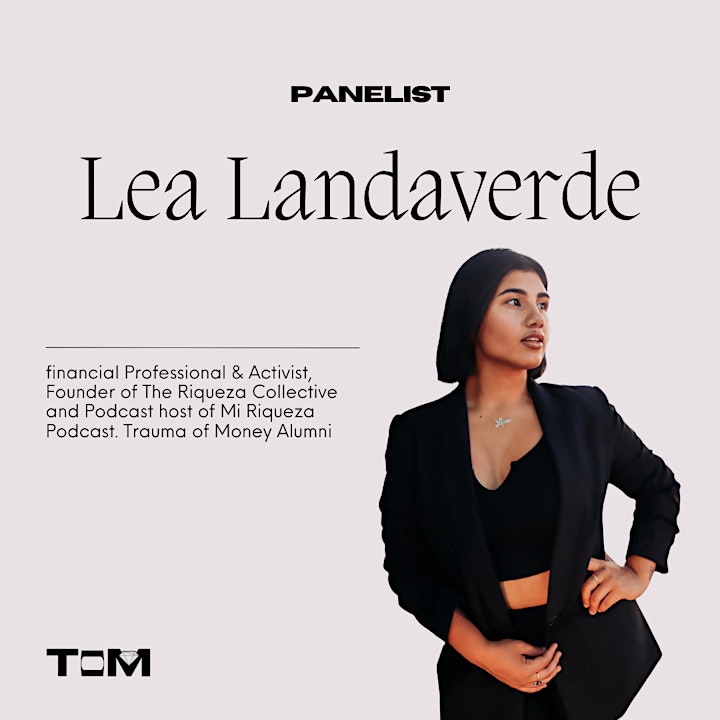 Lea Landaverde is a First Generation, Queer Latina. She is the founder of The Riqueza Collective and Podcast host of Mi Riqueza Podcast. Lea has 6+ years of experience in the financial industry from wealth management, investment banking to financial literacy education. Her mission is to break generational money curses for BIPOC & LGBTQ+ through finding alignment with building wealth. Lea is also an advocate for Immigrants, BIPOC and LGBTQ+ rights and mental health.
Date and time
Location
Refund policy
Contact the organizer to request a refund.
Eventbrite's fee is nonrefundable.