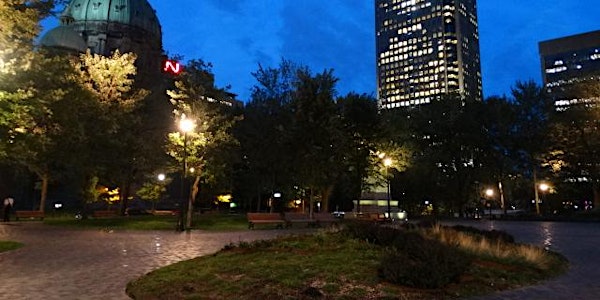 Paranormal Investigation - Old Sainte Antoine Cemetery
Learn strategies and techniques to locate and communicate with spirits on top of Downtown Montreal's largest forgotten cemetery.
By Haunted Montreal / Montréal hanté
Date and time
Sat, Jun 3, 2023 7:30 PM - 9:30 PM EDT
Location
Wilfrid Laurier Memorial Rue du Square Dorchester Montréal, QC H3B 4J5 Canada
Refund Policy
Refunds up to 7 days before event
About this event
Do you believe in the paranormal?
Hosted by real Mediums, Psychics, Ghost-hunters and other Experts in the Paranormal, Haunted Montreal's "Paranormal Investigation - Old Sainte Antoine Cemetery" takes guests on a dark adventure into the mysterious world of ghost-hunting.
From 1799-1855, Sainte Antoine Cemetery was the site of approximately 70,000 burials, many of them interred in mass graves due to a series of Cholera epidemics that struck the city. In this Catholic burial ground, all sorts of atrocities occurred. Doctors autopsied bodies out in the open. Priests advised pregnant women to receive the horrible "infant baptism" operation. People were buried alive.
Today, the old cemetery is hidden just underneath two of Montreal's most stunning and popular urban parks - Dorchester Square and Place du Canada. Due to the atrocious history that unfolded in the old Sainte Antoine Cemetery, today these parks are a major hotspot for paranormal activity in Downtown Montreal.
Guests will learn strategies and techniques to locate and communicate with spirits. Ghost-hunting tools such as Dowsing Rods, EMF Readers, Temperatures Guns and other devices will be made available to reach out to the many deranged spirits that haunt the Old Sainte Antoine Cholera Cemetery.
Not only will guests learn about the cemetery's ghosts and paranormal activities, but also a haunted statue and the haunted buildings that surround the cemetery's urban environment, such as the Sun Life Building, Old Windsor Hotel, Chateau Champlain Hotel, St George's Anglican Church and Marie-Reine-du Monde Cathedral and Basilica.
This otherworldly experience is designed for those interested in the paranormal and ghost-hunting, as seen on television programs like Rencontres Paranormales, Most Haunted, TAPS' Ghost Hunters and many others. It is also popular for those keen to learn more about Montreal's hidden and deranged history.
The event begins at the statue of Sir Wilfred Laurier in the southern part of Dorchester Square near René Lévesque Boulevard (Peel Metro). Buy your tickets below.
 The Paranormal Investigation of the Old Sainte Antoine Cemetery takes approximately 2 hours and involves ghost hunting in both Dorchester Square and Place du Canada. Please arrive approximately 5-10 minutes before the adventure starts.
*We recommend downloading any ghost hunting apps you would like to use beforehand!
Please Note: We reserve the right to, and in most cases will, cancel a tour that has fewer than five tickets sold by 6pm the day before the event. We will, of course, refund all existing ticket buyers when we do.
About the organizer
Haunted Montreal conducts Ghost Walks, Paranormal Investigations & Haunted Pub Crawls. Our team also carries out research into ghost sightings, paranormal activities, historic hauntings, unexplained mysteries, and strange legends in the Montreal area
Montréal hanté organise des visites hantées, une tournée de bars hantés et un nouveau enquête paranormal dans le vieux cimetière Saint-Antoine. Notre équipe effectue également des recherches sur les observations de fantômes, les activités paranormales, les hantises historiques, les mystères inexpliqués et les légendes étranges dans la région de Montréal.