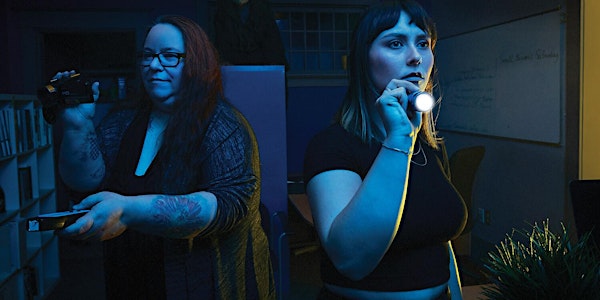 Paranormal investigator training workshop
A one night Halloween season paranormal investigator Training workshop at a haunted location.
When and where
Location
East Coulee School Museum 359 2 Ave, East Coulee, AB Drumheller, AB T0J 1B0 Canada
Refund Policy
Refunds up to 30 days before event
About this event
Paranormal investigator training workshop
A one night Halloween season ghost hunting focused lesson on being a paranormal investigator. The lesson takes place at the haunted East Coulee School Museum. Ghost hunt Alberta founder and lead investigator will guide you and teach you all about investigation of paranormal phenomenon.
You will learn about the terms, equipment, theories, myths and techniques of paranormal investigation.
You will receive some pre lesson reading materials that must be read before lesson, this is mandatory pre learning unless you have already taken our introductory course.
You will also have the option of taking a follow up post investigation reviewing evidence workshop.
We will meet up at the Museum 359 2 Ave, East Coulee, AB at 7:45 pm on October 21 and investigate until midnight, inside the haunted School. We will have access to the entire school and grounds. You will get to investigate alongside GHA with all of their expertise and equipment while learning all about being a paranormal investigator. The School has a long history of paranormal activity, fueled by the energy of years of students as well as the energy left by the many local area people who passed there when it was used as a auxiliary hospital for mine accidents, fires and a flu epidemic. Since being saved from being torn down or left to fall down in 1985 and converted in the Museum that it now is, the building has been lovingly filled with 100's of antiques, furniture, objects and personal items from the community. These items include an entire room dedicated to the miners. The Miners room is filled with personal items, some taken out of the mines that had horrific accidents. GHA has been investigating here for 9 years and has compiled a very comprehensive amount of evidence of the paranormal.
This is a real paranormal investigation therefore level of paranormal activity can not be guaranteed.
To see our previous adventures at this location please visit our YouTube channel...
https://www.youtube.com/channel/UCi9mZSA7N8lxmQNj1K9UPuA
Sign in will be at 7:45 pm to 8:00 pm late comers will not be admitted
Bring a note pad and pen and any of your own equipment you may want to use.
( recording devices, cameras)
Please look up address to confirm location before heading out
https://www.google.ca/maps/place/East+Coulee+School+Museum
16 years and older only please, all minors must be accompanied by an adult.
You will need to find your own way there. Spots are limited to allow everyone to get the best experience possible. Please bring warm clothing appropriate for being outside for part of the evening (building is heated)
2 to 3 weeks before event if the event has not sold enough tickets to meet venue fees and other costs the event may be postponed or cancelled because we work at a break even policy.