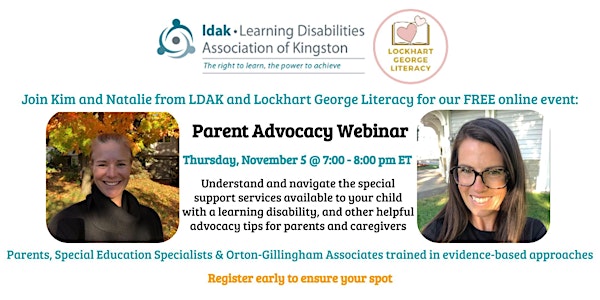 Parent Advocacy Webinar: Navigating Support Services for Your Child
Helpful information and advocacy tips for parents/caregivers of children with learning disabilities: How to navigate the system and services
About this event
Description:
The Learning Disabilities Association of Kingston and Lockhart George Literacy invite parents and caregivers of children with learning disabilities to participate in our FREE webinar on Parent Advocacy. Join hosts, Kim and Natalie, Special Education Specialists and Orton-Gillingham Associates, who are trained in evidence-based approaches to literacy instruction and supporting children with learning challenges. They are longstanding child/family advocates, teachers, and parents themselves.
Topics covered in the Parent Advocacy Webinar:
- Understand and navigate the special support services available to your child with a learning disability
- How to advocate for your child and the accommodations they deserve
- Learn the acronyms needed to navigate the system as an equal partner
- Other helpful tips for parents when your child is diagnosed with a learning disability
- Your questions and answers!
Date: Thursday, November 5, 2020
Time: 7:00 – 8:00 pm ET
Location: Online via Zoom
Early registration is recommended to participate in this free webinar as we have limited spots available on Zoom.
Instructions will follow your registration on how to access the webinar. Please check your email, as you will receive further details and a Zoom link prior to the event.
This webinar is organized in collaboration with Lockhart George Literacy:
Lockhartgeorgeliteracy.weebly.com
Facebook @LockhartGeorgeLiteracy