Parent & Tot Story & Craft Time

Tuesday, 7 October 2014 from 11:00 AM to 12:00 PM (PDT)
Event Details
Parent & Tot Story & Craft Time - Tuesdays
 11:00am - 12:00 pm
10 Weeks - October 7 - December 9
$95.00 + GST
Spend time with your child and join artist Susan L. Greig for a story and craft time.  Each week we will read a different story and try out a different type of art or craft.  Parent participation required.  This is a fun 1 hour class for children ages 2-5 and a special adult in their life.  

Ideal for Toddlers & Parents or Grandparents 
Please note: Children must be accompanied by a parent/grandparent or someone over 18 who stays and assists the child with projects. 

Water and Lemonade for children will be provided.  Coffee and tea will be available for parents/guardians.  Feel free to bring your own snacks and favorite foods!

Studio is wheelchair accessible with a handicapped washroom. 
SUMMARY

Doors open at 10:45am pm and the class begins at 11:00 am.  We provide all the materials.  Please dress in the event of messy projects.

ART INSTRUCTOR
Susan L. Greig
Owner, 100 Braid St Studios
Contemporary Landscape Painter
Website
WHAT TO BRING 

Yourself, your child and some friends. Please wear clothes that it's ok to get paint on.
 
ADDITIONAL REGISTRATION
Sorry no drop-ins.  If you have already purchased registration and want to bring a friend & their parent as guests on a special occasion, arrangements may be able to made for them to attend depending on registration and attendance numbers.  Please contact the organizer to make arrangements and payment via credit card or cash prior to the class. 
FAQs
Why do some classes have age requirements?
We provide classes for all age groups: adults, youth, and children.  Some events are 16+, because of both subject and dexterity; others are geared toward children or youth and others are for the entire family where everyone can work together (no age restrictions).
Do your teachers have criminal records checks?
Yes.  All of our teachers and staff are required to have criminal records checks completed.  100 Braid St Studios is a working art studio and there may be artists who working in their individual studios during class time. Studio space is separated from the class/workshop areas however there are common areas.  We do not require artists to have a criminal record check. 
 
What are the benefits of having kids art classes in an actual studio or gallery?
Here at 100 Braid St we provide unique insights into the world of art. Our mission is to serve as an inclusive, creative learning centre. 

Our studio layout is such that all of the working artist studios can be viewed from our class/workshop area and serve as inspiration for many of the things we do. One of our philosphies is to demystify art and to make it accessible to all so we find that when students are surrounded by art it becomes less intimidating, more approachable and doable.  It often makes them more willing to experiment and try new things.

Secondly, all of the teachers who lead classes are either emerging or professional artists or artisans themselves & many of them have a working studio within the space. Throughout the classes our teachers emphasize that they too are artists and still learning--in fact the learning never stops & art is all about experimenting, growing and changing. 

Thirdly, when other100 Braid St Studio artists come to work in the studio during class times there is the opportunity for students to meet them and ask questions.  At times impromptu art lessons and discussions happen which can have profound effects on students and their confidence.  Meeting "real" artists who make a living at their art is a unique experience not readily available in any other venue in the lower mainland.

What is your refund and cancellation policy? 
We realize that "life" happens.  If something serious comes up please let us know & we will see what we can do.  We generally do not provide refunds unless classes are cancelled by 100 Braid St Studios.  If a child misses a class or the purchaser cancels, a credit may be able to be issued for another 100 Braid St program.

What are my transport options getting to the event?

By Car:  The studios are conveniently located just off of Hwy 1 on Braid St between Rousseau and Brunette.  Parking is available in the front of the building and additional parking is available in the back of the building.
By Skytrain: 
Millenium Line: Braid St Station.  
100 Braid St Studios is about a three minute walk across the street from the Braid St Skytrain station.  The station is the major interchange with skytrain for many Coquitlam and New Westminster bus routes.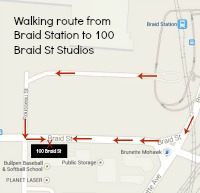 By Bus:
Many Coquitlam and New Westminster bus routes meet at the Braid Station interchange and then it's just a short walk to the Studios.
 
How can I contact the organizer with questions?
Please email at: 100braidststudios@gmail.com
Phone: 778-886-5391
Hours of operation:
Sunday, Monday, Tuesday:  by appointment only
Wednesday - Friday:  11am - 9:30pm
Saturday  9:30am - 9:30pm 
We look forward to seeing you!
Read what others have said about our programs:



Art School during teachers strike: Last week our daughters 9 and 10 went to art school for the whole week, A couple of their friends came for a couple of days and were as enthused as our girls. They could hardly wait for the next day and came home in joyful exuberance. The teachers encouraged, followed and develop

ed the creativity of each child. Every day the children studied an artist then made their own work in that style. The program included art history, colour theory, and techniques. At days end the children participated in clean up, willingly. The last day the gallery was hung with the little artist's work and they hosted their "opening". Just as good as school. Tekla
Took the kids here for the day and they had a blast!  They brought home many good art pictures. Definitely will bring them back again.  Julie
We are so impressed with how well the kids have done this week. We've watched their skills develop each day due to your teaching and building their confidence. Sincerely, A
When & Where

100 Braid St Studios
100 Braid St
New Westminster, BC V3L 3G1
Canada

Tuesday, 7 October 2014 from 11:00 AM to 12:00 PM (PDT)
Add to my calendar
Organizer
Website: https://100braidststudios.com/organizer/100-braid-st-studios-2/