Description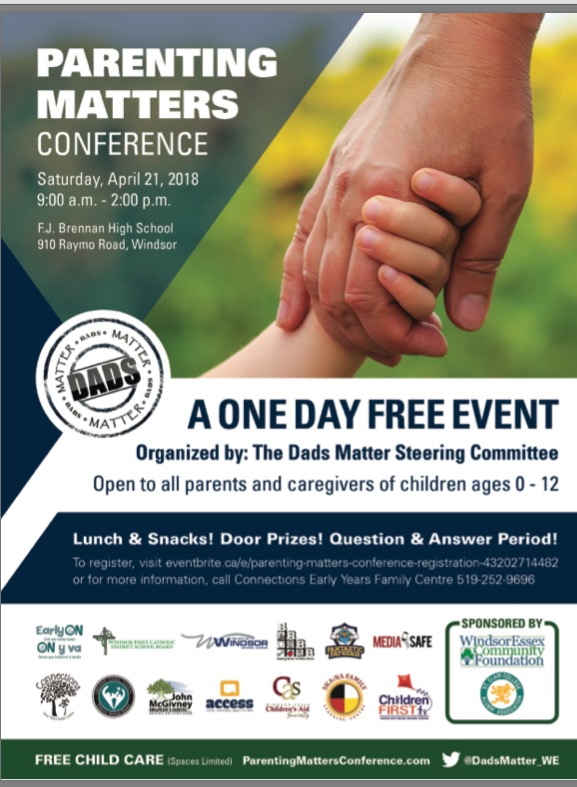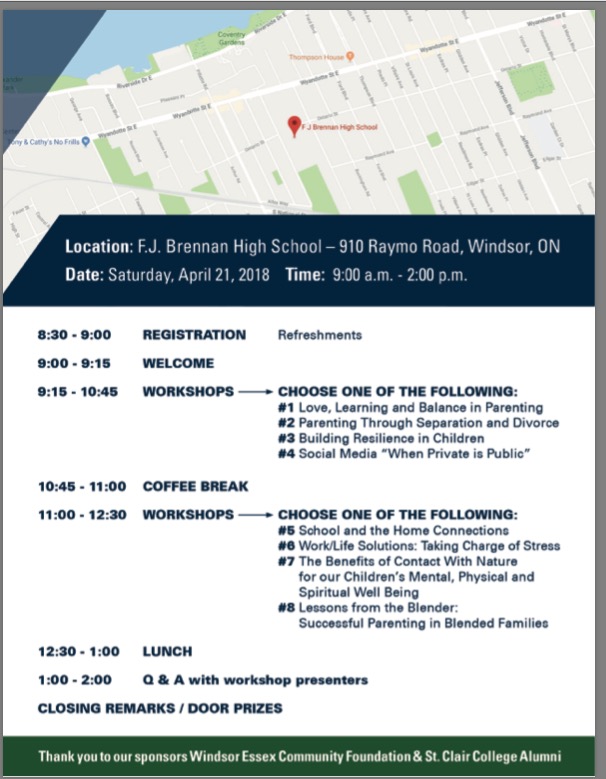 The first ever Parenting Matters Conference for all parents and caregivers with children from 0 - 12 years of age, is being planned by service providers who make up the Dads Matter Steering Committee in Windsor and Essex county. We recognize the significant role that parents play in their children's lives and we would like you to be a part of this very important event. The Parenting Matters Conference will be held on Saturday, April 21, 2018 from 9:00 a.m. - 2:00 p.m. at F.J. Brennan Catholic High School. We are also pleased to be able to offer childcare (spaces limited), lunch, snacks, and door prizes!
---
Workshop Description and Speakers Bio
---
Workshop #1: Love, Learning and Balance in Parenting
An interactive presentation--experiences of parents will be drawn upon and organized to highlight key features of parental love and of teaching a child within the family.
Presenter: Dr. Ralph Billingsley
Ralph Billingsley, a.k.a. "Dr. Ralph", is a psychologist recently retired from over 30 years of assessing and treating the learning and mental health needs of children. He has worked with children individually, in groups, and with their families. Participation with schools, agencies, child-focused community groups and presenting in the community and the media has been part of his activities. The father of three now-grown children, he has found--and continues to find--the world of parenting to be rewarding, fascinating, and challenging.
---
Workshop #2: Building Resilience in Children
What causes some children to thrive in spite of experiencing stressful life events and other children experiencing the same events, to not be able to cope? This workshop will examine what research has to say regarding factors associated with resiliency in children. Practical tips will be provided on what you can do contribute to the resiliency of your children.
Presenter: Chris Reid
Mr. Reid is a father of two adult daughters and a grandfather of an active 3 year old grandson. He has had an over 40 year career as a social worker, working with individuals, groups and families. Over the last 10 years he has worked at the University of Windsor, School of Social Work in the Field Education program. A close association with nature is something that has infused his parenting and his personal well-being. He looks forward to interactive discussion on these topics during our conference.
---
Workshop #3: Social Media: When Private is Public
We raise our kids in a world that is vastly different from the one we grew up in. Every day, the news is filled with chaos, bullying and threats delivered via Twitter, Snapchat and Instagram, and it is not going away!

Ryan will give you some tools and advice that will help you talk to your kids about, and walk them through, the digital world where they live. www.BeMediaSafe.com
Presenter: Ryan Richardson
Ryan was born and raised in Windsor, and graduated from Bethesda School (Detroit) and Kennedy CI (Windsor). He then attended the University of Windsor, concentrating on political science/criminology and law, and intellectual property at the University of Detroit Mercy. Ryan runs Media Safe (Corporation) Workshops, travelling across Ontario to schools, retirement communities, businesses and churches, bringing the message of digital respect and safety. Over the years, Ryan has volunteered with Dads Matter, the Crisis Pregnancy Centre, Banwell Community Church Outreach and the Project X Festival, and worked with rock bands including Sixpence None The Richer, The Afters, Chevelle, Leaderdogs and Thousand Foot Krutch. However, his favourite music client is classical Harpist Janice Richardson, and he is honoured to raise three impressive young adults with her, occasionally enjoying the best live music this region has to offer.
---
Workshop #4: Parenting Through Separation and Divorce
Jennifer will explain the process choices available to families if they separate, including negotiation between themselves, mediation, collaborative law and retaining counsel for unbundled services to fully retaining counsel and how to choose them. She will explain how to choose the best way to resolve your family dispute with the least amount of conflict and the least amount of expense.
Presenter: Jennifer Suzor
Jennifer Suzor is an experienced Family Law Lawyer, Mediator and Trainer based in Windsor, Ontario. Having practiced in all levels of the Court for thirty years, she now focuses on neutral consultation and non-court dispute resolution, primarily mediation. Jennifer was Certified by the Law Society of Upper Canada as a Specialist in Family Law in 2004 and was Accredited in Family Mediation, Child Protection Mediation and Elder Mediation by the Ontario Association for Family Mediation where she has served as President since 2013.
Jennifer is also on the Board of Directors for Windsor Life Centre, a Woman's Addiction Treatment Centre and the Past-President of the Autism Society of Ontario (Windsor) and the Summit Centre for Preschoolers with Autism.
in 2016, Jennifer received the President's Award from the Association for Family and Conciliation Courts, Ontario Chapter, in recognition of her volunteer work as Co-Chair of the Walsh Family Negotiation Competition and her vision of creating a series of events in Windsor called "Changing the Culture of Conflict Resolution in Family Breakdown Roundtable Dinner Series" for the Judiciary, Counsel, Psychologists, Social Workers and others who work with family breakdown in Windsor. She is the President of Bridging Family Conflict, the service provider in Windsor for the Ministry of Attorney General subsidized mediation and information services. She also trains and interns mediators. Her trainings, co-developed with now Justice Lene Madsen, take place through Family Mediation Training Canada in Windsor and Southwestern Ontario.
Jennifer can be reached at jsuzor@familylawspecialist.ca or at 519-252-2772. Please see www.familylawspecialist.ca for more information about Jennifer's Mediation practice and www.familymediationtraining.ca for her training schedule.
---
Workshop #5: The Benefits of Contact with Nature for our Children's Mental, Physical and Spiritual Well Being
We have experienced a significant societal/cultural shift that has resulted in children having far fewer opportunities to interact with nature, than in years past. This workshop will examine possible factors that have contributed to this, how this is effecting the development of children and what you can do to help your children tap in to the healing potential of contact with nature.
Presenter: Chris Reid
Mr. Reid is a father of two adult daughters and a grandfather of an active 3 year old grandson. He has had an over 40 year career as a social worker, working with individuals, groups and families. Over the last 10 years he has worked at the University of Windsor, School of Social Work in the Field Education program. A close association with nature is something that has infused his parenting and his personal well-being. He looks forward to interactive discussion on these topics during our conference.
---
Workshop #6: The Home School Connection
This workshop will explore the role parents can play (from the perspective of the educators) in supporting their children as they transition to and thrive in school. We will consider opportunities to build parent and school partnerships that build positive relationships with the family, the child and the school that they attend. During the workshop we will also explore the best ways parents can support and get engaged in learning with their children.
Presenters: James Cowper and Sharon Johnson
James Cowper is currently the Principal of Kingsville Public School in Essex County, Ontario where he cultivate a culture of shared learning through Professional Learning Communities and technology integration. In his recent past, as the Lead Learner of Eastwood Public School, he saw major gains in student achievement across all 6 markers over 5 years of learning work. As a Learning Forward Academy Class graduate (2011), he has worked with innovative thinkers and learners world-wide. Above all else his decisions are focused on one aspect of school life, what is best for the kids. Follow his learning journey on Twitter @cowpernicus.
Sharon Johnson has been an educator for 20 years working in the elementary panels in all division and in special education settings. For the past 10 years, she has worked in the Program Department in a variety of roles and is currently working in the Early Years division supervising EarlyOn Child and Family Centres, supporting Kindergarten and Primary learning and coordinating GECDSB's Summer Learning Program. Her works involves developing positive partnerships with families and caregivers to support children's learning.
---
Workshop #7: Lessons from the Blender Successful Parenting in Blended Families
As parents in a "compound-complex" blended family, Kim and Mike learned first-hand the challenges and joys that come from bringing two families together. While no two blended families are alike, Mike and Kim will explain some of the differences, what to expect, what not to expect, and give you some tips to make your blend a little smoother.
Presenters: Kim Court M.S.W., R.S.W. & Mike Morency B.R.E., B.S.W.
Kim Court is a Mental Health Team Supervisor at Children First where she develops supports for families with children aged 0 to 6. She also provides counselling services for people struggling with trauma, separation/divorce, anxiety, depression, attachment, parent-child, and family conflict. Kim received her Masters of Social Work Degree from the University of Windsor and is trained in Brief Solution Focused Therapy, Collaborative Problem Solving, and Trauma Assessment and Treatment.
Mike Morency is Executive Director of Matthew House Refugee Centre which provides temporary shelter and settlement services for Refugee Claimants. He is passionate about community development and has led several broad based coalitions. Mike holds degrees in Religious Education and Social Work and is a graduate of the Community Leadership Professional Program through Leadership Windsor.
---
Workshop #8: Work/Life Solutions: Taking Charge of Stress
Work is considered to be a determinant of mental health. But some aspects of work can contribute to stress and have adverse effects on our health. This workshop will focus on identifying and coping with stress at work and how to create work/life balance. Tips for mental health, practical relaxation and breathing techniques will be discussed. Information will also be provided to participants regarding where to get practical help if struggling with mental health issues at work. For a more interactive experience, add 30 minutes to length of workshop.
Presenter: Karen Gignac, MSW, RSW
Karen holds a masters degree in social work and has been working in the field of mental health for 30 years. She is the Manager of Mental Health Promotion as well as a certified trainer in both Nonviolent Crisis Intervention and Mental Health Works. Mental Health Works is an award winning training program and a social enterprise of CMHA, Ontario designed to provide education and training regarding workplace mental health and psychological health and safety for all workplace stakeholders. Karen has also been an instructor for the University of Windsor's School of Social Work.
---