Parenting Psychology from the Qur'an - Saturday Seminar with Shaikh Musleh...
Description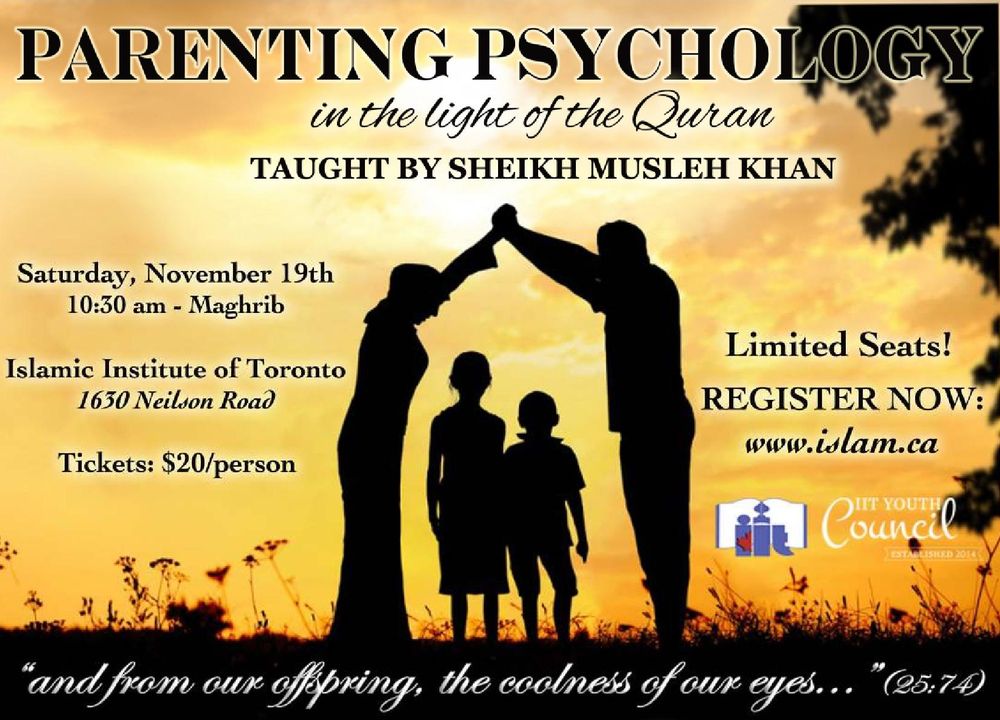 (Nov. 16 is the last day for registration) The IIT Youth Council is excited to invite you to our first full day seminar lead by Shaikh Musleh Khan. Join us as we embark on our journey through the Psychology of Parenting from the Quran. A full lunch will be provided at this event being held on Sat. Nov. 19 at 10:30 am for all registered participants. Please register soon as seats are limited. Every registered participant will receive a booklet with the course material and an exclusive IIT wrist band. The course will cover the following important topics and more!
Methodology of Prophetic upbringing | 12 Ways to Help Your Child Build Self-Confidence | Laying the foundations of Iman | Moulding your child's akhlaq, moral codes
Shaikh Musleh Khan, born in Medina Saudi Arabia is currently serving as one of North Americas youngest Imams serving at the Islamic Institute of Toronto (IIT) in Toronto Canada. He is also the host of Ask Musleh, which is a never ending online video series devoted to answering Islam most frequently asked questions in a practical and simplified manner.
He has completed a decade of intensive studies at the University of Medina along side some of Islam most prominent scholars. In 10 yrs, Sh Musleh has acquired a broad understanding of various Islamic sciences making him one of Toronto most active Islamic advisers.
Upon returning to Canada, Sh. Musleh has joined the speakers circuit lecturing and teaching throughout the globe in addition to appearing on various world-wide networks.
He is well-known for his unique analysis of Quranic text along with his wisdom in simplifying some of Islam most complicated matters.