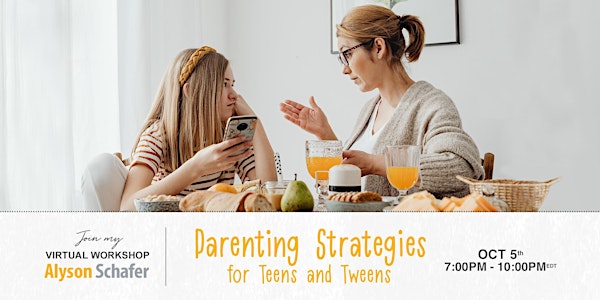 Parenting Strategies for Teens and Tweens
Parenting Strategies for Teens & Tweens: Refresh your parenting approach and learn new skills for the challenges of raising your teen/tween.
About this event
Parenting Strategies for Teens and Tweens
Refresh your parenting approach and learn new skills for the novel challenges of raising teens and tweens during challenging times.
In this workshop, designed for parents of children aged 9 – 19, parents will learn the changes that happen in this unique 10-year span of life called "adolescence".
Parents will discover new parenting approaches and skills to keep their relationship strong during this tumultuous time of change and prepare their child for a successful launch into adulthood.
We will cover:
Developmental changes and psychological issues
Switching parenting styles from teacher to coach
Communication and problem-solving skills to end power struggles and keep your relationship open, harmonious and close
Reducing high-risk behaviour
Navigating social media, gaming and technology
Discuss any personal issues you bring to the class
This workshop will be recorded, so if you can't attend in person, you can watch at your own convenience for up to three weeks after the workshop.
*Please note, all sales are final and tickets are non-refundable.
Alyson Schafer B.Sc. MA Counselling
Alyson is an international speaker and one of Canada's most notable parenting experts. She is a family counsellor with a clinical practice in Toronto, and the author of 3 best-selling parenting books: "Breaking the Good Mom Myth"; "Honey, I Wrecked The Kids" and "Ain't Misbehavin'".
Alyson is the resident parenting expert on such popular shows as: The Marilyn Denis Show, Global Morning News, The Morning Show, The Parenting Show, CHFI and CBC radio. Alyson delivers her deep insights in ways that today's busy parents can easily understand and immediately apply. She promotes a firm but friendly "democratic parenting" style, and offers practical solutions backed by extensive research and 20 years of working with families.