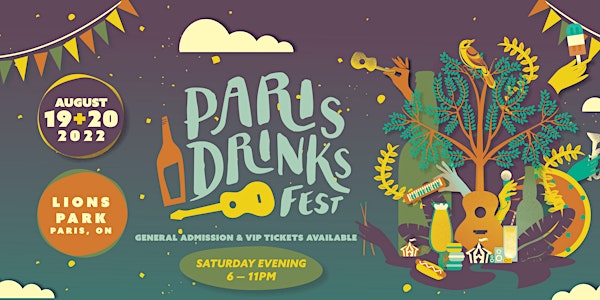 Paris Drinks Fest (Evening Session - Sat, Aug 20)
Location
Lions Park
96 Laurel St
Paris, ON N3L 3L8
Canada
Paris Drinks Fest is a food, drink and music festival in downtown Paris, Ontario on August 19 & 20, 2022.
About this event
Paris Drinks Fest is BACK! On August 19 and 20, 2022 we will be back in Lion's Park celebrating drinks, food, live music, and community! We've missed you and can't wait to get back this summer.
SLOAN will performing on Saturday Evening and we'll be announcing more artists soon!
The Saturday Evening Session is 19+. Valid photo ID will be required upon entry.
Tokens for food & drinks will cost $1.77 each ($2 incl tax).
$2 Paris Drinks Fest tokens will entitle the customer one serving as follows:
-beer/cider (5oz)
-wine (2oz)
-cocktail (0.5oz of liquor)
-food samples will be priced appropriately