Description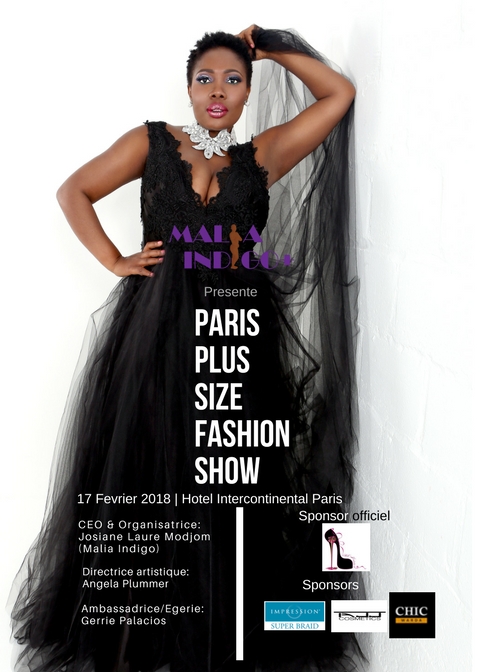 English version Follows
17 Février 2017 – 19h à 00h
Évènement tenu dans l'une des luxueuse sale de L'intercontinentale de Paris.
Les professionnels de mode grande taille venus de plusieurs coins du monde vous invitent à la Paris Plus Size Fashion Show.
Il s'agit d'un évènement unique qui mettra en valeur les talents des créateurs de modes, des mannequins et des stylistes, tous locaux et internationaux.
Après la Toronto Plus Size Fashion Show, l'entreprise canadienne Malia Indigo Corporation présente au public européen un défilé de mode répondant aux normes internationaux.
Nos hôtesses vous accueilleront sur le glamoureux tapis rouge et un espace photos vous sera dédié.
Entre deux verres de vin, vous aurez l'occasion de connecter avec les influenceurs de la mode et découvrir les pièces uniques préparées pour l'occasion.
L'un des meilleurs DJ de la ville vous fera danser a l'« after party » prévu juste après le défilé.
Le ticket VIP donne droit au premier Rang du défilé et accès aux créateurs.
Ci-dessous le programme détaillé de la soirée :
19h - 20h: Tapis rouge
20h – 21h: Réseautage et cocktail
21h – 22h: Défilé de mode et remise cadeaux
22h – 00h: After party avec DJ
Contact: reach@maliaindigo.com
February 17,2018 – 7pm to midnight
Event held in the luxurious Intercontinental Paris.
Fashion professionals came from around the world invite you to the Paris Plus Size Fashion Show.
This is a unique event that will highlight the talents of fashion designers, models and stylists, all local and international.
After the Toronto Plus Size Fashion Show, Canadian company Malia Indigo Corporation presents to the European public a fashion show that meets international standards.
Our hostesses will welcome you on the glamorous red carpet and a photo area will be dedicated to you.
Between two glasses of wine, you will have the opportunity to connect with fashion influencers and discover the unique pieces prepared for the occasion.
One of the best DJs in the city will have you dancing at the after party scheduled after the runway.
The VIP ticket Includes a seat at the first row of the runway and access to the designers.
Below is the detailed program of the evening:
7 pm - 8 pm: Red carpet
20h - 21h: Networking and cocktail
21h - 22h: Fashion Show and draw
22h - 00h: After party with DJ
Contact: reach@maliaindigo.com