Location
St. Matthew's Clubhouse
450 Broadview Ave
Toronto, ON M4K 2N3
Canada
Description
There are funds available to park friends groups and community groups to support everything from hosting events to tree plantings & new playgrounds. Park People is bringing together a group of representatives from several funders, grant providers, and events coordinators from across a wide spectrum of funders for a conversation about fundraising opportunities for your park.
The event will include a short overview from each funder followed by a breakout conversation where you will be able to meet with various funders and ask questions and get feedback on ideas to support your park.
Seating is very limited so we are asking that that park groups and organizations only send one representative.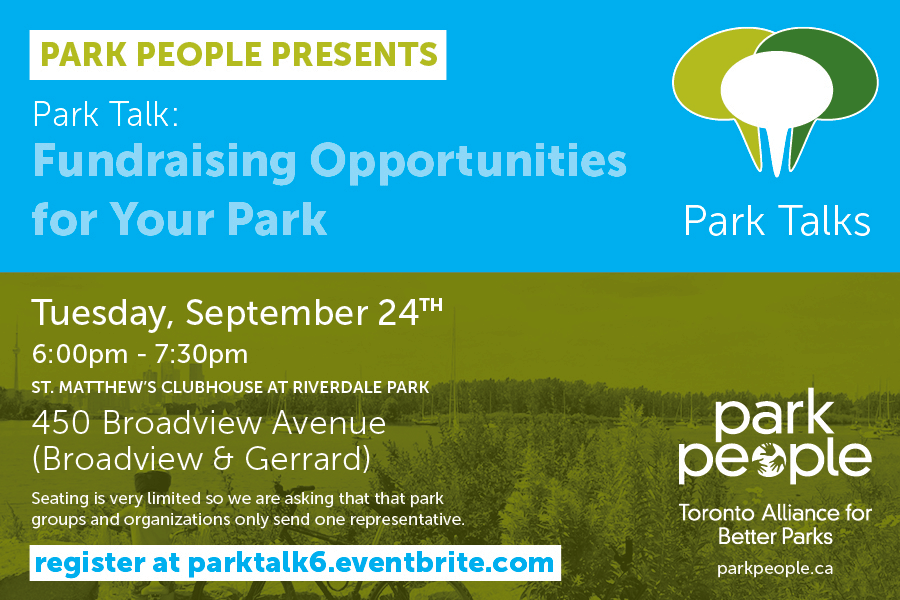 Funders:
Carolyn Scotchmer
TD Friends of the Environment Foundation
Rob Richardson
Manager of Partnership Development, Department of Parks, Foresty & Recreation, City of Toronto
Clare Nolan
Program Manager, Ontario Trillium Foundation
Ellen Kaross
Assistant, National Programs, Evergreen Canada
speaking on behalf of the Walmart-Evergreen Green Grants program & Canon's Take Root Program
Jeff Mccormick
Sr. Environmental Planner, Environment and Energy Office, City of Toronto
speaking on behalf of the Live Green Toronto Community Grant
Marisa Bernstein
Co-founder, Projexity online crowdsourcing platform
David Harvey
Founder & Director, Toronto Park People
Weston Family Parks Challenge
Anna Hill
Outreach Coordinator, Toronto Park People
Event Fundraising