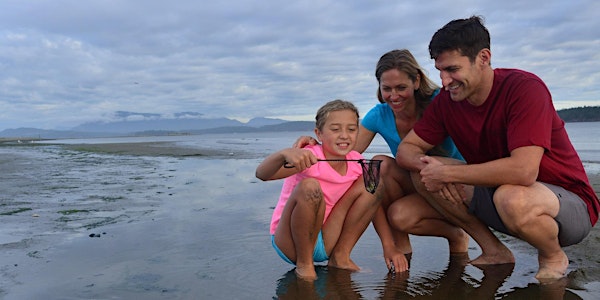 Parks Canada BioBlitz 2016 Gulf Islands/Îles-Gulf
Location
Gulf Islands National Park Reserve
Sidney Island
Sidney, BC V8L 2P6
Canada
Description
French follows/ Le français suit
---
SOLD OUT! 10-08-2016*********
TOUT VENDU 10-08-2016
IMPORTANT INFORMATION
REGISTER for ADMISSION and FERRY DISCOUNT VOUCHERS on Eventbrite or call 250-654-4000.
Free Admission. Everyone must register for admission either as a Participant or Volunteer. Each member of a family or group needs their own ticket.
Passenger Ferry. Sidney Island is boat-access only from Sidney, BC. Parks Canada has a limited number of Participant Ferry Discount Vouchers for this event. Register for a voucher on Eventbrite, then bring it to the Ferry kiosk at Beacon Pier for a 60% discount on the regular fare. 1 BioBlitz Ferry Voucher per person. The ferry is first-come, first served.
Optional Camping. Participants who wish to have extra time to enjoy Sidney Island and attend the BioBlitz evening programs must CALL the Gulf Islands National Park Reserve office to reserve and pay for BioBlitz camping: 250-654-4000 or 1-866-944-1744.
Camping fees are $13.70 for each night per group (up to 6 people, ticket holder must be 19 years or older). The BIOBLITZ camping is ONLY available for August 12, 13 and 14. Site assignment is first come, first served.
Come prepared. Bring all your drinking water, meals and supplies. There are no services on Sidney Island. Campers are responsible for bringing all their own gear.
The Parks Canada BioBlitz is a pet-free event.
Volunteers. Registered volunteer Survey Leaders, Survey Assistants and Volunteer Photographers do not need Ferry Discount Vouchers.
Please inform yourself of the privacy policies of www.iNaturalist.ca and www.Eventbrite.ca if you register on-line and download the iNaturalist.ca app. These organizations are not associated with Parks Canada and information collected for species observations and registration are covered by their policies.
---
PROGRAM INFORMATION
ISLAND QUEST
Parks Canada BioBlitz 2016 Gulf Islands –Sidney Island
Noon Saturday August 13 to Noon Sunday, August 14
REGISTRATION REQUIRED
What will YOU discover? Race against the clock to find and identify as many plants and animals as you can in 24-hours.
See. Snap. Upload. Identify. Use your smart phone or digital camera to record the plants and animals you find. Experts will help with identification. Watch the species tally grow on www.iNaturalist.ca
Step 1: Choose your Free Activity
(Detailed Schedule To Come)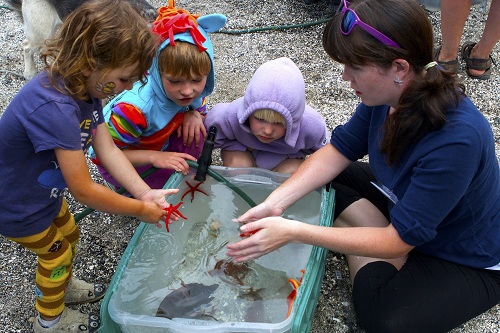 FAMILY BLITZ
Roam from one fun activity to the next at your own pace. Suitable for families with children 12 and under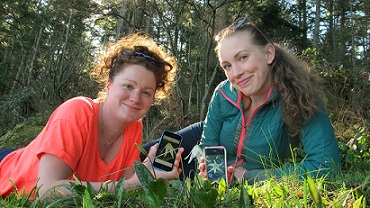 NATURE NERDS
Head out on scheduled surveys with experts. Suitable for individuals and families with children 12 and over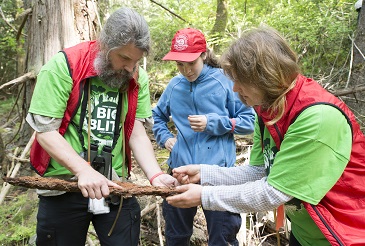 VOLUNTEER EXPERTS
Lead or assist on species surveys and programs. Volunteer as an event photographer. Only for scientists, naturalists, interpreters and student specialists or experienced photographers
Step 2: Plan your Experience
Arrive on your own boat or take the ferry. A 60% ferry discount is available for registered BioBlitz participants. Ferry space is limited. Volunteer experts receive free ferry.
Stay for just Saturday or camp overnight and enjoy the evening programs. Sidney Island has no services, so bring food, water and supplies.
Step 3: Register
All participants and volunteers must register.
www.bb2016gulfislands.eventbrite.ca or call 250-654-4000
BONUS EXPERIENCES
Escape to Paradise! Kick off your shoes and explore kilometres of warm sandy beaches on car-free Sidney Island. At the same time, help Parks Canada's conservation efforts.
Experience Cultural Traditions. Celebrate Coast Salish culture with traditional singing, dancing and clam tasting.
pc.gc.ca/gulfislands
Collaborators: Beaty Biodiversity Musuem, Canadian Wildlife Federation, iNarturalist.ca, Ocean Networks Canada, Rockfish Divers, Royal BC Museum, Royal Ontario Musuem, Shaw Centre for the Salish Sea, Vancouver Aquarium, Victoria Natural History Society
---
MISSION SUR L'ÎLE
BioBlitz 2016 de Parcs Canada dans les îles Gulf – île Sidney
De midi le samedi 13 août à midi le dimanche 14 août
RENSEIGNEMENTS IMPORTANTS
INSCRIVEZ-VOUS POUR OBTENIR VOTRE BILLET D'ENTRÉE ET VOTRE BON-RABAIS DU TRAVERSIER à Eventbrite ou composez le 250-654-4000.
Entrée gratuite. Tout le monde doit s'inscrire comme participant ou bénévole. Chaque membre d'une famille ou d'un groupe doit avoir son propre billet d'entrée.
Traversier à passagers. L'île Sidney est accessible uniquement en bateau à partir de Sidney, en C.-B. Parcs Canada dispose d'un nombre limité de bons-rabais pour le traversier pour les participants du BioBlitz. Inscrivez-vous à Eventbrite pour obtenir un bon et présentez-le au kiosque du traversier à Beacon Pier pour profiter d'un rabais de 60 % sur le prix courant. Un bon-rabais de traversier par personne. Les places seront attribuées selon l'ordre d'arrivée.
Camping facultatif. Les participants qui souhaitent avoir plus de temps sur l'île Sidney et assister aux programmes du BioBlitz en soirée doivent TÉLÉPHONER à la réserve de parc national des îles-Gulf pour faire une réservation et payer leur emplacement de camping : 250-654-4000 ou 1-866-944-1744.
Les droits de camping sont de 13,70 $ par nuit et par groupe (jusqu'à six personnes; le titulaire du billet doit avoir plus de 19 ans). Le camping durant le BIOBLITZ est offert UNIQUEMENT les 12, 13 et 14 août. Les emplacements seront attribués selon l'ordre d'arrivée.
Soyez préparés. Emportez toute votre eau potable, vos repas et votre matériel. Il n'y a pas de services sur l'île Sidney. Les campeurs doivent apporter tout leur matériel.
Les animaux de compagnie ne sont pas autorisés au BioBlitz de Parcs Canada.
Bénévoles. Les chefs de relevé, adjoints de relevé et photographes bénévoles inscrits n'ont pas besoin d'obtenir un bon-rabais pour le traversier.
LIRE ET PRENDRE CONNAISSANCES des politiques de confidentialités de www.iNaturalist.org et www.Eventbrite.ca si vous vous inscriez en ligne et télécharge l'application d'iNaturalist. Cette tierce partie n'est pas associée à Parcs Canada et la collecte d'information des espèces observées et l'inscription à son site sont des sujets couverts par leurs propres politiques.
__________________________________________________________________________________________
MISSION SUR L'ÎLE
BioBlitz 2016 de Parcs Canada dans les îles Gulf – île Sidney
De midi le samedi 13 août à midi le dimanche 14 août
INSCRIPTION REQUISE
Quelles seront VOS découvertes? Faites une course contre la montre et essayez de trouver et d'identifier autant de plantes et d'animaux que possible en 24 heures.
Observer. Photographier. Télécharger. Identifier. Servez-vous de votre téléphone intelligent ou de votre appareil photo numérique pour consigner les plantes et animaux que vous observez. Des spécialistes aideront à les identifier. Regardez la croissance de l'inventaire à www.iNaturalist.ca
1re étape : Choisissez votre activité libre.
BLITZ FAMILIAL
Passez d'une activité amusante à une autre à votre propre rythme. Convient aux familles avec des enfants de 12 ans et moins.
PASSIONNÉS DE LA NATURE
Effectuez des relevés avec des spécialistes. Convient aux particuliers et aux familles avec des enfants de 12 ans et plus.
SPÉCIALISTES BÉNÉVOLES
Dirigez ou aidez à diriger les relevés d'espèces et les programmes. Proposez vos services de photographe. Réservé aux scientifiques, naturalistes, interprètes, spécialistes étudiants et photographes chevronnés.
2e étape : Planifiez votre expérience.
Prenez votre propre embarcation ou le traversier. Rabais de 60 % offert aux participants inscrits au BioBlitz. Nombre de places limité sur le traversier. Traversée gratuite pour les spécialistes bénévoles.
Restez samedi seulement ou campez et assistez aux programmes en soirée. Il n'y a pas de services sur l'île Sidney, alors emportez de la nourriture, de l'eau et supplies.
3e étape : Inscrivez-vous.
Tous les participants et bénévoles doivent s'inscrire.
www.bb2016gulfislands.eventbrite.ca ou composer le 250-654-4000
EXPÉRIENCES EN PRIME
Évadez-vous au paradis! Enlevez vos chaussures et explorez des kilomètres de plages sableuses chaudes sur l'île Sidney où il n'y a pas de voitures. Aidez en même temps Parcs Canada dans son travail de conservation.
Découvrez des traditions culturelles. Célébrez la culture salish du littoral avec des chansons, des danses et une dégustation de palourdes.
Collaborateurs: Beaty Biodiversity Musuem, Canadian Wildlife Federation, iNarturalist.ca, Ocean Networks Canada, Rockfish Divers, Royal BC Museum, Royal Ontario Musuem, Shaw Centre for the Salish Sea, Vancouver Aquarium, Victoria Natural History Society