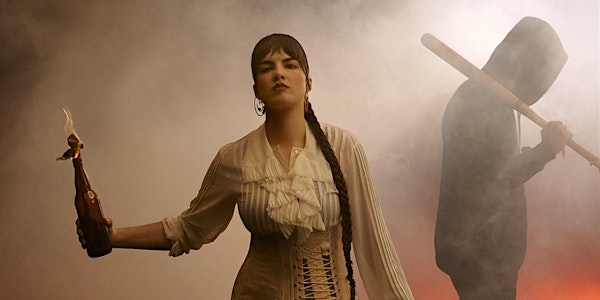 Parlons opéra! | Let's Talk Opera!
Golijov | Hwang – Ainadamar
When and where
Location
Victoria Hall Community Centre 4626 Rue Sherbrooke Ouest Westmount, QC H3Z 1G1 Canada
About this event
(en anglais)
La série Parlons opéra! propose une initiation conviviale et dynamique à différents opéras présentés au cours de la saison.
Animée par le musicologue Pierre Vachon, en compagnie de chanteurs et d'un pianiste, Parlons opéra! plonge au cœur des œuvres en 60 minutes pour y aborder l'histoire, la musique, les voix, le contexte culturel, le compositeur, le style... et proposer des extraits musicaux par des chanteurs d'opéra.
Golijov | Hwang – Ainadamar
Ainadamar présente trois images, trois retours en arrière à différentes périodes marquantes de la vie du poète et dramaturge Federico García Lorca, à travers le regard de sa muse Margarita Xirgu. Une orchestration d'une intensité aussi saisissante que celle de la guerre civile qui brûlait dans l'Espagne d'alors, où les sabots du cheval se mêlent aux coups de feu, et où les accents de flamenco se font voix de la douleur.
Espagne, 1936. Une guerre civile déchirante oppose les républicains aux nationalistes. Le poète, devenu révolutionnaire, devenu martyr, Federico García Lorca est abattu par les fascistes, partisans du général Franco. Margarita Xirgu, sa muse et proche collaboratrice laissée dans le deuil, se souvient de lui, de ses idées et de sa lutte.
En collaboration avec l'Opéra de Montréal.
Information : 514 989-5226 ou victoriahall@westmount.org
~~~~
(in English)
The Let's Talk Opera! series offers a friendly and dynamic introduction to various operas presented throughout the season.
Hosted by musicologist Pierre Vachon, in the presence of singers and a pianist, Let's Talk Opera! dives deep into the heart of the works in 60 minutes to discuss the history, music, voices, cultural context, composer, style, etc., and offers musical excerpts by opera singers.
Golijov | Hwang – Ainadamar
Ainadamar presents three images, three flashbacks to different key periods in the life of the poet and playwright Federico García Lorca through the eyes of his muse Margarita Xirgu. It features an orchestration whose striking intensity parallels the civil war that raged in Spain at the time, interwoven with the sounds of horse hooves and gunshots, where flamenco accents become the voice of pain.
Spain, 1936. A harrowing civil war pits the Republicans against the Nationalists. The poet turned revolutionary and then martyr, Federico García Lorca, is shot dead by the fascists, supporters of General Franco. He is survived by Margarita Xirgu, his muse and close collaborator, who remembers the man, his ideas, and his struggle.
In collaboration with l'Opéra de Montréal.
Information: 514 989-5226 or victoriahall@westmount.org