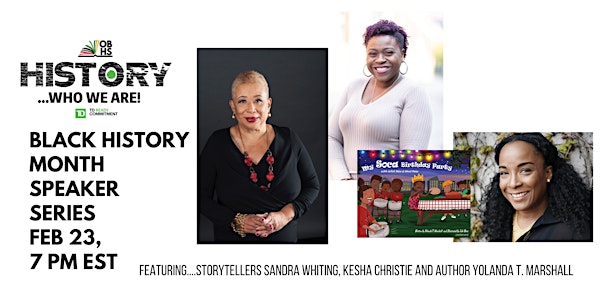 Part 3- OBHS Black History Month Speaker Series
Join us for the OBHS Black History Month Speaker Series! FEB 23, 2021 at 7pm EST. Link to join will be shared the week of this event.
About this event
During February 2021 join us virtually for our speaker series that will include three evenings of dynamic conversations with a phenomenal range of speakers including film maker Cheryl Foggo, author Lawrence Hill, a panel with Black Heritage sites, and storyteller Sandra Whiting.
On February 23rd at 7pm Author Yolanada T Marshall, Storytellers Sandra Whiting and Kesha Christie join us for an evening of stories and humour.
Join us for part 3 in the series and register for the other events.
Other Speaker Series Registration: Feb 9 at 7pm and Feb 18 at 7pm - Visit https://blackhistorysociety.ca/black-history-month-kick-off-brunch/

Thank you Sponsors!
TD Bank Lead Sponsor
ETFO Silver Sponsor