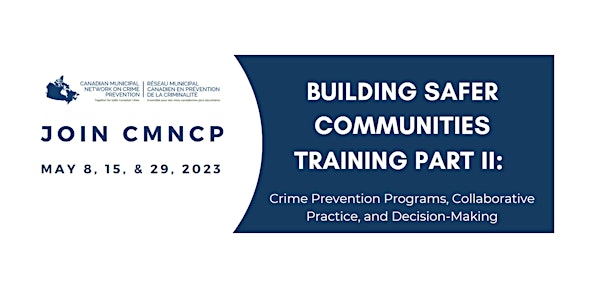 PART II - Building Safer Communities Training
BUILDING SAFER COMMUNITIES - PART 2: Crime Prevention Programs, Collaborative Practice, and Decision-Making
By Canadian Municipal Network on Crime Prevention
Refund Policy
Contact the organizer to request a refund.
Eventbrite's fee is nonrefundable.
About this event
Join the Canadian Municipal Network on Crime Prevention (CMNCP) for a virtual training session on community safety and well-being planning. To date, CMNCP has trained over 550 participants in 200 communities across Canada.
The training will provide participants with information on:
Crime Prevention Programs: Identification, Adaptation, and Funding
How to identify quality, relationships and fit of programs
How to keep an eye on upstream prevention
How to adjust/adapt existing programs to local context
Types of funding for crime prevention programs
Roles, Collaborative Practice & Decision-Making
Principles of cross-sectoral collaboration
How to make decisions collaboratively
How to build long term collaboration with key stakeholders
Different types of roles of practitioners
TRAINING DATES
The 12-hour virtual training will be delivered through three 4-hour sessions:
Monday, May 8th, 2023
Monday, May 15th, 2023
Monday, May 29th, 2023
10 am (PDT) / 11 am (MDT) / 12 pm (CDT) / 1 pm (EDT) / 2 pm (ADT)
COST *
Single registration (1 participant): $350 per ticket
Group registration (2 to 4 participants): $325 per ticket
Group registration (5 or more participants): $300 per ticket
Students: $50
Community Rate: $150 (see below for more information)
*Members of CMNCP have access to a $50 discount on each ticket. Please use discount code CMNCPMEMBER23 at checkout.
COMMUNITY RATES
Supporting knowledge exchange among crime prevention, community safety, and well-being professionals, volunteers, and others working in our communities is vital to CMNCP's commitment to equity, social justice, and evidence-informed decision-making.
We encourage the participation of diverse communities in our training and understand that funding for professional/volunteer development can be difficult to obtain. To support your participation in CMNCP's training sessions, special registration rates have been established for delegates for whom the cost may be a barrier to attend.
If you are interested in accessing this rate, please contact admin@cmncp.ca.
DEADLINE
Please register by May 5th, 2023.
CERTIFICATE
All training participants will receive a certificate upon completion of the training.
WHO SHOULD ATTEND?
Representatives from communities interested in developing and implementing a community safety and well-being plan; municipal employees who may be tasked to create, guide, and/or implement a community safety and well-being plan
First Nation communities, elected officials, as well as local agencies, organizations, and service providers from different sectors participating on multi-sectoral advisory committees or who may be involved in the planning process
Students interested in working with communities on violence prevention, community safety, municipal governance, social development, and community safety and well-being planning.
PREREQUISITE
Ideally, interested participants have taken Building Safer Communities PART I or have a working knowledge of crime prevention and community safety at the local level. If you have not completed PART I, it is still possible to register for Part II and take Part I at a later date. CMNCP will provide a preparation document in advance of the training for attendees who have not yet taken the introduction training.
FACILITATORS
Felix Munger, CMNCP
Audrey Monette, CMNCP
Dave Slater, City of Regina
Mitul Mahmud, Waterloo Region
Interested in getting monthly news on research, training, funding on crime prevention? Click here.