Sales Have Ended
Ticket sales have ended
Thank you for joining us for ParticipACTION!
Sales Have Ended
Ticket sales have ended
Thank you for joining us for ParticipACTION!
Get active this June by taking part in our ParticipACTION Virtual Dance Workshop and contribute to community wellness.
About this event
Join Woezo Africa Music & Dance Theatre Inc. for our first workshop with ParticipACTION and their Community Better Challenge. This is a national physical activity initiative that encourages Canadians to get active.
We are pleased to present you with the opportunity to learn up to three styles of dance! We are offering videos for Afrobeats, Soca, and House. These will be pre-recorded videos that you can access after your donation (see more below.) This event runs for the month of June so all videos can be accessed during this time.
Workshops will be Pay-what-you-can with a suggested donation amount of $5 per workshop.
Within this initiative, your movement contributes to our municipality's score. The ParticipACTION Virtual Dance Workshop is a part of a larger network of Calgary-based Community Better Challenge activities. Every minute you log goes towards our progress as a community. The Community Better Challenge will be awarding $100,000 dollars to the community who rallies the most participants, community organizations and accumulates the most active minutes during the challenge.
Our biggest priority is making fitness accessible for all of our participants. Movement will look different for all of us, so we encourage you to get creative! If you need any help finding some inspiration, join ParticipACTION in celebrating their 50th anniversary. They will be offering a variety of "retroactive fit breaks" during the month.
Participants can track their physical activity minutes with the ParticipACTION app or on their website. The community that logs the most physical activity minutes will be named Canada's Most Active Community! Please join Woezo Africa and the City of Calgary in tracking all of your activities. Whether that be through the dance videos with us or any physical activity at all, like taking a walk, doing some yoga or running errands - all physical activity can be tracked through the app!
We hope you can join us for a month of movement!
NOTE** Please register for the current day, but note that the tickets expire at midnight. Follow these instructions for a smooth experience:
1. As soon as you're done purchasing your tickets, hover over your icon on the very top right of the page. On the drop down menu, it should say "tickets" - click on that.
2. You will then see a screen with your acquired ticket. Click on the ticket for this event. If your ticket has expired, simply click "past orders" and you should also see the event ticket.
3. To your left click on the orange button that says "view links" Please save the link and password somewhere secure so you can access it easily for the rest of June. In the event that you lose that information, just follow these steps again.
Should any issues arise, please contact the event organizer.
Meet your instructors: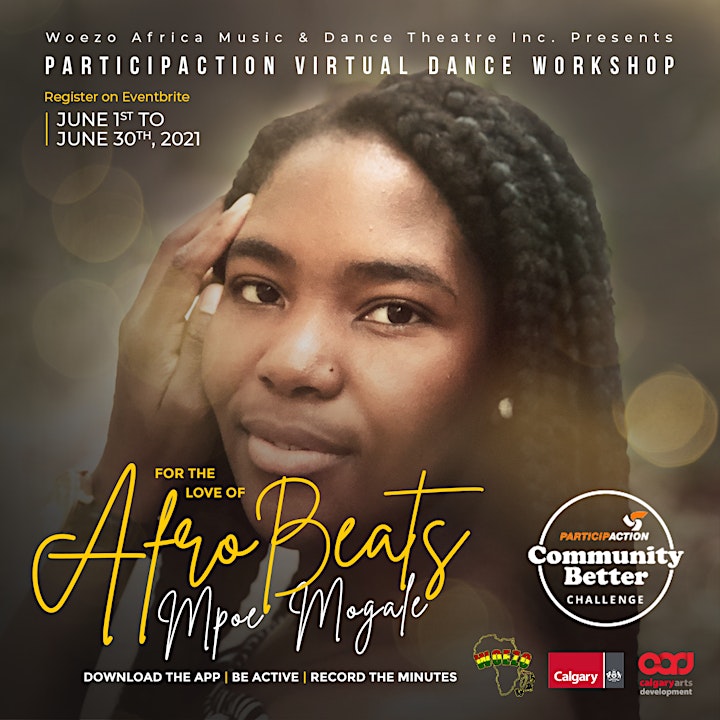 Mpoe Mogale is a Black Queer human who reigns from Lebowakgomo, South Africa and is currently based in Moh-kíns-tsis (Calgary). They are a recent University of Alberta Political Science graduate, where their honours thesis explored the representation of Blackness in Edmonton's Arts community (co-supervised by Dr. Fiona Nicoll and Dr. Malinda S Smith). In the past year, Mpoe committed to honouring their talent and love for dance by pursuing it full-time. Alongside being an Arts Administrator for the Swallow-a-Bicycle Theatre, Mpoe currently teaches various dance styles, and trains with Decidedly Jazz Danceworks' Professional Training Program and Woezo Africa Music & Dance Theatre's Company.
One of the things Mpoe enjoys is bringing together Black artists to present multidisciplinary works that explore Black life in Canada. The result of this includes projects such as "What (Black) Life Requires" (produced by Mile Zero Dance and Azimuth Theatre) and "Reclaiming Black Dance" (produced by Black Arts Matter). Mpoe has grown weary of Black pain being a spectacle, and as a result, their artistic imaginations in the past year have centered the brilliance and joy that foreground the lives of Black folks.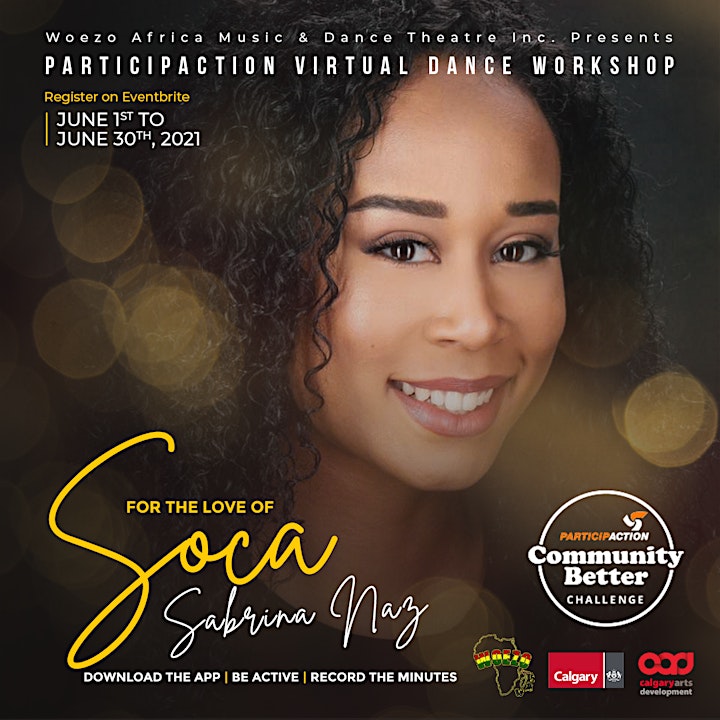 Sabrina Naz Comănescu is a dynamic member of the Calgary Dance Community through her work as a performer, choreographer, dance instructor and filmmaker. As a performer, Comanescu has worked with Machel Montano, House of Dangerkat, The Bad Girls Club YYC, ILLFX Entertainment and is currently in her sixth year performing with the Decidedly Jazz Danceworks company in Calgary, Alberta. She is also the current major force behind The Diversity Performing Arts Club of Calgary that "celebrates cultural diversity while promoting inclusion and respect for all youth". She has also created Casa De Naz (CDN) in 2012, a collective with a mission to "excite and educate art hubs across Canada about the thriving Caribbean community in Calgary and the arts of the Caribbean as a whole".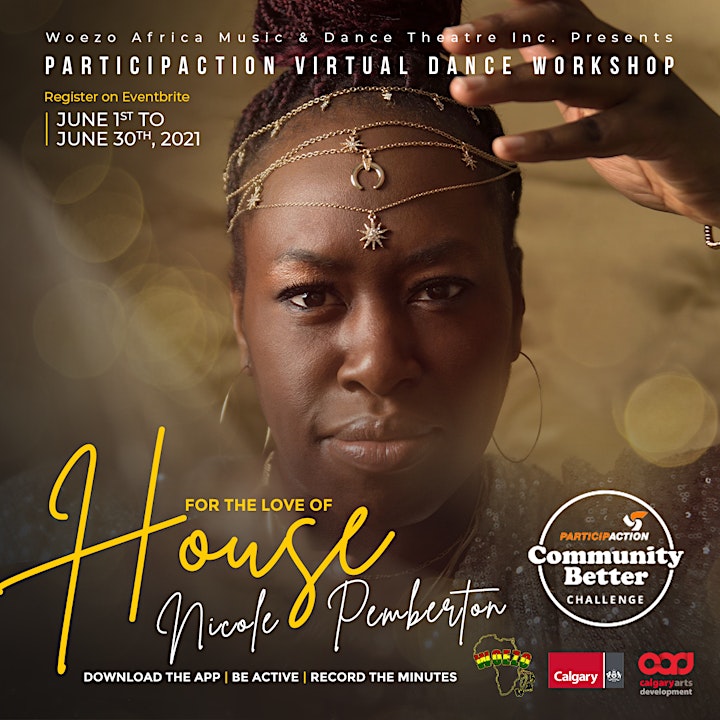 Nicole Pemberton is a dance artist, mentor, choreographer, health, entrepreneur and educator who has performed professionally nationally in Canada, New York and Trinidad and Tobago. Her lineage comes from the islands of Antigua/Barbuda, St. Kitts and Nevis, and the countries of England and Canada. She has taught and facilitated movement experiences over 100,000 + kids and adults and counting.
She has trained and performed with various respected artists and choreographers in Canada and internationally. Her background is in performance, expressive arts, and education in dance.
Her formal education included obtaining a diploma and BA of Arts specializing in dance, choreography and performance. Nicole has presented her own choreography and spoken word works on stage.
Nicole has knowledge in many dance styles African, Contemporary, Caribbean, Jazz and Hip Hop. She has been flexing her teaching skills in studios and schools all over Calgary, Edmonton, Toronto and Vancouver for over 25 years. She educates, choreographs and mentors with organizations such as SoundKreations.
She is the new Artistic Director Footprints Dance projects, an organization that provides dance and film programming to Youth-At-Risk. Always expanding in her skills and interests Nicole has studied in Health and embodiment coaching, Spirituality, Divine feminine and Goddess arts, Intuitive channeling, somatic movement, energy modalities (Reiki, Crystal therapy). Combining all these modalities Nicole has created her own women empowerment business The Goddess Moves, a sacred space for women to awaken, align, and embody in full expression to the Goddess within.
Dance is more than just steps for her. A powerful healing embodiment resource that we all have access to. It is medicine!
Organizer of ParticipACTION Virtual Dance Workshop
Since 2006, Woezo Africa has been passionately dedicated to bringing the history of African culture to the masses through traditional and modern modes of performing arts, including dance, music, theatre and storytelling. Woezo Africa has encouraged artistic creativity and excellence, increased awareness of and participation in the arts, driven partnerships between arts organizations and other professional sectors, supported innovative cultural activities and provided mentorship opportunities for artists. We intend to have our art serve the community by contributing to cultural development and artist spotlighting while shifting misconceptions regarding diversity. The diverse, award-winning organization provides an array of services and educational community outreach programming, involving school-based artist residencies, dance classes and workshops and event production and arts management.
Woezo Africa's local and international productions include Africa Jo, UNITY: Dance Across Africa, and their annual Black History Month event UNGANISHA: Explore. Connect. Dance. The organization has also produced two editions of Woezo Africa Festival in collaboration with the Guild of Nigerian Dancers (G.O.N.D) and Ijodee Dance Center in Lagos, Nigeria. By pushing for increased visibility of ethnically and culturally diverse artists in Alberta, Woezo Africa hopes that perceptions will shift around who participates in the arts. Through dynamic, cutting-edge work that captures the imagination of a range of audiences, Woezo Africa continues to enhance the creative economy in Calgary, empower communities and perpetuate the movement for instilling social change.