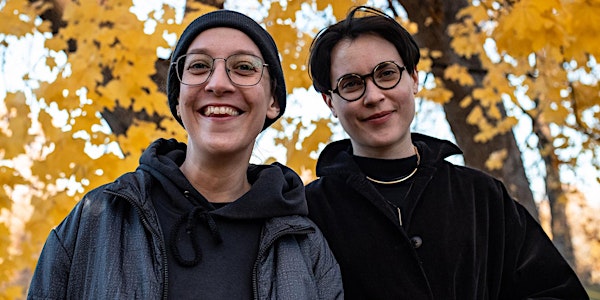 Partner
Ages 19+
Mills Hardware Presents
Partner with guests Ginger St. James & Lulu Demoo (of The Pistolettes) — Live at Mills Hardware!
When and where
Location
Mills Hardware 95 King Street East Hamilton, ON L8N1A9 Canada
About this event
Partner is funny, but not a joke. Gay, but not for each other. During a brief period in 2020 when it was safe to travel, the band headed to Gabriola Island on BC's West Coast where they quarantined themselves for 14 days in a cabin writing and rehearsing and headed into the studio for seven days at The Noise Floor Recording Studio. "Time Is A Car" is the first song from this session. More to come later in 2022. Lucy and Josée formed Partner in the spring of 2014. They were looking to experiment with genre, discuss being gay, and share some jokes and ideas. Their objective has remained the same over the past seven years, although in that time their sound has shifted considerably. Partner's debut album In Search of Lost Time (2017) made an impact with its big guitars and polished sound. The record, mixed by Chris Shaw (Ween, Bob Dylan, Cheap Trick), landed a spot on NPR's All Songs Considered, along with Stereogum, Noisey, Exclaim, CBC Music, Indie 88 and many more best of 2017 lists. The album was shortlisted for the Polaris Prize, and Partner were the recipients of the SOCAN songwriting prize for their song "Play the Field". Partner's follow-up EP Saturday the 14th found the duo embarking on bolder and more playful compositional excursions. Throughout this highly experimental period, ideas for the next album began to coalesce. In the summer of 2019 Lucy and Josée joined all-star drummer Simone TB (US Girls, Highest Order, Darlene Shrugg) in the studio to create their second full-length album, titled Never Give Up. With Never Give Up, Partner returned to their classic rock roots and awakened their truest gifts to deliver their most exciting, riff-laden effort yet. 
"Few bands sound like they're having more fun than Partner. Lucy Niles and Josée Caron have mastered the art of triumphant alt-rock songs about the everyday lives of queer goofball stoners.  The Windsor, Ontario duo have been honing that creative chemistry for years, both as friends and as collaborators in two previous bands…. Since then they've relocated from Sackville, New Brunswick and begun channelling '90s guitar heroes such as Weezer, Nirvana, Smashing Pumpkins, and Veruca Salt plus the so-called 'lesbian superfecta' of Melissa Etheridge, k.d. lang, and Tegan And Sara. The results are spectacular." – Stereogum
Instagram | Facebook | Twitter | TikTok | Spotify | Apple Music
••
General Admission standing 19+ event. Mobility accommodations available upon request. Valid government issued photo ID is required in order to enter. Artists and schedule subject to change. Event subject to change in support of evolving public health protocols.