About this Event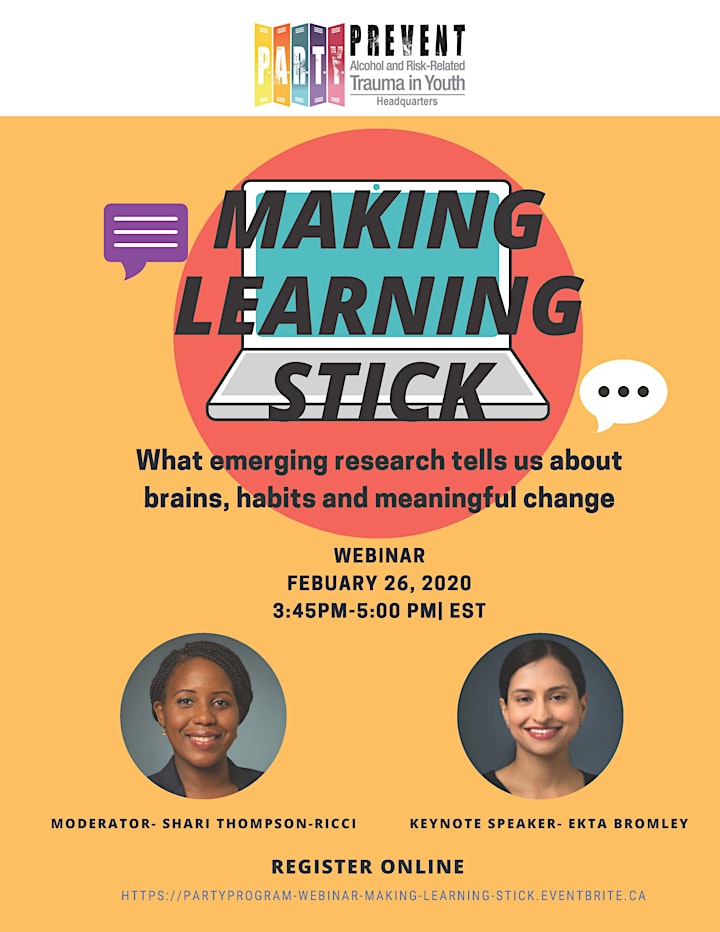 We are excited to announce that the upcoming P.A.R.T.Y. Headquarters Webinar will be on February 26. 2020 |3:45 pm-5:00 pm| Eastern Standard Time.
This webinar will be an interactive discussion around youth engagement within the P.A.R.T.Y. Program. The session will introduce key elements from behavioural science, habit formation and education best practices research, so that participants can translate those elements into actionable steps. It will provide an opportunity for our P.A.R.T.Y. coordinators and respective staff to explore and reflect on what "meaningful change" looks like within their own community based P.A.R.T.Y. Program.
We are pleased to announce that this webinars keynote speaker and facilitator is Ekta (pronounced 'ache-taa')Bromley,M.A., B.Ed., CTDP. Ekta is an Organizational Development & Leadership Associate at Sunnybrook Health Sciences Centre. As a former high school teacher-turned-Adult Educator & Facilitator, she has worked in the field of learning & development for well over a decade – and has loved every second of it .
This webinar will be informative, interactive and all about 'making learning stick'.
Register TODAY!
**Please note that all staff and coordinators affiliated with a P.A.R.T.Y. Program site may join this webinar and must register individually.**