Description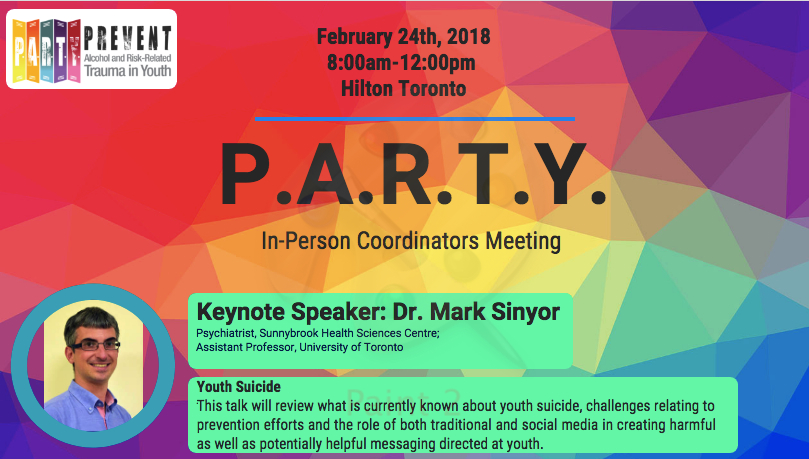 P.A.R.T.Y. International takes great pleasure in inviting you to the 2018 Annual P.A.R.T.Y. In-Person Coordinators Meeting. This is a most exciting event for P.A.R.T.Y. International where we aim to meet with as many coordinators as possible face to face.
The guest keynote speaker will be Dr. Mark Sinyor, he will be presenting on 'Youth Suicide', his talk will review what is currently known about youth suicide, the challenges relating to prevention efforts and the role of both traditional and social media in creating harmful as well as potentially helpful messaging directed at youth.
This meeting will be held in the York Boardroom at the Hilton Toronto and will be convenient for those already attending the TAC Conference. Please join us from 8:00am to 12:00pm for breakfast and the meeting to follow. Attendees do not have to be registered for the TAC conference in order to attend, this meeting is independent of the TAC program. GET your tickets early to secure your spot!
If you have any questions do not hesitate to contact Shari Thompson-Ricci (P.A.R.T.Y. International Coordinator) at shari.thompsonricci@sunnybrook.ca
***This event is for Coordinators and persons affiliated with P.A.R.T.Y. (Prevent Alcohol and Risk-Related Trauma in Youth) Program***